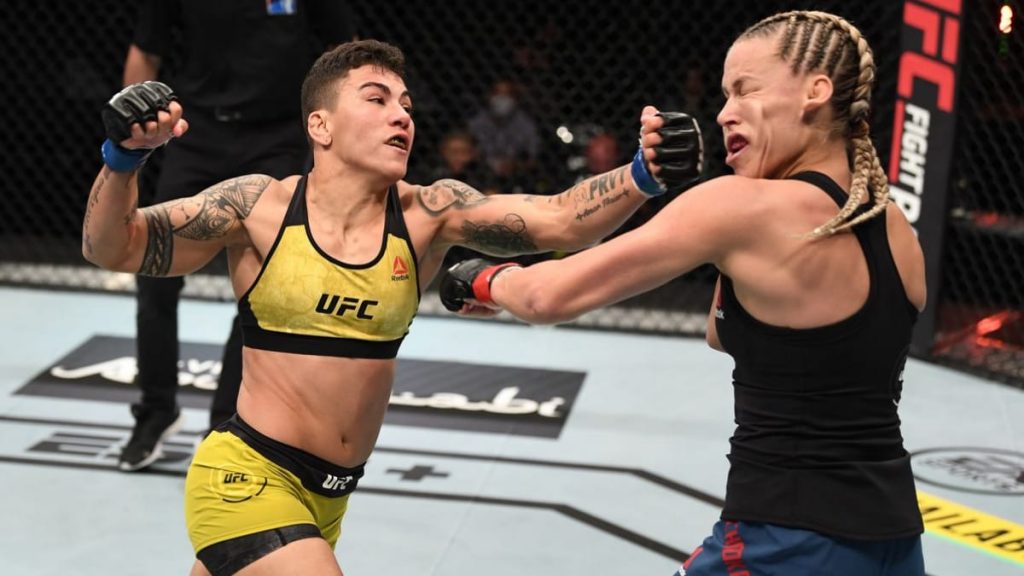 Jessica Andrade creates history in the women's division of UFC by registering a win over Katlyn Chookagain in the UFC Fight Island 6 co-main event. Andrade with a professional record of 12-6 is facing Chookagain who was the former strawweight champion.
Andrade gives the former champ a strong welcome to the Women's flyweight division by knocking her out with body shots in the very first round of the match. From the very start of the fight, Andrade is playing aggressively.
After striking few hard punches, she winged haymakers at Chookagain, by which she forced her into the clinch and then attempts a takedown. That all she has done in the very first minute of the first round. Andrade continued the beating with some heavy shots on the legs and body of Chookagain.
When the round was about to end Andrade caught Chookagain with a hard shot to the body, followed by a charge down attack with more hits on the body. Chookagain went down and the referee stepped in to stop the fight at the 4:55 of the very first round.
Andrade created history by this victory as she became the first woman to win fights in three weight class at UFC.
Andrade is looking for the Strawweight championship
With this splendid victory, Andrade has her eyes set on the Strawweight championship of UFC which is currently held by Weili Zhang. Andrade ranked 2nd in the strawweight division followed by Rose Namajunas. The victory over Chookagain definitely puts in the number one spot for the championship.
Andrade is the 12th fighter in UFC and the first woman fighter to win the fight in three weight divisions. This will surely give her a confidence boost before going into the fight for the title.
Also Read: Dana White reveals that super fight between Adesanya and Jones could happen next