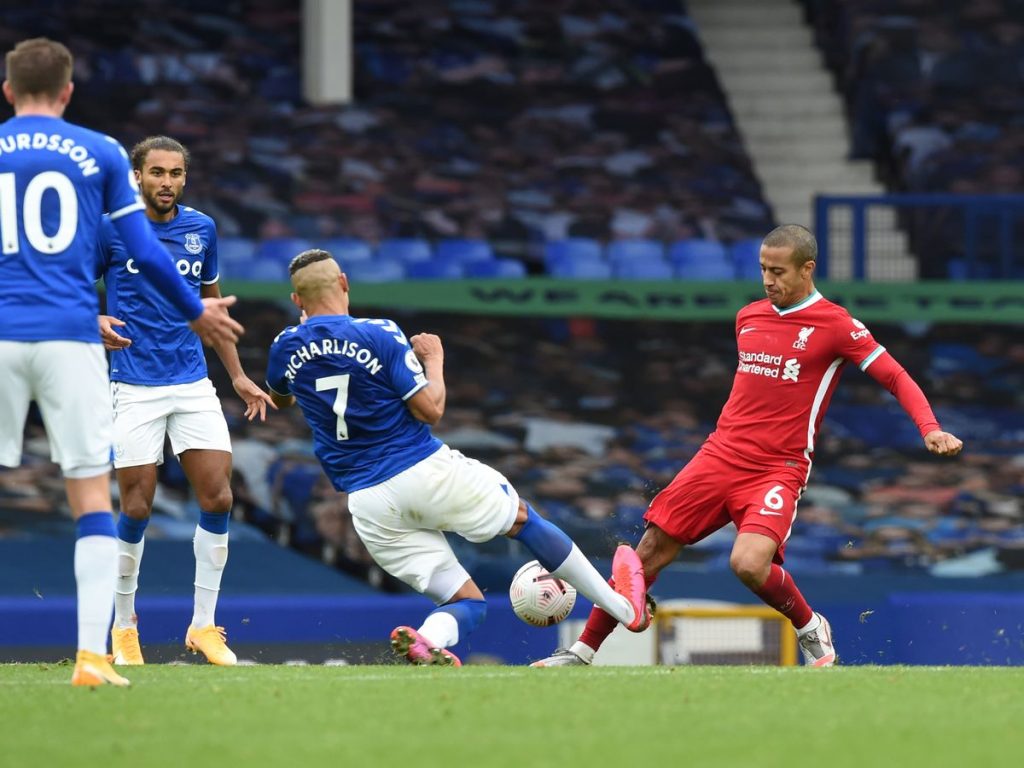 Jurgen Klopp in his latest press conference stated that he will take severe care and precaution with Thiago Alcantara. The midfielder was injured when Everton's Richarlison tackled him mindlessly. Richarlison was sent off with a red card and three match ban while Thiago hasn't featured since that match.
Won't rush him for the sake of it
Everyone knows how much respect and love Jurgen Klopp has for Thiago. In the moment it was confirmed that Thiago was a Liverpool player, Jurgen Klopp had the biggest grin on his face. In previous interviews he said that his two favourite midfielders were in the Bundesliga. He named Naby Keita from RB Leipzig and Thiago Alcantara from Bayern Munich as his favorites. Now he has them both in his side and it is understandable why he must be cautious.
Klopp said that like everyone he had expected Thiago to recover in a couple of days from that horror tackle. However it became more serious as the swelling in his leg increased. To avoid any further aggravation and any more injuries, the medical team has taken extreme precaution with Thiago.
He didn't feature in any of the international matches for Spain and rested fully. He wasn't spotted in training and did only light training. All that has paid off as Thiago is very close to returning. In fact he could be named on the bench tomorrow for the Leicester match.
Thiago has been a standout performer in both the matches he played for Liverpool. He bossed Chelsea in his debut and broke the 'most passes in 45 minutes record'. Jurgen Klopp seemed to have found his perfect midfield against Everton when he played Thiago, Fabinho and Jordan Henderson together. Thiago's creativity, Fabinho's defensive prowess and Henderson's inspiring nature showed how powerful Liverpool were. It remains unlikely the same midfield will play once more in this season as Fabinho has become a makeshift centre-back. Injuries to Joe Gomez and Virgil Van Dijk has played Klopp's hand now.
A little bit more patience and we could see Thiago soon!
Also read: Liverpool's Alex Oxlade Chamberlain returning soon according to latest photos