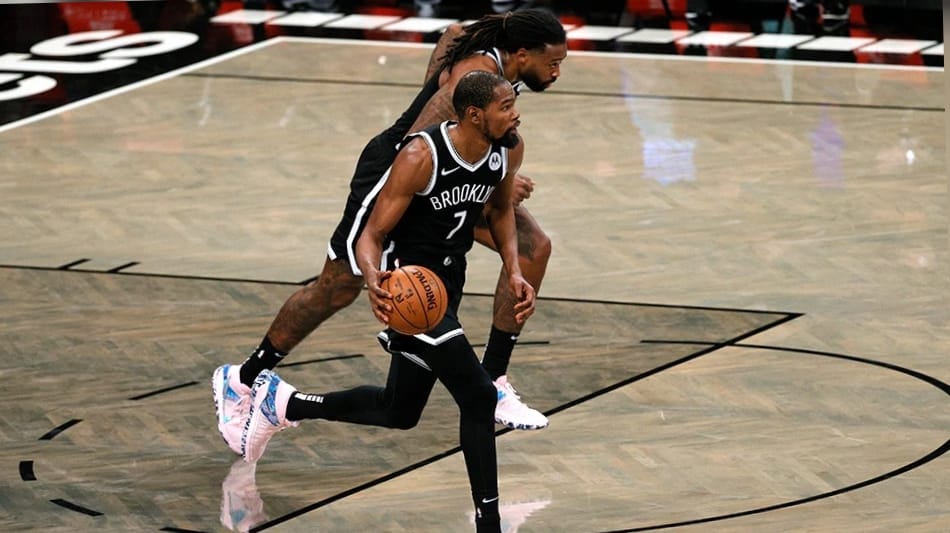 Kevin Durant fell one short of a triple-double for the Brooklyn Nets as he scored 34 points, 13 assists and 9 rebounds against the Denver Nuggets. Bruce Brown played a significant role in the absence of Kyrie Irving as well as the Nets beat the Nuggets 116-122. The Brooklyn Nets have now won 6 of their 12 games. When the Nets were trailing by 18, Brown scored the baskets to tie the score up and also to take the lead. He scored his season-high 16 points. 
Just like Kevin Durant, Denver Nuggets' leader Nikola Jokic also scored an almost triple-double with 23 points, 11 assists and 8 rebounds. Nuggets were trying to get a perfect score out of their 3 road games stretch. Denver Nuggets' Head Coach Michael Malone emphasized that the team might have been tired in the last quarter.
Kevin Durant scored 34 as Nets beat Nuggets 116-112
"But we have to find a way to fight through that and hopefully we can realize once again that playing three quarters is not going to get it done in this business," Malone said. "You have to find a way to play as close to 48 (minutes) as possible and when we do that, I think we have a chance to be a pretty good team."
"All we need to do is bring energy, play hard and play defense, and we did that tonight," Bruce Brown said.
They blew past the Nuggets with a 29-4 run that gave them a 90-83 lead, and when Jokic checked out after the next possession he kicked over a chair in the last row of Denver's bench in frustration.
Kevin Durant also praised his team after this comeback victory and said, "Guys have pride. They want to come out and compete, and everybody came with it tonight, especially in the second half." 
Also Read: Indiana Pacers hold off Stephen Curry to bounce back to the…