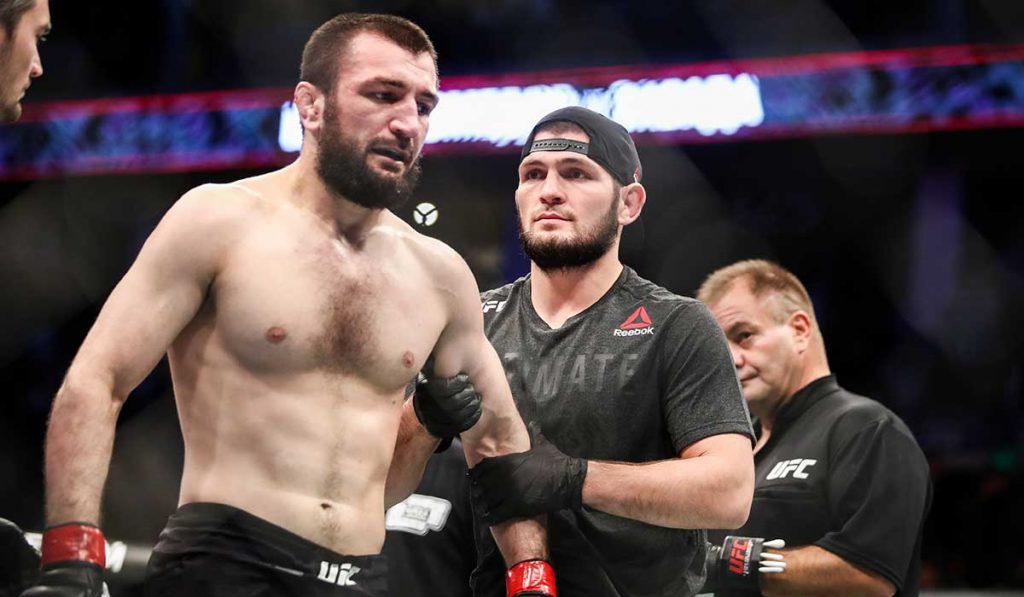 The world is keenly awaiting you 'The Eagle' Khabib on October 24, defending his title yet again, to make it 29-0. The deservingly hyped fight against Justin Gaethje has been officially announced by UFC President, Dana White.
But Khabib as promised did make an appearance, to witness his cousins fight at UAE Warriors 12 in Abu Dhabi.
According to MMA Junkie, Khabib could be seen explaining certain things to his co cornerman during the break.
Usman Nurmagomedov 10-0
Much like his brother Khabib, Usman Nurmagomedov is also undefeated in his progressional MMA career. He took his win column to double figures with a dominant win over Jerry Kvanstrom.
Usman delivered a jaw breaking kick to the side cheek of Jerry and after that, unleashed the beast inside of him to gain his victory. The unanswered attack, hinted the referee Marc Goddard to interfere in and call a stop to the contest at 2:39 in the1st round itself.
However talking about Khabib upcoming contests, if in case he gets past Gaethje, he has shown interests to fight Georges St-Pierre. If that fight is to be a reality, that would surely be a fight between 2 eras.
Although if Khabib calls it the end of his career, such glimpses of him giving accurate advices could make him a wonderful coach too.
Also Read :UFC world on its toes as McGregor teases potential return with a single tweet