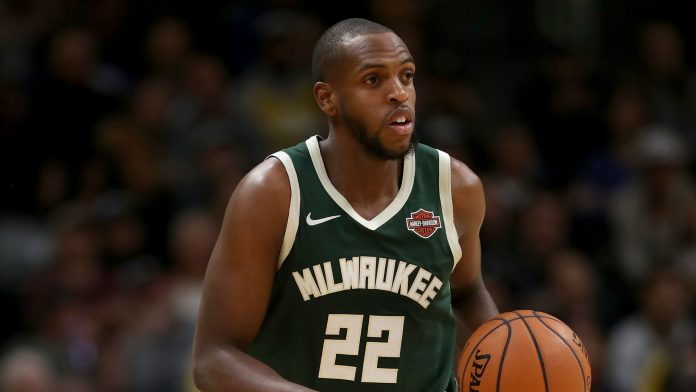 In the absence of Gianis Antetokounmpo, Khris Middleton has actually stepped from the front to lead the Milwaukee Bucks against opponents. The latest victim to this was Minnesota Timberwolves as Khris Middleton knocked 27 points, 8 rebounds and 7 assists in just 3 quarters to lead Bucks past Timberwolves 130-105.
Brook Lopez added 18 points, while Jrue Holiday contributed with 15 points. Th eBucks led by as many as 30 points at the start of the 4th quarter, to register consecutive blowouts. After a sloppy 9 game previous tally, Bucks lost 6 out of those games. Before this huge marginal victory, Bucks won big against Orlando Magic 124-87. The Bucks played without the two-time reigning NBA Most Valuable Player award winner, Giannis Antetokoumpo, because of left knee soreness for the sixth straight game.
Khris Middleton leads Milwaukee Bucks' attack against Minnesota Timberwolves
The Milwaukee Bucks scored 45 points in the third quarter, their second-highest period of the season that allowed coach Mike Budenholzer to rest Middleton, Holiday and Lopez for the final period with a back-to-back game looming against Atlanta.
Khris Middleton, who had shooting performances of 4 for 16 and 6 for 27 on a road trip earlier this month, again showed his ability to shrug off a mini-slump. He's 17 for 28 over the past two games.
Anthony Edwards scored 24 points on 5 for 11 shooting from 3-point range for the Timberwolves, who have lost 11 of their past 15 games. The Timberwolves were also missing their best player, Karl-Anthony Towns, for the 2nd consecutive game. His absence was for personal reasons, surrounding the one-year anniversary of the death of his mother due to COVID 19. 
Also Read: Julius Randle leads New York Knicks to win over New Orleans…