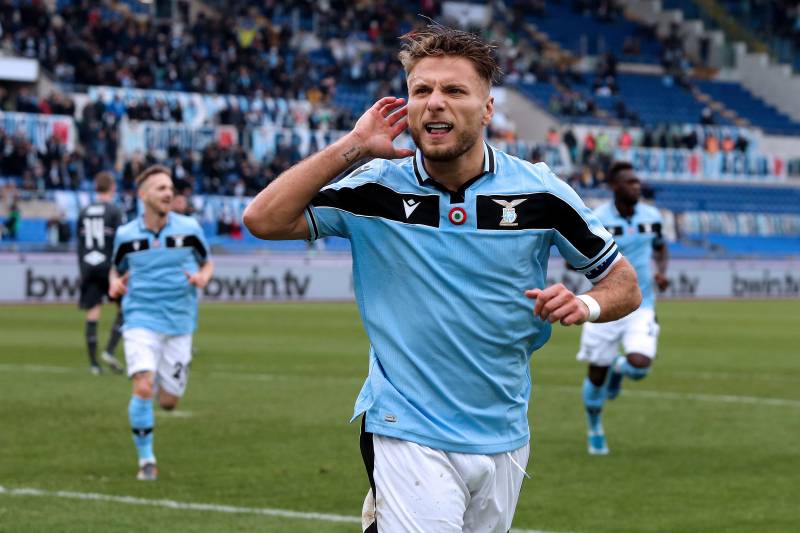 Ciro Immobile, the Lazio forward won the elusive Golden Shoe 2019-20 beating Cristiano Ronaldo, Robert Lewandowski and Lionel Messi. He officially won the Golden Boot when Cristiano Ronaldo was left out of Juventus' squad for their last game.
The Italian has celebrated a fantastic season in front of the goal. The 30-year old scored 35 goals and registered 9 assists in 36 appearances for Lazio.
The former Torino and Sevilla forward have set the bar in what was an eventful campaign. Bayern Munich's no. 9 – Robert Lewandowski was the runner-up for the Golden Shoe race scoring 34 goals in Bundesliga.
Cristiano Ronaldo finished third registering 31 goals for Serie A winners Juventus. While 'The Little Magician' scored 25 goals for Barcelona following with Premier League's top-scorer Jamie Vardy (23) and Peirre-Emerick Aubameyang (22).
Ciro Immobile still has one more chance to lift his count of Golden Shoe even higher, with Lazio one Serie A game still left to play. With a trip to Napoli on Saturday, Europe's highest scorer requiring only one more goal to equal Gonzalo Higuain 's (36 with Naples) Italian top-flight mark tally.
Lazio will play Napoli tomorrow, 2nd of August (12:15 am IST) in their last Serie A game. Lazio have already secured their Champions League spot for the upcoming season.
Also read: 'I would like to follow Ronaldo's steps' as Ferran Torres idolizes Ronaldo