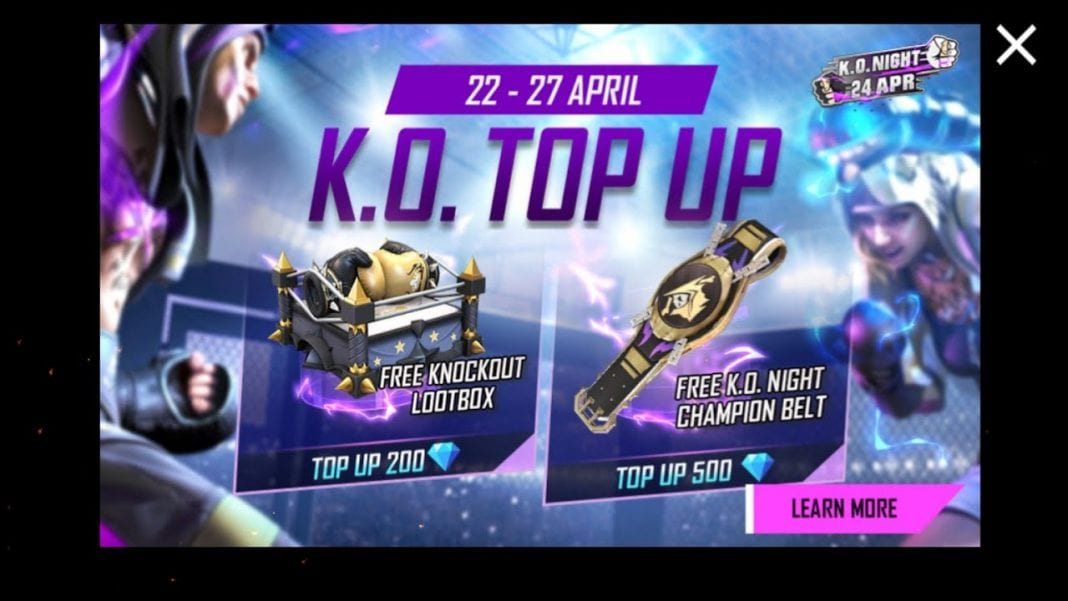 In the latest Free Fire top-up event, the developers are giving a chance to get Knockout Loot box and KO Night Champion Belt in Free Fire. In order to purchase any item from the in-game store, you require diamonds. However, to purchase diamonds you have to spend money and top-up diamonds. In exchange for purchasing the diamonds in the game, the developers are offering free rewards and exclusive items like Knockout Loot box and KO Night Champion Belt.
Knockout Loot box and KO Night Champion Belt in Free Fire: All You Need to Know
As per the official confirmation, the K.O. Night Top Up event will go till April 27. The event has already started on April 22 and is a six-day event (different from the normal seven days period). Additionally, you will also get exclusive KO Night-themed items for purchasing diamonds from the in-game store.
It should also be noted that the items available in the top-up event will be totally free. You need not spend extra money to get the exclusive items. The maximum you have to spend to get the premium reward is 300 diamonds. The rewards as per the top-up diamonds packages are as:
Knockout Loot box: Top up 100 diamonds
KO Night Champion Belt: Top up 300 diamonds
These items are essentially available for free as players do not need to spend diamonds to obtain them. Instead, they only have to purchase a specific amount of diamonds that can be used later. Follow the below steps to get the exclusive rewards from the top-up event:
Top up the diamonds from the store. Click on the diamonds icon in the lobby to proceed.
Out of all available options, select any preferred top-up and make a successful purchase.
Once done, diamonds will be credited to the players' accounts.
From the event section, select "K.O. Top Up" from the "Events" tab. At last, click on the "claim" button to get the rewards in your in-game pocket.
Also Read: Free Fire City Open (FFCO): Registration, Eligibility, Qualifiers and More