An 87th-minute winner from Frenkie de Jong awarded all three points to Barcelona against Deportivo Alaves in a crucial La Liga game at the Estadio de Mendizorrooa on Sunday. Barcelona moved to fifth in the standings while Deportivo Alaves drop to the nineteenth.
Let us have a look at how each player from the two teams performed:
Deportivo Alaves
Fernando Pacheco (GK) (6/10): Pacheco was kept fairly busy throughout the game and made three important saves.
Javi Lopez (7/10): Lopez was useful in some attacking moves for the team with his crosses from the left.
Florian Leujeune (7/10): Leujeune was busy marking the likes of Torres and Luuk de Jong and did fairly well.
Victor Laguardia (6/10): The captain lost a ball on a few occasions in key areas which put pressure on Deportivo Alaves.
Martin Aguirregabiria (6/10): Was useful in attack just like the other side-back but struggled defensively to match the pace of Alba in the second half.
Tomas Pina (6/10): Pina played a defensive role in the midfield and kept Busquets in check.
Gonzalo Escalante (6/10): Escalante was decent defensively but never managed to get out his own half and play some football of their own against the opposition.
Luis Rioja (5/10): Rioja struggled to get through the Barcelona defence throughout the game and was below par.
Pere Pons (4/10): Pons was in the role of a secondary striker but he did everything but have shots on target.
Jason (5/10): Jason also failed to penetrate the Barcelona defence and was simply not impressive enough.
Joselu (4/10): Joselu was left stranded in the Barcelona defensive areas and did not have much to do.
Substitutes
Miguel De La Fuente (6/10): Fuente replaced Pons in the final few minutes of the game and showed promise.
Toni Moya (N/A)
Edgar Mendez (N/A)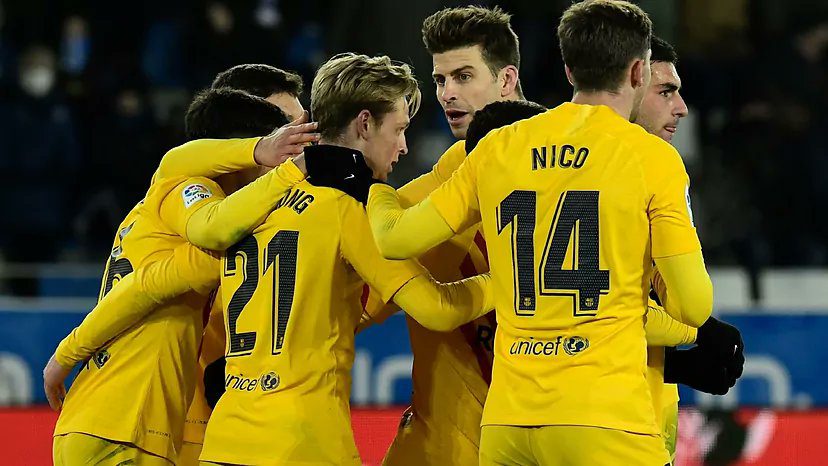 Barcelona
Marc-Andre Ter Stegen (GK) (6/10): Ter Stegen was pretty stranded in the box with nothing much to do throughout the entirety of the game except one big save.
Sergino Dest (6/10): Dest looked a bit hesitant in his attacking moves but was decent enough while clearing the danger.
Gerard Pique (7/10): Pique was central to Barcelona's defensive structure and assisted Dest whenever he could by playing a larger role than needed.
Ronaldo Araujo (7/10): Araujo was composed and did his job well. His towering presence helped Barcelona in set-pieces as well.
Jordi Alba (6/10): Alba was struggling in the first half and barely managed to put some decent attacking balls until Xavi shifted to a three-man defence and he acted as a left midfielder.
Frenkie de Jong (8/10): The Dutchman scored the decisive winner with a brilliant strike and was also decent in the midfield throughout the game. A redeeming performance of sorts.
Sergio Busquets (6/10): Busquets mostly struggled to settle down in a fast-paced Barcelona game and was not in fine form. The veteran midfielder did make some good passes but was troubling while off-the-ball.
Pedri (7/10): Pedri was in fine form on Sunday and showed class with his decisive moves in the midfield which troubled Alaves on more occasions than one.
Ferran Torres (7/10): Torres assisted the winner for Frenkie de Jong and was a poaching character throughout the game.
Luuk de Jong (7/10): De Jong was active and quick with his off the ball movement but could not score a single goal with the chances he managed to create for himself.
Abdessamad Ezzalzouli (5/10): Not an impactful performance but did well closing down on the opposition.
Substitutes
Nicolas Gonzalez (6/10): Allowed Barcelona to be a bit more composed in the central areas in the last few minutes of the game.
Ferran Jugatla (N/A):
Clement Lenglet (N/A):
ALSO READ: Ligue 1: PSG vs Reims Player Ratings as PSG thrash the home side to win 4-0