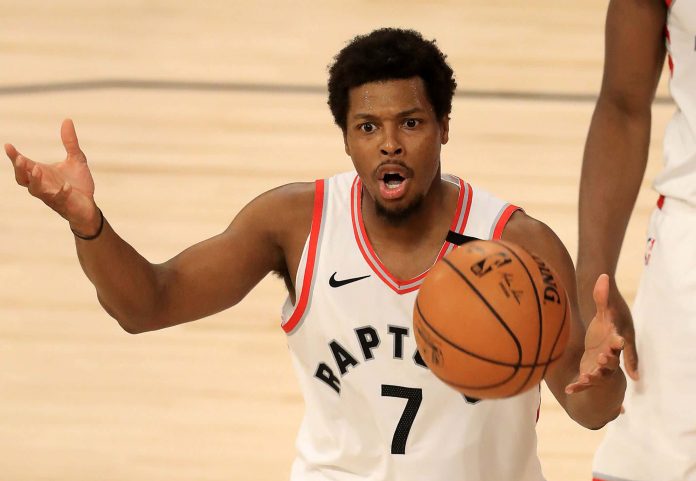 As the trade deadlines close in, a lot of teams pile up their prospects. The mid-season trade will change the fortune for a lot of teams in their quest to playoffs. One of the major prospects will be Kyle Lowry. He turns 35 on the day of trade. The Toronto Raptors may look to let him go this season after 8 successful years in the franchise including a title season. The star point guard will look for a huge extension with whatever team he joins. A lot of teams will look for the veteran. Former NBA veteran Matt Barnes feels it is a win for Kyle Lowry with his decision.
The Canadian franchise registered a huge victory against the Denver Nuggets today. Toronto Raptors ended their crazy night with 135-111 against the former WC finalists. OG Anunoby, Norman Powell and Pascal Siakam added 20+ points each with outstanding offence. On the other hand, Kyle Lowry had 9 assists to his name. His unreal playmaking sense has given him an edge over other point-guards in the league. Kyle is an excellent shooter as well.
Where will Kyle Lowry end up before the trade deadline?
After such impressive seasons with Raptors, a very good team will look to acquire him. Former NBA champion Matt Barnes made his predictions with respect to Kyle Lowry's plausible destinations.
He said, "This is the business of basketball. Unfortunately, this is how it goes down. Kyle Lowry, some can argue is the best Toronto Raptor in the history of their franchise and to lose something with someone like that, I'm sure that's not something they want to do. But if it's for the greater good of the franchise… also good for Kyle, a chance to be in another winning position before his time is up."
There has been a lot of controversial transfers including Kawhi Leonard moving out after a title winning season. Lowry's 14th season still remains one of his best. Both the teams from Los Angeles will look to get the point guard. LA Lakers are in need of a secondary shooter aiding KCP. Kyle just may end up perfectly into the team.
Barnes also said, 35-YO point guards, CP is an exception, there's not too many guys at that age that are still really doing stuff on the court. Kyle Lowry is someone who is doing that, so I look to see if he's able to go to a Philly or a Miami or if the Clippers can pull off something crazy and grab him. You put him in a position to try to win on his way out."
The 76ers may also look for his possible trade. Kyle Lowry prefers a more title contending team to end up via trade.
Also Read: Evan Fournier ensures Orlando Magic inch past Phoenix Suns