Baseball, a sport with an extensive chronicle and opulent inheritance, transcends beyond a mere athletic pastime. One of the most distinguished personalities to have graced the game is none other than Jackie Robinson, who in 1947 shattered the color barrier in baseball, an unprecedented feat that continues to resonate with players and fans alike.
Every year, on the 15th of April, Major League Baseball (MLB) commemorates Jackie Robinson Day, a day of profound significance to pay homage to Robinson's invaluable contributions to the game and his lasting legacy. However, the roots of this customary practice can be traced back to a momentous request made by Ken Griffey Jr. to the former MLB commissioner, Bud Selig.
In 2007, amidst the commemoration of Jackie Robinson Day, the renowned baseball player Ken Griffey Jr. took it upon himself to make a profound gesture of tribute to Robinson's unyielding legacy. In a brazen move that spoke volumes about his unflinching respect for the sport and its storied past, Griffey boldly reached out to Bud Selig, then the Commissioner of Baseball, with a request that would make most players balk: he wanted to wear Robinson's number, 42, on his jersey.
However, Selig came back with a better idea. He suggested that every player in the league wear number 42 on Jackie Robinson Day. This would allow everyone to honor Robinson's legacy and the impact he had on the game. Rachel Robinson agreed to the idea, and in 2007, every player in the MLB wore number 42 on April 15.
Related: WATCH: Bryce Harper's altercation with Jonathan Papelbon in 2015 highlighted the deep dressing room issues in the Nationals dugout
The tradition continues: Major League Baseball honors Jackie Robinson's legacy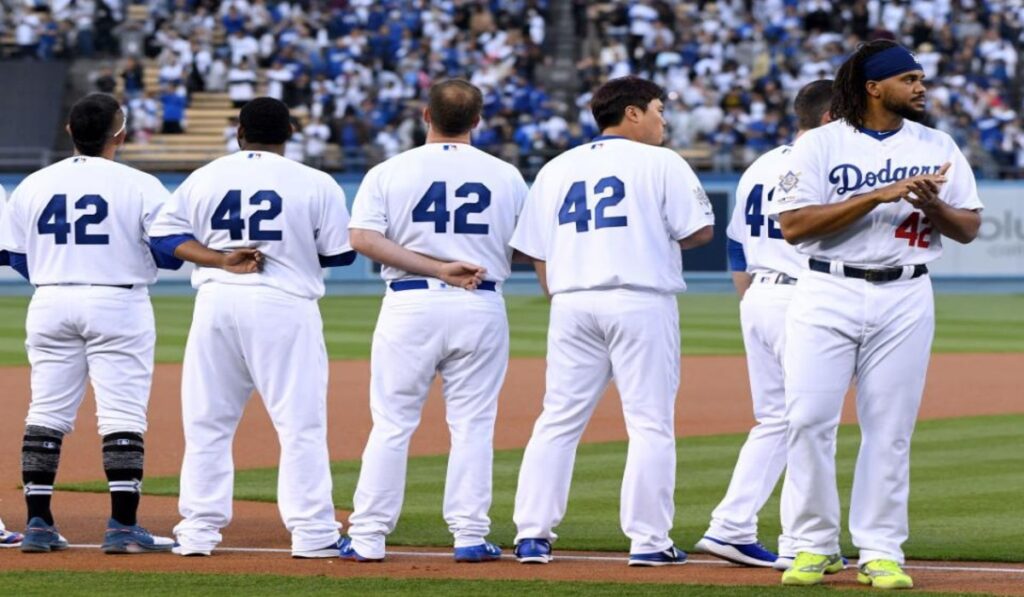 On Jackie Robinson Day, the choice to have every player wear the number 42 was a resounding success. Fans, athletes, and the media all praised the gesture. It was a strong declaration that demonstrated the league's dedication to paying tribute to Robinson's legacy and the influence he had on the game.
April 15 marks a special day in Major League Baseball, as all players don the number 42 to honor the legendary Jackie Robinson. This serves as a poignant tribute to Robinson's remarkable life and his profound influence on the game of baseball.
It also serves as a reminder that while baseball has come a long way since Robinson's historic breakthrough in breaking the color barrier in 1947, there is still much work to be done in order to ensure equal access and opportunities for all individuals within the sport.
Because of Ken Griffey Jr.'s suggestion, Major League Baseball now celebrates Jackie Robinson Day with a custom that has become integral to the league's identity.
It serves as a reminder that baseball is more than simply a game; it also represents a way of life that promotes inclusivity and diversity. Every year, on Jackie Robinson Day, we are reminded of the strides that have been achieved and the work that must be done to make baseball a sport for everyone.
In case you missed it: