There is something special about Elly De La Cruz. After making his debut in June, the young rookie has stolen attention on several occasions. His impressive speed along with his brute strength. This has helped him set various records along the way. After suffering a slight dip in form, the Cincinnati Reds star seems to be back in form at the right time as he clobbered two home runs, including one 119.2 mph off the bat in a huge 11-7 win.
The Reds have had a mixed season so far. After starting slowly, they peaked in the month of June following De La Cruz's MLB debut. Then the Reds have recorded mixed results which has left them stranded at the moment. With four games left to go, they are currently 1.5 games behind the Chicago Cubs for the final wild-card spot.
As the time runs out, the Reds can only hope they win all their games and hope the Cubs along with the Miami Marlins drop at least two games. Whether the scenes will get this intense remains to be seen, the Cincinnati outfit could not take any chances. De La Cruz's two home runs against their rivals Cleveland Guardians set them up for an 11-7 win.
This was De La Cruz's first multi-home run game in the big leagues. The first came in the top of the fourth inning where he took starting pitcher Lucas Giolito to the bleachers. This solo shot helped the Reds cut the deficit to 6-5. They would eventually turn the game around later and De La Cruz would add some insurance runs in the ninth inning. His second home run came off the bat with a speed of 119.2 mph as he absolutely clobbered that ball.
Related: "The boys are back" – MLB Twitter reacts as Phillies CLINCH second successive postseason berth following dramatic 3-2 walk-off win against Pirates
Twitter reacts as Elly De La Cruz shines in victory over Cleveland Guardians
When the going gets tough in sports, teams usually look at their top players for inspiration. As the pressure for the postseason mounts on them, Elly De La Cruz took the huge responsibility of helping the Cincinnati Reds out on his young shoulders. His performances will be key in the next four games and could determine whether the team reaches the latter stages or not.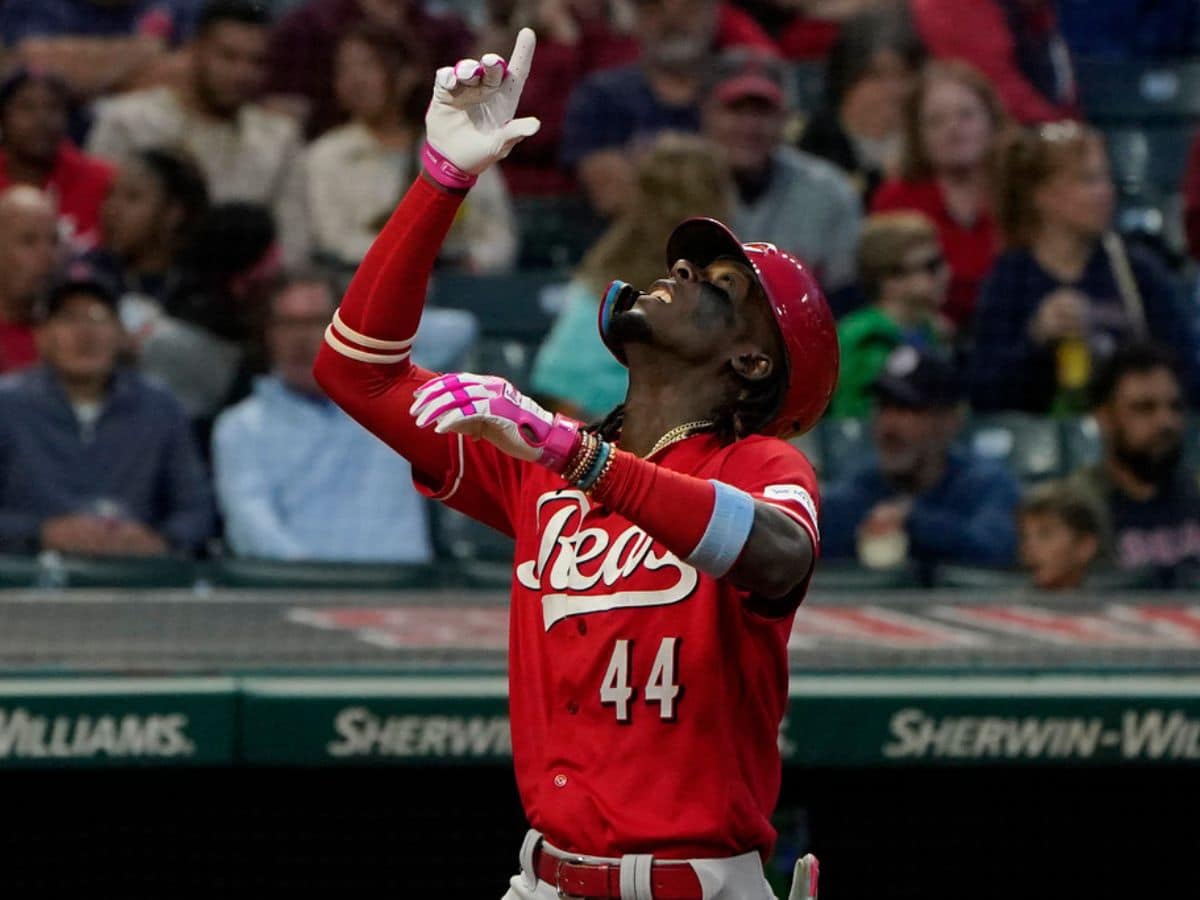 Twitter (now called X) was in great spirits regarding De La Cruz's achievements. They once again joined in the celebrations. One user would write, "Powerhouse in all aspects" while referring to the Reds youngster. Check out some other reactions from Twitter below:
The Reds will now be looking to complete the two-game series of the Guardians next time out. One thing for certain is that they cannot afford to drop any more games from here on if they were to keep their chances alive.
In case you missed it: