MLB- We have seen various ways in which teams in every sport have tried and used illegal ways to win the game. But the match between the Miami Marlins and the Cardinals witnessed something which was unimaginable. We have seen players using performance enhancing drugs, sandpaper for better swing and spin, and to fixing umpires or members of the opposing team.
In the match between the Miami Marlins and the St. Louis Cardinals, a very cheap incident took place in the stands, a woman was caught flashing her boobs in order to distract a pitcher of the St. Louis Cardinals. Such an act in public for whatever reason is considered very cheap. And was even looked down upon by the Marlins Organization.
This act was caught by the viewers watching the match at home, where the act was clearly visible in which an female MLB fan was flashing her cleavage in the month of May 2017 in a game between the St. Louis Cardinals and the Miami Marlins.
Also Read: "Happy birthday my love"- Alex Rodriguez gifted Jennifer Lopez a 911 GTS Convertible for her 50th birthday, J-Lo stated she knew no driving
MLB fan Korina Evaniuk's efforts all in vain as the Miami Marlins lose the match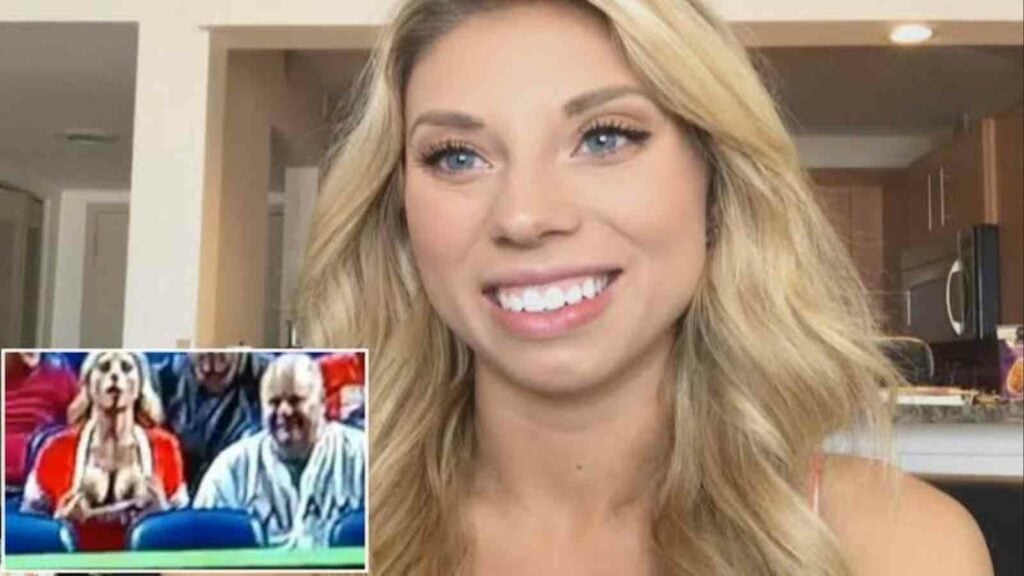 The woman flashing her cleavage was identifies to be Korina Evaniuk, a 22-year-old woman who had come for the match with her friend. He very soon became very famous on the internet for giving the audience quite a view of her assets. "I just shimmied my boobs a bit but I guess the whole internet just broke after that," Korina Evaniuk told Inside Edition.
Here the question aroused with whom Korina Evaniuk attended the match, it was none other than Laurence Leavy, the man who's known for dressing in the orange color of the Miami Marlins, he's also known as the "Marlins Man" and his reason to bring her for the game was totally hideous. Leavy said he brought her to the game to make it interesting since the games seem to lack excitement this season.
Though Korina Evaniuk's and Laurence Leavy's efforts all went in vain as the Miami Marlins were defeated by the St. Louis Cardinals by a margin of 7-5.
Also Read: "Isn't she just Adorable"- Francisco Lindor's daughter charms the MLB Nation with her cuteness
Also Read: "You f**king cheat"- Joe Musgrove accused of foreign substance by Buck Showalter, Padres vanquished Mets 6-0 to clinch a spot in NLDS
Do follow us on: Facebook | Instagram | Twitter