As fans are counting the seconds till the start of the much-awaited Barcelona Grand Prix in the Circuit de Barcelona-Catelunya, Spain, the racers are biding the time till they have to battle it out for the race win. After a tumultuous Qualifying Session yesterday, the front row has been locked out by three of the fastest riders on the track right now.
Aprilia's Aleix Espargarò has secured pole position in the Catalan circuit, while Francesco Bagnaia has got the second place after him. They are followed by reigning World Champion Fabio Quartararo, who got P3 in yesterday's Qualifying. Just a week ago, the Mugello Grand Prix podium had the same riders on it–Bagnaia was the race winner, Fabio came second and Aleix Espargarò was in the P3 position.
As the three racers are all vying for the race win at the Gran Premi de Catalunya, fans might think their rivalry is obvious. But in the press conference that preceded the race, the riders joked with each other, seeming rather friendly.
Read More: Francesco Bagnaia Gets Pole Position in MotoGP Round 6: Qualifying Results for the Spanish Grand Prix 2022 in Circuit de Jerez
Francesco Bagnaia stresses upon the friendship between him and Quartararo and Espargaro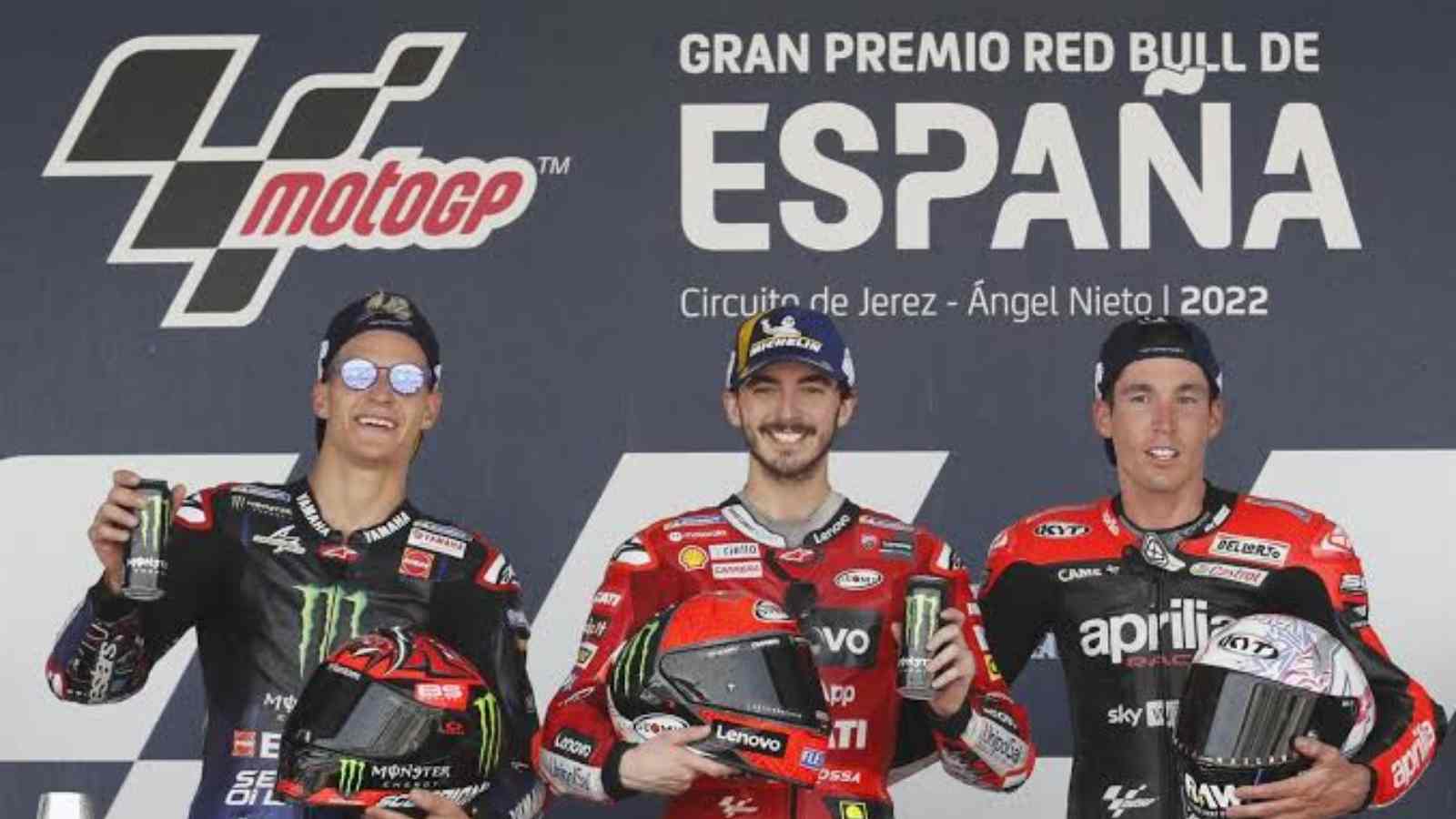 Francesco Bagnaia was asked about the friendship between him and his fellow podium winners at the Mugello Grand Prix. While people might think three of the fastest racers in MotoGP at the moment have a huge rivalry between them, Pecco confirmed it is nothing like that.
Francesco Bagnaia said, "Mutual respect is the basis of a healthy rivalry. But this doesn't change anything on the track. When we're racing, we really battle it out, but respecting each other."
Pecco also talked about the Catalan Grand Prix, saying, "Aleix, Fabio, and I are the three fastest, and I think my pace is close to that of Espargaro's. In the FP4, we worked differently. He started with a new tire, I with one that already had thirteen laps on it, and I took it beyond the race distance."
When asked about his strategy for winning the Grand Prix, he just said, "The key tomorrow will be to be smart in rear tire management."
Read More: "I don't agree with that," Fabio Quartararo against reduction of test days for the 2023 season
Read More: Portuguese MotoGP Race Results: Reigning World Champion Fabio Quartararo Wins His First Race Title For 2022