Things got shaken up right in the first corner of the Catalan Circuit for this week's Barcelona Grand Prix as three racers collided and got into a huge accident just as the race kicked off. Francesco Bagnaia, who won the race in the Mugello Grand Prix in Italy, had snatched the P2 position in Qualifying Session for the Barcelona Grand Prix, right behind pole-sitter Aleix Espargarò of Aprilia.
In the press conference before the race, Francesco Bagnaia had let his goal of winning the Catalan GP be known to all. He said he was sure his pace was at par with Espargarò's, and that he believed he could surpass him with some skills and tyre management tactics. Unfortunately, Bagnaia could not work according to the plan as he got involved in a crash with Suzuki racer Alex Rins and Honda's Takaaki Nakagami.
Read More: Portuguese MotoGP Race Results: Reigning World Champion Fabio Quartararo Wins His First Race Title For 2022
Giant crash in turn 1 of the Barcelona Grand Prix results in a retirement for Nakagami, Bagnaia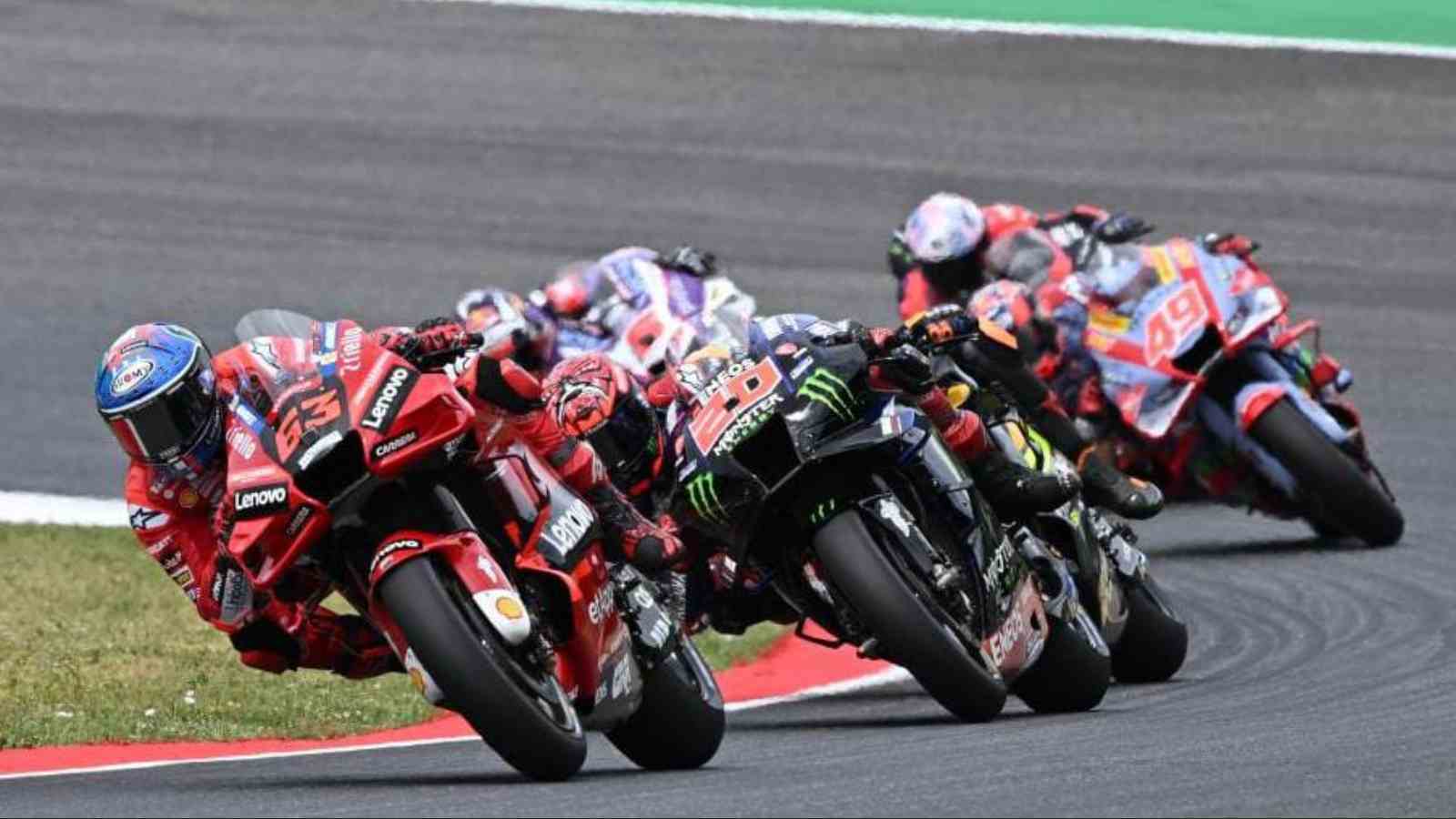 The Barcelona Grand Prix is feared by the riders because of the lack of traction on the Catalan race track. When the race started, and the riders were all looking to improve their positions in the first lap itself, Nakagami skidded on his motorbike and a small part of his helmet got clipped to Francesco Bagnaia's tyre. This caused Pecco to fall down as well, and the both of them took out Alex Rins who could not find enough room to go past them.
Because of Nakagami 😔#MotoGP #CatanGP pic.twitter.com/K41L4WlgOu

— M. Al Adhim (@Aladhim89) June 5, 2022
After the crash, Nakagami retired immediately but Francesco Bagnaia stayed in the race. He could not believe he had a crash after his brilliant performance in Saturday's Qualifying Session. Pole-sitter Aleix Espargarò had also succumbed to some effects of the crash, and he was down in P19. This meant the course was clear for Fabio Quartararo to take over the lead of the race, after originally qualifying in the third place.
Even though Francesco Bagnaia did not retire after the crash and chose to continue with his run in the Barcelona Grand Prix, he had to finally give up and go back to the pits as his motorbike was in no condition to keep racing
Read More: Francesco Bagnaia Gets Pole Position in MotoGP Round 6: Qualifying Results for the Spanish Grand Prix 2022 in Circuit de Jerez 
Read More: "I don't agree with that," Fabio Quartararo against reduction of test days for the 2023 season