23XI Racing driver Bubba Wallace had the best opportunity in the season to secure the much-needed on Sunday at Texas Speedway. He would have secured an automatic round-of-8 spot if not for the poor final restart. Hendrick Motorsports' William Byron made full use of the opportunity to score his sixth win of the 2023 season.
Wallace, while talking about the race result in his post-race interview, was visibly disappointed. He pointed out that he messed up the final restart despite being the best restarter of the 2023 season. He admitted that it stings a little bit, and he hates the result for his team, who fielded the best car possible for him.
"I just choked. I had my worst restart. I hate it for my team. You have to go out there and fight for it and not give it away. I gave it away. This one is going to sting a little bit. The best restarted in the game gives it up on a restart," a somber mood Wallace said, as reported by Motorsports.com.
In case you missed it: Kyle Bush admits Denny Hamlin is playing the NASCAR heel role perfectly
Bubba Wallace has positives to take with him to Talladega
Despite the disappointment, Wallace had some positives to take out and gain momentum for the upcoming race weekend at Talladega, where he scored his first win, though it came due to a rain delay. He led a career-best 111 laps, scored stage points, and reduced the point deficit to just two from 19. He sits just two points off the cut-off.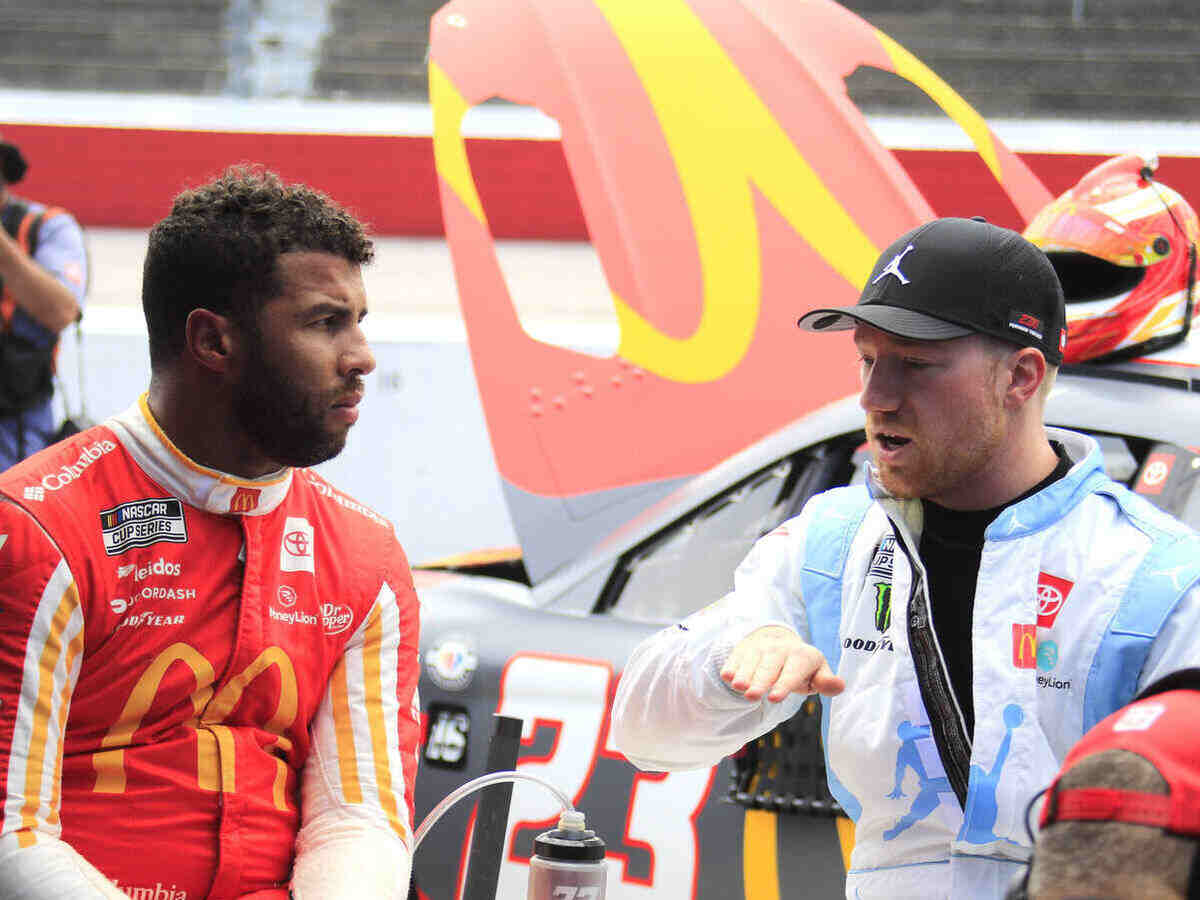 While discussing what he learned from the race, Wallace noted that he had improved his processing skills. "You've just got to process things slower. I feel like I've made a massive improvement in that, processing things a little bit better, but when it comes down to crunch time, you have to keep it all in check," he said.
Talladega, although it is one of his best tracks, will be one of the biggest challenges for him as well. During the summer race, two bad defenses of his best friend Ryan Blaney saw him wreck both. As a playoff driver, Wallace shouldn't risk a solid point-paying opportunity by going all out for the win.
Discover: