Danica Patrick is the most successful female NASCAR driver in history. Patrick raced in the Xfinity Series, Cup Series, and also IndyCar. She started out in Karting before traveling to Europe to compete in Formula Vauxhall and Formula Ford. Patrick returned to the United States due to a lack of funding and participated in the IndyCar Series.
She became the first woman in history to win an IndyCar Series race and was awarded the Rookie of the Year Award in 2005. She was IndyCar's most popular driver between 2005 and 2010. Patrick then shifted her focus to NASCAR, where she enjoyed tremendous success. She became the first woman to clinch a pole position in the Cup Series.
She retired from competitive racing in 2018. Since then, Patrick has been engaged in various business ventures. She owns her own brand of Wine, an athleisure clothing brand, and a successful scented candle business. More recently, she has produced a popular podcast titled 'Pretty Intense'. Patrick's podcast attracts extremely sought-after guests. Jimmie Johnson, Neil De Grasse Tyson, Howie Mandel, Kyle Busch, Sadhguru, and Jordan Peterson are some examples of popular personalities who have appeared on Pretty Intense.
Patrick certainly needs the benefits of taking some time away. She is currently vacationing with her friends in Hawaii. Patrick will undoubtedly be well-rested and ready to take on future challenges as soon as she returns from her holiday. She recently shared a bold picture of her resting on the Island, taking a sun bath on her Instagram handle. It has garnered over 41 K likes. "The sun will always shine…. But sometimes, you have to be patient. So I am being patient. But in a ready-to-receive position. Sort of an analogy, ya know," she captioned the post.
Related: Trackhouse Racing to preserve Ross Chastain's "Martinsville wall car" as NASCAR outlaws such desperate actions.   
Danica Patrick recently revealed her fitness routine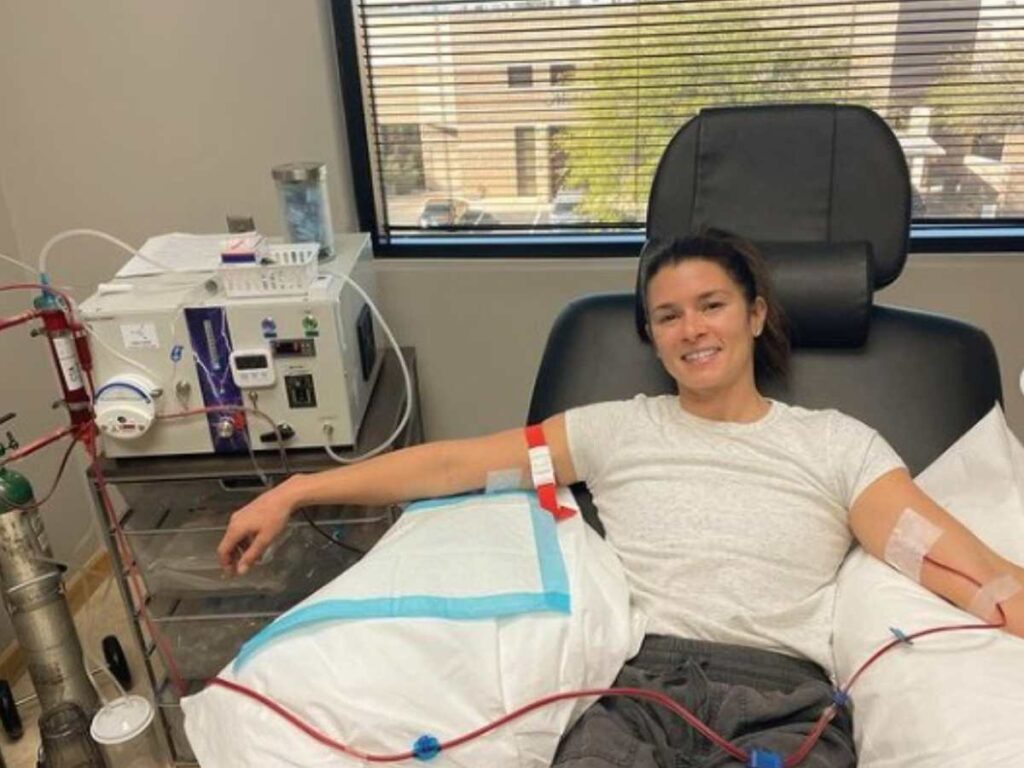 In a recent Instagram post, Patrick revealed that she had been enjoying the month of January away from all commitments and focusing on herself. "I have been home for all of January, hence a lack of IG content. Which means I have been working out, eating at home, recorded some podcasts, walking the dogs, watching football, playing golf, and taking care of my body and mind,". She mentioned this in her caption. Patrick also revealed that she planned this break months in advance to have some time away from her hectic schedule.
She mentioned undergoing a 3rd round of EBOO treatment in the post before heading off to Hawaii with her friends. For those unfamiliar, EBOO is a form of Ozone IV therapy that uses a dialysis filter to oxygenate and ozonate blood beyond levels that have been naturally achievable in the past. During the treatment, all toxins, metals, molds, and candida (a type of yeast infection) are collected in the filter thus turning it black. Patrick's filter was seemingly clear, hence displaying her toxin-free system.
The former NASCAR driver shared her workout regimen, which enabled her to achieve great results. Apart from lifting thrice a week, Patrick also performed 120 minutes of low-impact cardio. She also took a 12-minute cold plunge every week, being immersed in cold water stimulates leukocytes, controls inflammation, and aids in fat burning. Apart from her physical undertakings, Patrick also restricted her diet. "[I ate] a ton more carbohydrates of oatmeal, sweet potatoes and rice. Equal grams of protein and carbohydrates,". she said.
In case you missed it: