NASCAR is a sport heavily dependent on sponsorships, and it is always interesting to see unique partnerships on most race weekends. This weekend, Michael Jordan and Denny Hamlin's NASCAR Cup team, 23XI Racing, will sport Rocket League livery in Michigan. The No.45 Toyota Camry of Tyler Reddick will have primary sponsorship from the popular vehicular soccer video game Rocket League. 
Sports Business Journal's Adam Stern stated, "The deal was set up by 23XI's Steve Lauletta, who has worked in the gaming and esports space." Rocket League was launched in 2015 and quickly became popular among gamers. This weekend at the Michigan International Speedway, they will make their NASCAR Cup presence with the 23XI Racing team. This would be a great partnership for both parties, without any doubt.
Tyler Reddick's Toyota Camry will sport an interesting paint scheme that includes the ball from the video game. The iconic blue and white ball will be featured on the hood, with yellow and red paint merging with the blue base of the car. Though this is an exciting and unique partnership, this is not all. 23XI Racing teased the fans with another statement.
Related: "Garbage team. Mid driver. Perfect match"- Fans react as $1.9 billion worth NBA franchise sponsors Alex Bowman for Michigan NASCAR Cup race
23XI Racing hinted at another special announcement with Rocket League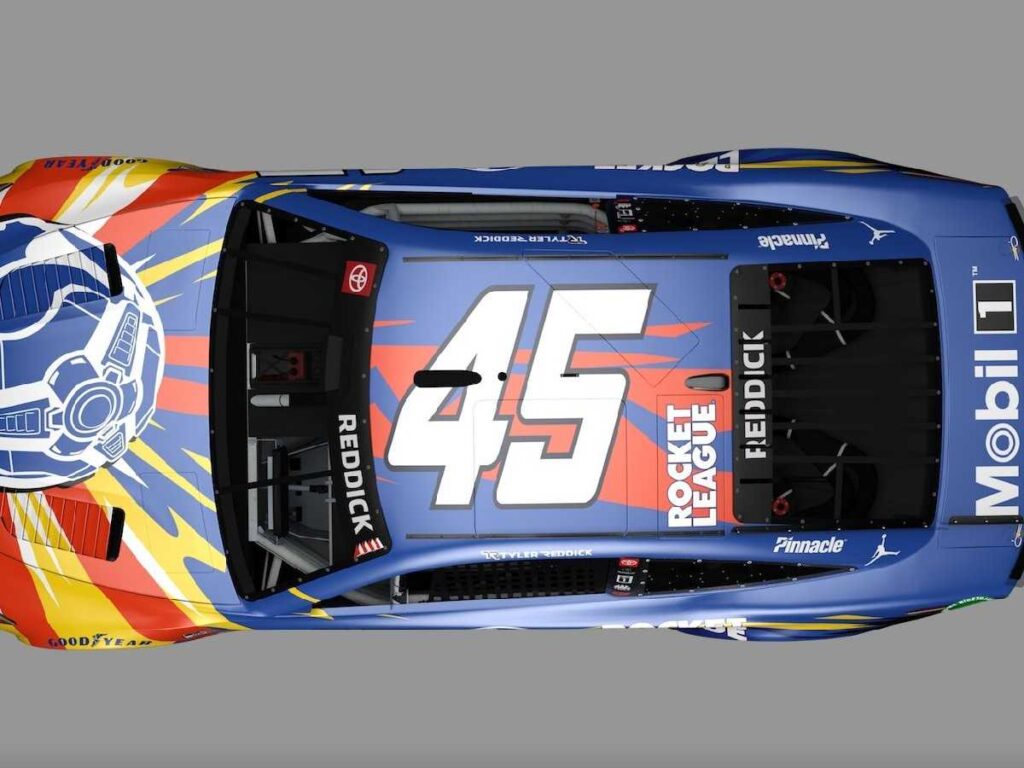 23XI Racing tweeted, "We are proud to partner with Rocket League! Catch Tyler Reddick and the #45 Rocket League Toyota Camry TRD in action on August 6th at Michigan International Speedway." They added, "The finish line doesn't always mean the race is over. Look out for a special announcement from Rocket League later this year!" The team hinted that there would be another major announcement soon.
While this is an exciting partnership for gamers and NASCAR fans, this is not the first crossover between NASCAR and Rocket League. In 2021, the company partnered with NASCAR and several teams like Roush Fenway Racing, Stewart-Haas Racing, Team Penske, Chip Ganassi Racing, Richard Childress Racing, Hendrick Motorsports, Richard Petty Motorsports, Joe Gibbs Racing, and 23XI Racing to form the NASCAR 2021 Fan Pack. This special pack allowed Rocket League players to run NASCAR Cup Series cars in the game. It is safe to say that this feature was every gamer/motorsports fan's dream.
The following year, Rocket League introduced a new 2022 Fan Pass featuring the Next Gen versions of the Ford Mustang, Chevrolet Camaro, and Toyota Camry. Well, their partnership with NASCAR has always been riveting. And fans can't wait to see the No.45 Toyota car featuring the Rocket League in FireKeepers Casino 400 at Michigan Speedway.