Michael Jordan is a name that shines the brightest in the NBA constellation. Even to this date, players are often referred or compared to Jordan though decades have passed since he retired.
Jordan dominated the 1990s and took the Chicago Bulls to a height that still is considered as the golden age for the franchise. But like everything his reign also came to an end when he decided to finally retire in 2003.
But Michael Jordan has influenced people beyond the limits. His influence is immense not only in Basketball but also in the shoe industry and when he launched his own pair of shoes nobody knew it would change the game forever for the sneaker community.
Also Read: Twitter Trolls Kyle Kuzma over 'Elon Musk' Tweet
Penny Hardaway on Michael Jordan wearing his shoes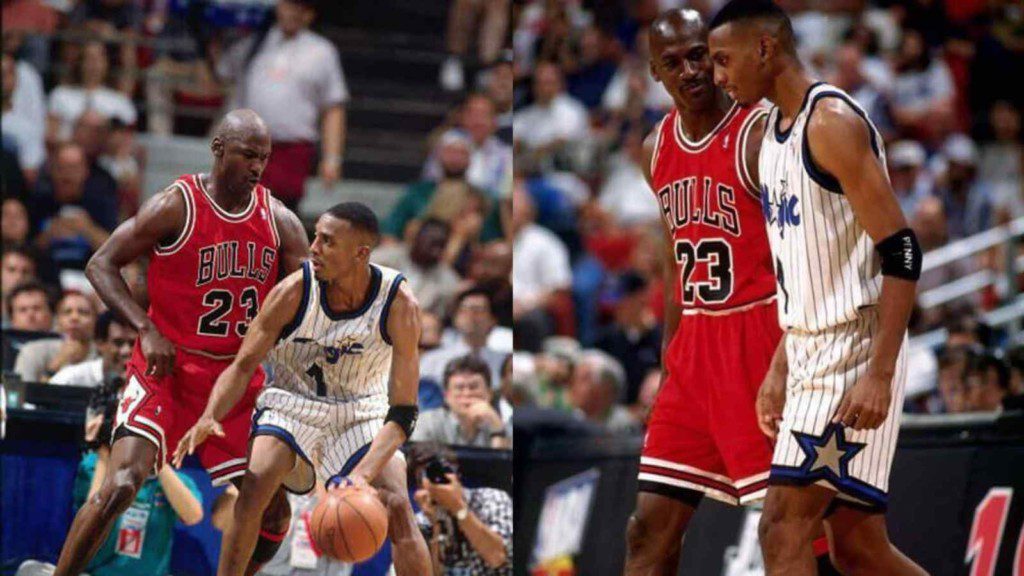 Michael Jordan and Nike signed a deal that launched the AIR Jordan and by 2019 this partnership has become worth $3 Billion. MJ was often seen wearing his signature pairs on the court but there was a time when he didn't.
During Game 3 of the Eastern Conference Semi-finals in 1995, the Orlando Magic led by Shaq O'Neal and Penny Hardaway were hosted by the Chicago Bulls. The game series was tied to 1-1 and the Magics were an emerging team in the league.
Now, the usual sight that has been the routine: watching Jordan wearing Jordan but not that day. Michael Jordan, to be more specific the only time MJ wore Player Exclusive shoes other than his in an NBA match were Hardaway's Nike Air Flight Ones.
Anfernee Deon  Penny Hardaway recently appeared on #NBAHooperVision where he disclosed this moment to the hosts Jamal Crawford and Quentin Richardson, and how great it felt.
Penny said, "For him to wear my shoes, I was tripping."
With Penny's sneakers, Jordan dropped a series high with 40 points but the Magics still took the victory home by 110-101.
Penny Hardaway was a budding guard during the 1990s unlike Michael Jordan was already at the pinnacle of the league. So, this gesture did overwhelm him.
Hardaway was drafted by the Golden State Warriors in the 1993 NBA draft and went on to represent his hometown Memphis throughout his career. Soon after the draft, he was traded to the Orlando Magic. And, currently, he is coaching the Memphis Tigers of the American Conference.
Penny might have had a turbulent life both on and outside the court but the man spring right back up each time.
Also read: "LeBron James is the best basketball player I've ever seen"- Marcus…