Kareem Abdul-Jabbar's irrefutable greatness will forever glimmer across the pages of history. His unyielding NBA all-time scoring record stood for an astounding 39 years, a testament itself to the legendary center's era-defining achievements. 
Having won six championships during his time in the NBA, Karim Abdul-Jabbar's on-court skills are still marveled at even today. An all-time great and Hall of Famer, his scoring records aren't the only attributes that make the legend stand out.
The Lakers legend ranks third in the NBA all-time career blocks (3,189) and fourth in rebounds (17,440). It was his versatility on the court that truly earned Kareem Abdul-Jabbar a front-row seat among the greatest of the sport.
Related: WATCH: 'Tears of history!' LeBron James gets emotional as Kareem Abdul Jabbar hands him over the ball after he broke the NBA all-time scoring record
| | |
| --- | --- |
| Player name | Kareem Abdul-Jabbar |
| Born | 1947 |
| Rings count | 6 |
| Ring years | 1971, 1980, 1982, 1985, 1987, 1988 |
| Teams he won rings with | Milwaukee Bucks, Los Angeles Lakers |
| Drafted year | 1969 |
| Drafted by | Milwaukee Bucks |
How many NBA seasons did Kareem Abdul-Jabbar play? 
Kareem played 20 seasons in the NBA, amassing six championships during the period.  The legend was a record six-time NBA MVP, 19-time NBA All-Star, 15-time All-NBA Team, and an 11-time NBA All-Defensive Team selection.
It's incredible how Abdul-Jabbar was named an All-Star in 19 out of the 20 seasons he played in. Right after his debut, the legendary center was named Rookie of the Year. His record of six MVP honors remains the benchmark for generations of basketball stars. Moreover, his massive scoring record of 38,387 points stood for a prolonged 39 years until LeBron James outscored the legend.
The Ring Years
Out of his six NBA Championships, Kareem Abdul-Jabbar won his first ring with the Milwaukee Bucks in 1971 and the final four with the Los Angeles Lakers. During his time at Bucks, Abdul-Jabbar was named NBA MVP thrice for his outstanding performances that continued throughout almost the entirety of his career.
His remaining four championship titles were won in 1980, 1982, 1985, 1987, and 1988 after the legend moved to the LA Lakers in 1975.
Kareem Abdul-Jabbar: A record six-time NBA MVP
Kareem Abdul-Jabbar's versatile display all over the court made him stand out as a center. His extraordinary offensive skills, rebounding, and defensive supremacy made him one of the best players of his time. The 19-time All-Star won six NBA MVP awards in 1971, 1972, 1974, 1976, 1977, and 1980. He was also named NBA Finals MVP twice – in 1971 and 1985 – across a stretch of 15 seasons.
Kareem Abdul -Jabbar's NBA All-Time scoring record stood for 39 years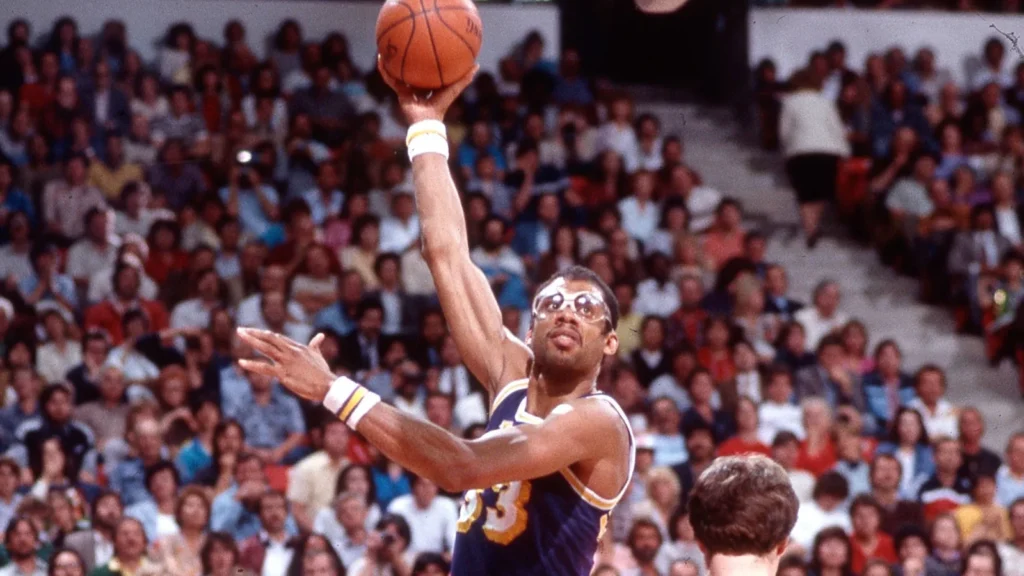 Breaking Wilt Chamberlain's all-time NBA scoring record on April 5, 1984, against the Utah Jazz, Karim Abdul-Jabbar established his utter supremacy at the top of the scoring charts. He would go on to add another incredible 7,000 points to the massive tally – with a career average of 24.6 points per game.
On his journey to scoring the legendary 38,387 points, the 7 foot 2 Centre averaged 30 or more points in four different seasons. Mind-boggling how the legend aced ALL this – while ranking third in all-time blocks (3,189) and fourth in rebounds (17,440) across NBA all-time charts.
Kareem Abdul-Jabbar's astounding record that stood for a majestic 39 years is a clear testament to his unrivaled consistency. The center's all-around versatility remains an inspiring benchmark for all the players of the sport across generations. 
To argue if Abdul-Jabbar is the ultimate contender for the NBA GOAT status might be heavily weighed on. But across his prolonged 20 seasons in the NBA, he left his mark down the phases of history and will forever be an all-time great.
In case you missed:
Michael Jordan breaks silence after LeBron James surpasses Kareem Abdul Jabbar for NBA scoring record
Kareem Abdul-Jabbar blames his "nature" for his poor relationship with LeBron James, not his repeated jabs at the current NBA all-time leading scorer