The Western Conference has been as competitive as it's ever been in a while. The 7th seed and the 13th seed have a separation of only 2.5 games between them. The Portland Trail Blazers have had a rollercoaster of a season and have been all over the Western Conference, ranging From the 4th seed to the 13th seed. Damian Lillard, on the other hand, is having a season for the ages.
The point guard has been averaging 32 points per game on 46 percent efficiency, and leads the league in 40 point games, with 14 instances of Lillard scoring 40+. He also leads the league in three-pointers made and clinched the three-point contest at the All-Star Weekend.
He averaged 38.5 points in February which included 4 instances of him scoring 40+ points, including a record-breaking 71 point game against the Houston Rockets. The Blazers were 6-5 in February. However, they haven't been able to capitalise on the momentum they built last month and are 2-4 since the beginning of March.
Also Read: Clip of a Kings fan predicting the team's future before the season began breaks the internet after their 40th season win
Is Damian Lillard playing tonight against the Pelicans?
The Trail Blazers will be visiting New Orleans tonight and Lillard's status for the game has been stated as probable due to tightness in his right calf. The Pelicans will be without Brandon Ingram (ankle) and Zion Williamson (hamstring).
Pelicans guard CJ McCollum will be playing his former team for the second time this month. The previous encounter saw the Pelicans take home a 121-110 victory.
Also read: Steph Curry's EPIC interview after producing yet another CLUTCH display against the Bucks has fans in awe
Where does Damian Lillard play?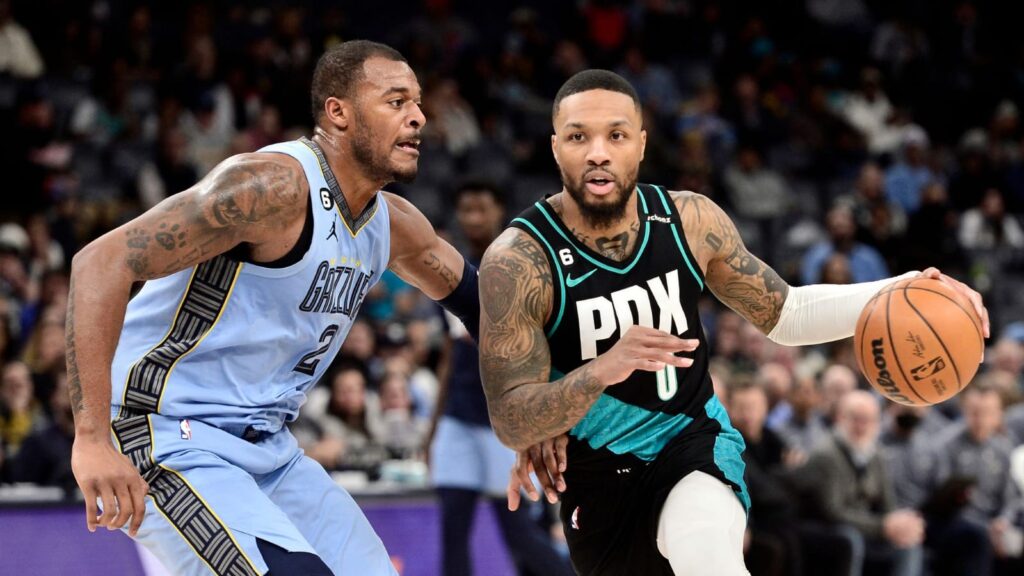 Lillard is a 6'1 guard and plays the Point Guard like any player of his size. Point guards are usually the primary ball handlers of a team and are expected to initiate the offense, make plays and run the floor. Lillard is arguably a top 3 shooter in the league right now alongside Stephen Curry and Klay Thompson and leads the league in threes made. Notable point guards include Magic Johnson, Oscar Robertson, John Stockton, Chris Paul etc.
Also Read: Draymond Green injury update: How long will he be out for?
Damian Lillard Fantasy Impact
Lillard has been a dominant scoring option of late for the Trailblazers, averaging 39.2 points per game on 49.2% shooting from the field in that span. The veteran guard continues to offer steady output across the board in multiple category formats for fantasy owners, averaging 32.3 points, 7.1 assists, and 4.4 rebounds per game while carrying a usage rate of 32.6% so far this season.
In Case you missed it:
LeBron James reacts to Stephen Curry's CLUTCH outing against the Bucks
Ja Morant's 'sexual' pictures of getting a lapdance at a strip club from the night of his IG gun controversy break the internet