The Phoenix Suns welcomed Kevin Durant to their team this season, following his move from the Brooklyn Nets. Durant's arrival was highly anticipated, as he is one of the most talented players in the league, with a reputation as a fierce competitor and a leader on and off the court. After recovering from a sprained right MCL, Durant made his long-awaited debut in front of the Suns' home crowd, but his return was not without its challenges.
Durant's first scheduled appearance at the Suns' home floor was cut short due to a freak ankle injury during pregame warmups. He subsequently missed the next nine games, including a matchup against his former team, the OKC Thunder.
However, his absence did not slow down the Suns, who have remained unbeaten in every game that Durant is available to play. In his four games so far, Durant has made a significant impact, averaging 24.0 points, 7.5 rebounds, and 3.8 assists while shooting an impressive 56.7% from the field.
Also Read: Kevin Durant believes his mindset changed a lot after leaving Warriors, says he 'doesn't care' about his legacy
Is Kevin Durant playing tonight?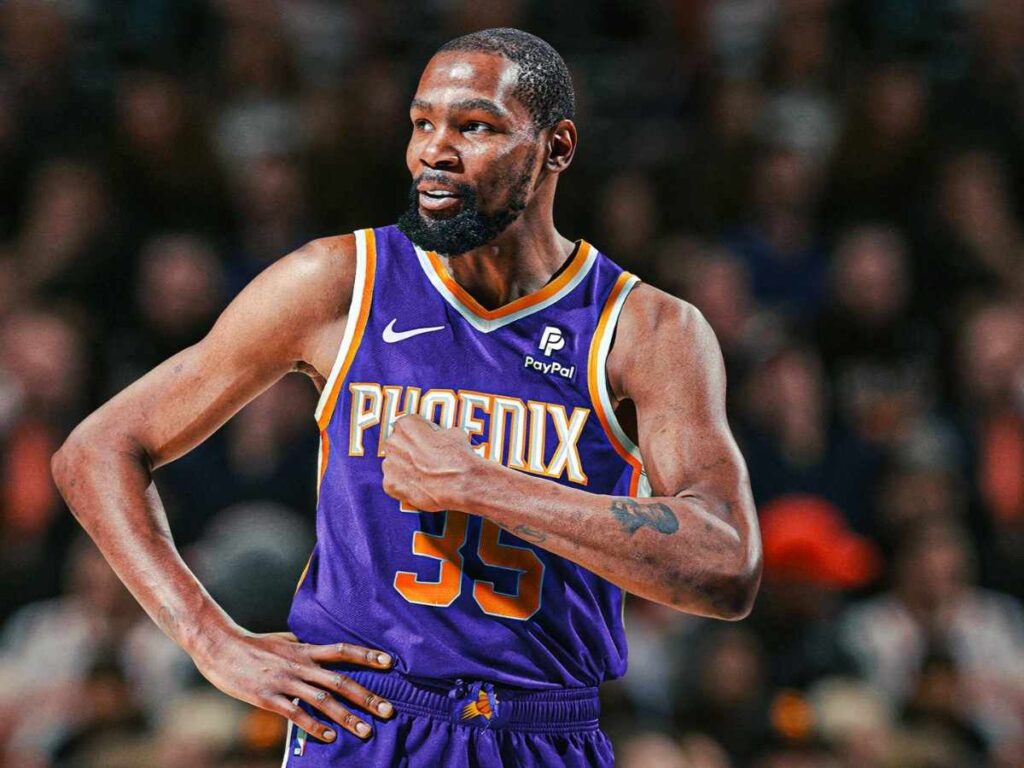 According to the latest updates, Kevin Durant is not on the injury report for the Phoenix Suns' upcoming game against the top-seeded Denver Nuggets on Friday night. This means that he is expected to be available to play, and fans can finally look forward to seeing him in action in front of the home crowd once again.
Durant's debut on the Suns' home court was delayed due to a freak injury during warmups, and he missed their last nine games before making a rusty return against the Minnesota Timberwolves. However, he still managed to contribute to the team's crucial win, finishing the game with 16 points, eight rebounds, and four assists. With his impressive stats so far this season and his potential to regain his rhythm, Durant's presence in the upcoming game against the Nuggets could make a significant impact on the Suns' performance.
Also Read: "It was a total annihilation," NBA Twitter goes BALLISTIC after the Bucks' 41-point humiliation to the Celtics at home
Where does Kevin Durant play?
Kevin Durant is one of the most talented basketball players of his generation, known for his exceptional scoring ability and versatility on the court. Standing at 6'10", Durant is a skilled player who can dominate in multiple positions, making him a constant threat to opposing teams. His offensive game is highlighted by his exceptional scoring, averaging 24.0 points per game, along with 7.5 rebounds and 3.8 assists in the past four games for Suns. Durant is a masterful ball-handler and has a reliable outside shot, making him a deadly scorer from all areas of the court.
Defensively, Durant is equally impressive, using his length and athleticism to challenge shots and disrupt passing lanes. His contributions to the Phoenix Suns this season have been invaluable, with the team remaining unbeaten in every game he is available to play. Despite missing time due to injury, Durant has continued to play at a high level, shooting an impressive 56.7% from the field and 52.9% from behind the arc.
Durant's leadership and talent have made him a crucial player for the Suns, and his performance will be critical to the team's success in the upcoming games, including their matchup against the top-seeded Denver Nuggets. With his impressive skill set and dominant play on the court, Durant has cemented his place among the best players in the league.
Also Read: "Greatness doesn't shake his head" – Suns HC Monty Williams encouraged Kevin Durant after sluggish start during his home debut