The NBA regular season is approaching a dramatic finale in the Western Conference as teams are intensely battling it out to secure a play-in spot. Among those teams are the Los Angeles Lakers and the Utah Jazz, currently placed 7th and 12th respectively. The Lakers, led by Anthony Davis and LeBron James have had an impressive turnaround since the trade deadline after revamping their roster and adding to their depth. They have been 13-6 since the deadline and have a record of 40-38.
Although LeBron James stayed out for a month from Feb 26, the Lakers' young core led by the experienced Anthony Davis turned their season around, making them legitimate contenders for a deep playoff run.
James returned to action on March 26 after going through an extremely strict and intense recovery process. The 4 time MVP is having a season to remember, averaging 28.8 points, 8.5 rebounds and 7 assists per game in 51 appearances. With 4 games to go, the Lakers are expected to go all out to seal their play-in spot.
Also Read: Angel Reese's explanation for taunting Caitlin Clark has basketball fans FUMING on Twitter
Is LeBron James playing tonight vs the Jazz?
According to the latest updates, LeBron James and and Anthony Davis are on the injury report along with D'Angelo Russell. While AD and D'Lo are 'probable', James has been listed as questionable. The Lakers are 6-0 with the trio of James, Davis, and Russell starting for them.
Multiple players have appeared on the Utah Jazz's injury report and it is a big blow given the circumstances of the team with only 4 games remaining. The Jazz, however have an advantage over the Lakers as the underdogs are 2-0 against the LeBron James led team. This game holds immense importance in the current context and the Jazz would do anything to keep their season alive.
Also read: LeBron James defends 'CLASSLESS' Angel Reese after she mocked Caitlyn Clark in the NCAA women's basketball Final
Where does LeBron James play?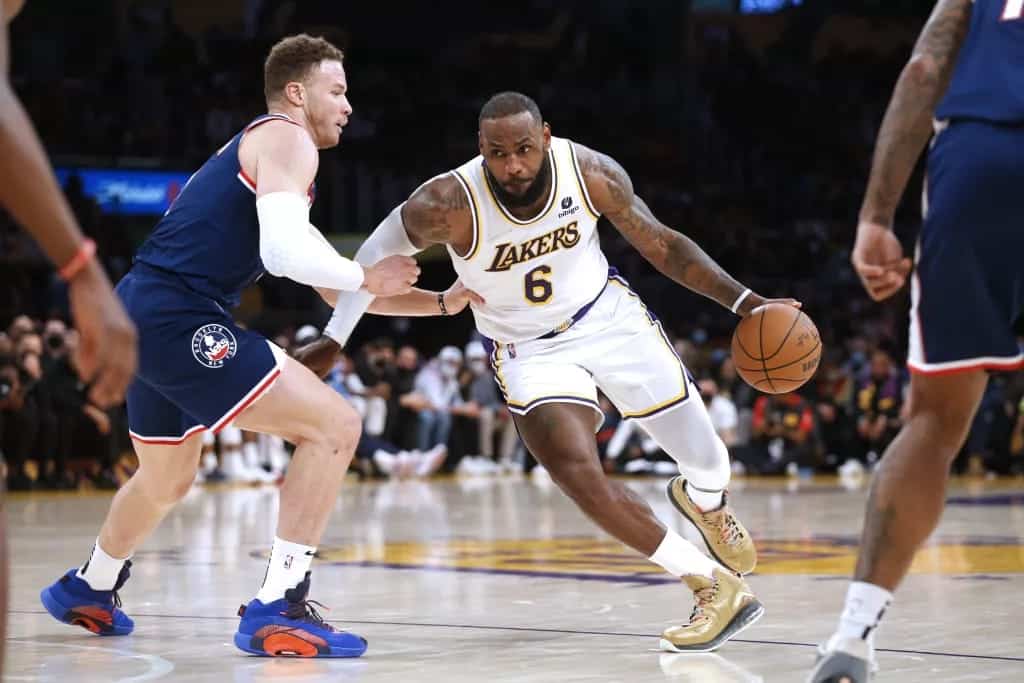 LeBron James is a 6'9 250 pound athlete who's played the majority of his career as a small forward. Small forwards are usually the most versatile players in the team and are expected to make cuts / drive in and lead fastbreaks. LeBron has also played the point guard and power forward multiple times in his career, and can accurately be described as a point-combo forward.
Also read: NBA Twitter claims Kendrick Perkins racially biased after analyst's HARSH comments about Luka Doncic
LeBron James Fantasy News and stats
James' fantasy statistics this season are as follows.
| YEAR | FPTS | FPTS/G | MPG | PPG | APG | RPG | BPG | SPG |
| --- | --- | --- | --- | --- | --- | --- | --- | --- |
| 2022 | 2516 | 49.3 | 35.6 | 28.8 | 6.9 | 8.5 | 0.6 | 0.9 |
LeBron James (foot) is questionable on Tuesday against the Jazz, Broderick Turner of the Los Angeles Times reports. James recently missed a month due to his foot issue, but he's been back in action over the last four matchups. It wouldn't be surprising to see him suit up once again Tuesday as the Lakers battle for a postseason spot.
In Case you missed it:
NBA fans BAFFLED by Erik Spoelstra's bizarre motivational method feat. Snoop Dogg, 50 Cent and Eminem
Kevin Garnett FIRES WARNING to Ben Simmons that his NBA career could be over soon