Russell Westbrook has achieved a lot in his career. Over the course of it, he has also molded himself into different roles over time. From being the Batman to Kevin Durant's superman in OKC to being an MVP player for the thunder once Durant left. From there he went on to play the secondary star role in Houston and Washington. Currently, Westbrook is coming off the bench for the Los Angeles Lakers. This year, he has made quite the case for himself to win the 6th Man of the Year award.
In the recent meeting between the Los Angeles Lakers and the Dallas Mavericks, Westbrook brought out an old vintage celebration. After drilling a tough fallaway jumper over defensive specialist Frant Ntilikina, Russ rocked the baby on Frank and the Mavericks. With the game well poised with about two-thirds of the fourth quarter still left to play, Westbrook backed Ntilikina down and hit a fadeaway jumper in the paint to tie the game at 86.
The fadeaway was Westbrook's 20th point of the game. With Anthony Davis out and LeBron James struggling from the field, Westbrook had to be the person to carry the scoring load. He led the team in points with 28 and if not for Luka Doncic being insanely clutch, the Lakers would have won the game in regulation. It was not to be though, as the Mavericks managed to pull out the victory after double overtime.
It was a game marred by officiating controversy and some horrible no-calls. Both teams after the game expressed their discontentment with how the game was officiated. The fans and even commentator Stan Van Gundy echoed these sentiments. The general sentiment was that the refs lost control of the game and let it be overly physical.
Related: Russell Westbrook Height: How tall is Mr. Triple-Double?
Russell Westbrook picks up flagrant as Lakers lose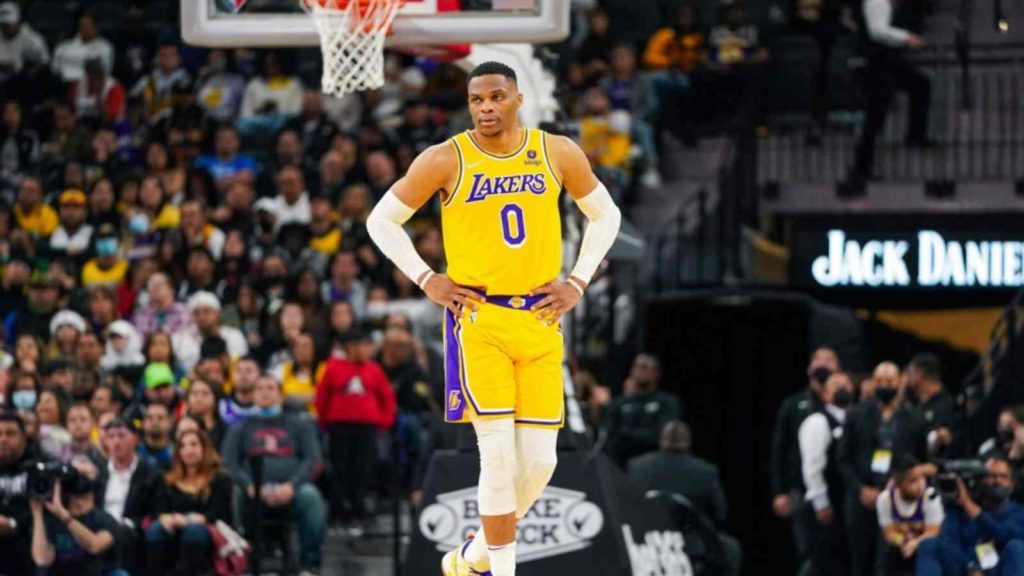 He led the Lakers in scoring and his drive and passion were needed to keep the game close. However, Russell Westbrook's feistiness also came back to haunt the Lakers. In a pivotal moment in overtime, Westbrook shoulder-checked Luka Doncic to the ground, and the pair of point guards had words with each other.
Russell Westbrook picked up a flagrant foul as a result of this altercation, putting him on thin ice against Luka for the rest of the game. The Lakers eventually lost the game in a heartbreaking fashion. Feeling hard done by due to the bad officiating.
In case you missed it
"I guess imma have to be the one to bring them together," Magic Johnson offers to help Michael Jordan and rival Isiah Thomas make amends
"My man got too many recovery beers" – Luka Doncic gets DRAGGED after somersault tumble to the side stands
Do follow us on Google News | Facebook | Instagram | Twitter