Allen Iverson is a forgotten great of the game. Fans haven't been giving him the right recognition he deserves. But somewhere even he's at fault for not reaching the untapped potential he had during his prime. Allen Iverson never won a ring he managed to reach the NBA Finals but Kobe Bryant and Shaquille O'Neal had different plans. Now years later when it's all done and dusted AI revealed some of his regrets.
Allen Iverson is someone who doesn't hold many regrets about the things he has done. The world already knows his stories about only playing for 14 seasons, not spending enough time with his family, and losing a lot of his money. Recently, NBA TV released a documentary on Allen Iverson, "Everything But The Chip." In that documentary, Allen Iverson revealed the one regret he holds with respect to his NBA career.
Larry Brown was probably the best thing that happened to Allen Iverson throughout his career. The Philadelphia 76ers had Larry Brown's services from 1997-2003. Allen Iverson didn't realize what the HC was trying to achieve with him. And, just like his Hall of Fame speech once again in his recent documentary, he has mentioned his one regret in his NBA career which got him to bag the MVP award but the job remained unfinished.
In the documentary, Allen Iverson quotes: "In my career, I have one regret, not taking [Larry Brown's] constructive criticism like I'm supposed to… Once I bought into it, that's when everything changed. I went from a good player to an MVP [in 2001 w/ Sixers]." AI was always trying to do what's right and best but unfortunately, he didn't understand what Larry Brown's criticism was for. AI also knew that he and Larry Brown were two different beings with the same goal. As they both had the fire but unfortunately, they got a bit late.
Related: "I ain't drunk…my best friend is dead" Allen Iverson had a heart-warming revelation on 'practice rant' story which shut Larry Brown
Larry Brown claims Allen Iverson could have been the GOAT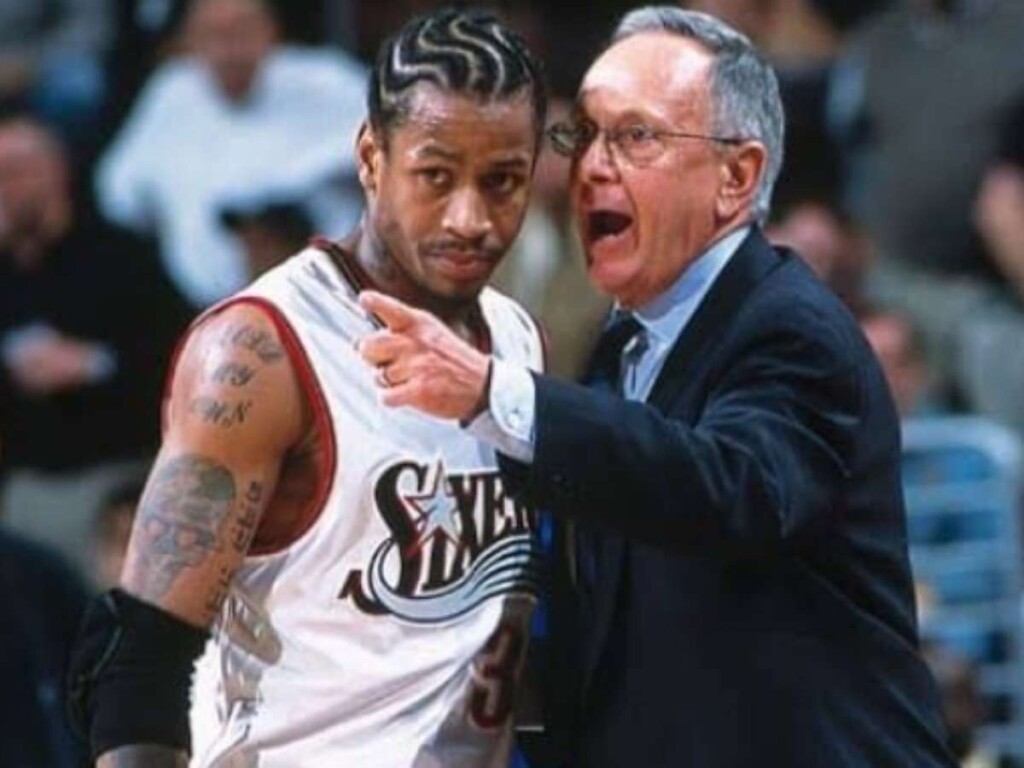 Larry Brown knows he's one of the biggest reasons behind all the success Allen Iverson has had. But he still feels he didn't commit himself enough to AI. As he recently claimed that if he put a little bit more effort to get AI on track, he would have been in the same conversation LeBron James and Michael Jordan are.
In the documentary, Larry Brown talking about his time with AI and how it didn't end well, quoted: "If I had done a better job of making Allen understand, then we might be talking about the greatest player who ever played the game."
The former coach also mentioned how he was frustrated with Allen Iverson for not doing all the necessary things to be great and ball out. But fans should still respect him as he has been through a lot and still made a name for himself in the league. The path for modern guards was led by him.
In Case You Missed It: