Over the course of the previous few years, Dillon Brooks has earned a reputation as somewhat of a troublemaker. Before getting into it with another opponent on Thursday, the Memphis Grizzlies wing was booted from a playoff game last postseason for a dirty shot on Golden State Warriors guard Gary Payton II. Basketball superstar Donovan Mitchell of the Cleveland Cavaliers was the target this time.
Just under six minutes remained in the third quarter Brooks went up for a layup, but Cavaliers center Evan Mobley changed the trajectory of the ball and it went out of bounds. Mitchell was attempting to save the ball when he was struck in the crotch by a prone Brooks. After Brooks fell to the ground, Mitchell replied by throwing the ball away from him, which sparked a brawl between the two squads.
After the scuffle, the 4 x NBA All-Star said in the postgame conference that he and Brooks have been having their battles for years. "That's just who he is. We've seen it a bunch in this league with him. Him and I have had our personal battles for years," Mitchell said of Brooks. Mitchell did not hold back and said that he has busted his a** for quite some time now. "Quite frankly, I've been busting his a** for years. Playoffs, regular season, the one game he does an alright job on me, he decides to do something like that," he added. 
Related: Donovan Mitchell and Dillon Brooks get thrown out of the game after heated scuffle during Cavaliers-Grizzlies showdown
Donovan Mitchell says as a player he has to protect himself from players like Dillion Brooks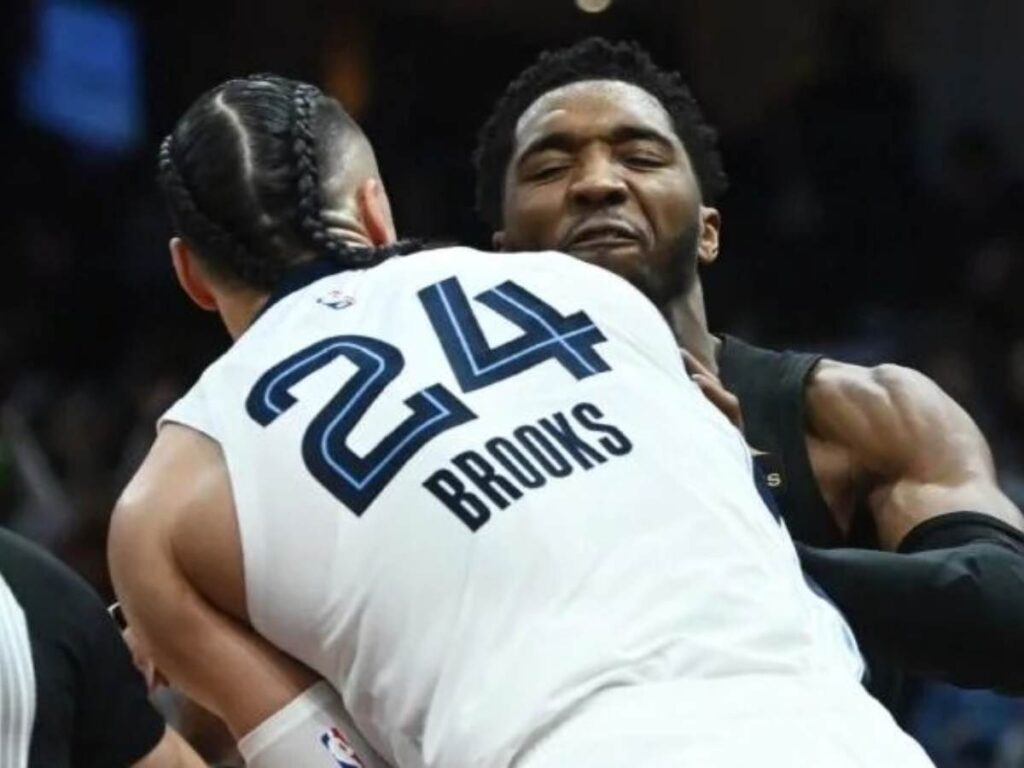 The Cavs star was clearly upset after the scuffle and made sure that his voice reaches the league officials. He said that there should be no place for such ugly plays like that in the league and someone has got to resort to that. "There's no place in that in the game. You got to protect yourself at the end of the day. This has been brewing for years. You all see it. This isn't new. It's tough when you can't guard somebody, you can't do something to somebody, you gotta resort to that," he said.
Recalling his previous battles with the Grizzlies player, Donovan Mitchell said that earlier it was fine when both used to exchange heated words with each other, but the league has to draw the line somewhere. "It's non-stop talking back and forth, and that was cool when we were just talking," Mitchell said. "But that right there – that's where the line has to be drawn. And the NBA has to do something about it. Because like I said, I'm not the only person that this has happened to. There's no place for that in this game," he added. Perhaps he has a point, playing a physical game is one thing, but the violence of such kind is unacceptable.
In Case You Missed:
Kendrick Perkins stomps on Dillon Brooks for disrespecting "blogger" Shannon Sharpe
Donovan Mitchell joins Giannis Antetokounmpo, LeBron James, Jayson Tatum, Kevin Durant, and others as All-Star Game Starters for 2023
Do follow us on Google News | Facebook | Instagram | Twitter