It wouldn't be too far-fetched to call Victor Wembanyama the most hyped-up and anticipated rookie of all time. And why shouldn't he be? A 7'4″ giant, who handles and shoots the ball like a guard. Moreover, he usually blocks and swats away any comers to dare to attempt dunks or layups while he's around the rim. Well, usually he does, but not every time
The French big man, while playing on his team Metropolitans 92, got put in a blender and then on a poster by Yves Pons. Pons, who is 6'6″, put the moves on Wembanyama and finished over him. The fans were straight on to Victor Wembanyama's case. The hype around Wemby has engulfed almost all of the coverage around him to the point that only his highlights are posted. This one blemish has skeptics nitpicking at Wembanyama's entire game.
NBA Twitter analysts — some jokingly — had their moment poking at the projected #1 pick's defensive capabilities. And so, we look at some of the reactions and whether or not they are just run-of-the-mill internet trolls or genuine analysis (and criticism) of Victor Wembanyama's game. Among the reactions, one of the users said, "Take notice, that's not good".
Wembanyama's defense has definitely been called into question. A lot of them are about his footspeed and how the switching style of defense played in the NBA will not suit Victor's style. It's important to not overreact to this one clip though, the entire context of the game has not been specified. Wembanyama won the game for the Metropolitans with a putback dunk and had a huge performance.
Related: Victor Wembanyama who was labelled an 'alien' by LeBron James, states 'NBA Tanking' to be a mere misconception
A look at Victor Wembanyama's performances overseas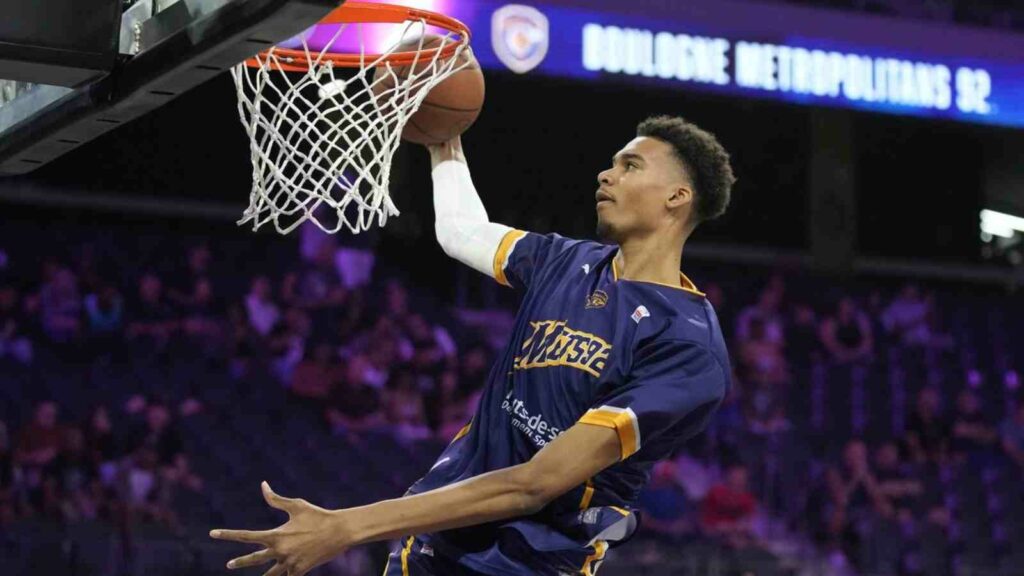 Everyone is so enamored by the idea of Victor Wembanyama. GMs, entire front offices, and ownership groups are ready to throw away their entire seasons just to have a chance to draft Wembanyama. But, is the hype worth it? We only ever see highlights on social media of him displaying unreal ball-handling ability and hitting tough jump shots as a 7+ footer in a way that is similar to Kevin Durant of the Brooklyn Nets.
A look into his stats this year with the Metropolitans, suggests that while he does score, the shooting might be a false image. Per 36 minutes, Victor is averaging 25 points and 10 rebounds. However, those 25 points come on a field goal percentage of a mere 48% (you would expect higher from 7 footers) and a 3P% of just 28%. Adding to the shooting woes, if the defensive issues are actually real and he can't guard fast players at all, then Victor Wembanyama has a chance to be the most overhyped prospect in NBA history.
In case you missed it
NBA Agent says Victor Wembanyama will supersede LeBron James and Michael Jordan as 'Greatest Ever' if he managed to stay healthy
"Can't wait to see him in the league," Kevin Durant becomes the latest to join Victor Wembanyama hype train
Do follow us on Google News | Facebook | Instagram | Twitter