Gilbert Arenas revealed Bronny James' true potential after LeBron James asked him to scout his son. Over the past few weeks, he has carried the Lakers and contributed to their five-game winning streak. His long-term objective, though, is not to win with the Lakers or any other team for that matter. The King has made no secret of his desire to join his oldest son Bronny James in the NBA.
While keeping that in mind LeBron James once made the decision to engage former NBA player Gilbert Arenas to scout Bronny. Arenas shared his frank opinions regarding Bronny James' prospects in a Vlad TV interview.
"I said you guys have the same athleticism. You're probably a little taller than he was. Your speed is the same. Your IQ is the same. Your passing is the same. He shoots better, he dribbles better. If he gets to 6'8″, 6'9″, he's you. He plays the game the right way, which is this cliché thing," he also compared Bronny to Russ, "Westbrook is what six five six four six five but what I'm saying is think about the motor when he goes takes off jumps that before Ronnie has all of that he can shoot he can dribble he can pass "
Bronny James can easily score 40 points per game, according to Arenas, if he so chooses. But because he prioritizes the team over himself, he can decide against adopting such a playing approach. It will be interesting to see if LeBron and Bronny can truly play together on the same team, regardless of the outcome.
Related: Jamal Crawford urges Lakers to TRADE for younger players keeping LeBron James "fresh" for the playoffs
LeBron James expresses his strong desire to play with Bronny James Jr., in the NBA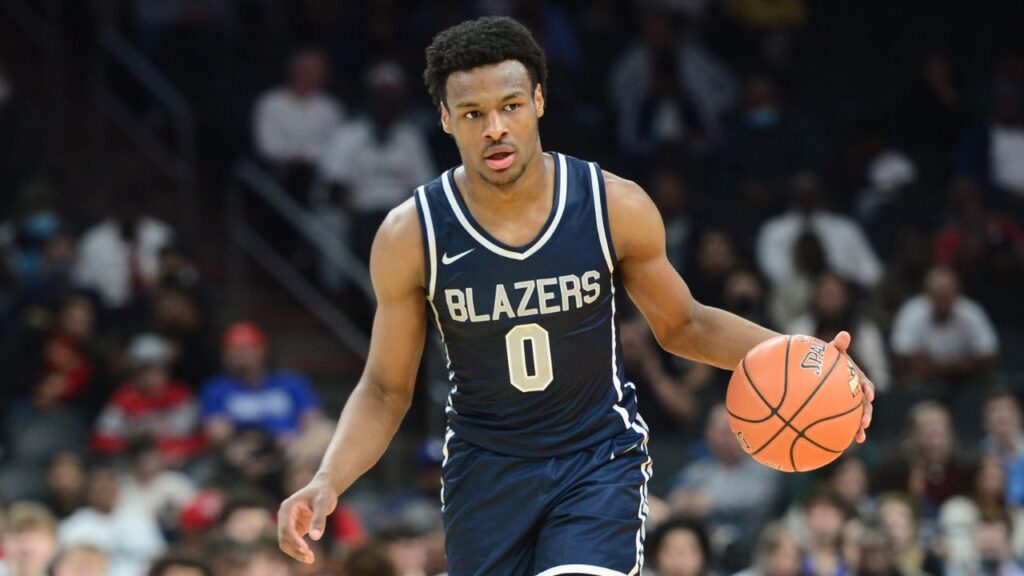 As LeBron James approaches Kareem Abdul-Jabbar's NBA scoring record, which he could break next month, another factor motivating him to play in his 40s is his desire to play with his son Bronny.
"I need to be on the floor with my boy," for an article on "NBA Today," LeBron told ESPN's, Dave McMenamin. He also said, "I gotta be on the floor with Bronny." LeBron said it could be either in the "same uniform or a matchup with him… I would love to do the whole Ken Griffey Sr./Jr. thing. That would be ideal, for sure, being with him, spending a full year with him in the same uniform, that would be the icing on the cake."
LeBron responded when asked what he shares with Bronny regarding their prospective future together. "We don't, we don't discuss. He hears what I say. I asked him what is his aspirations, and he says he wants to play in the NBA, so he wants to do it. Put in the work. I'm here already so I'm just waiting on him."
In 1990 and 1991, the Griffeys were teammates for the Cincinnati Reds, and in one game in 1990, they really hit back-to-back home runs. Last year LeBron agreed to a 2-year, $97.1 million extension with the Lakers, with a player option for 2024-25.
In Case You Missed It:
Eastern Conference Executive makes big claim involving LeBron James' trade to Miami Heat this offseason
Lamar Odom suggests Lakers become a contending team if they were to trade LeBron James
Do follow us on Google News | Facebook | Instagram | Twitter