LeBron James sent Twitter into a frenzy after breaking the scoring record. Not only was everyone in awe of his performance but also shocked by his interview. The looks of it still motivate the 38-year-old to get more silverware and not just in LA. He was straight in saying that he can perform well even at this age with any franchise.
"I can perform with any group of guys, for any franchise. I can still help win championships, so that's my mindset. I can still play 2-3 more years for sure, it's all about my mind if I am still motivated", said LeBron when Shaquille O'Neal asked him about his future plans. The King is averaging 30 points at the age of 38 so who knows how long he can play? LeBron has stated in the past that he would love to play with his son Bronny James. Therefore this is probably the only reason he would leave LA as the Lakers are not guaranteed to get him.
LeBron has a couple more years in the league and his ambition is to end with a ring. It is now up to the Los Angeles Lakers to make sure The King wants to stay put and win more championships there. LeBron has already said he is ready to win with any group. If the Lakers cannot keep their superstar happy, they could very well see him hoist the Larry O'Brien somewhere else.
Also Read: KING LeBron James shows longevity and creativity over two decades to become THE GREATEST in NBA history
Lebron finally breaks the scoring record but he is not done yet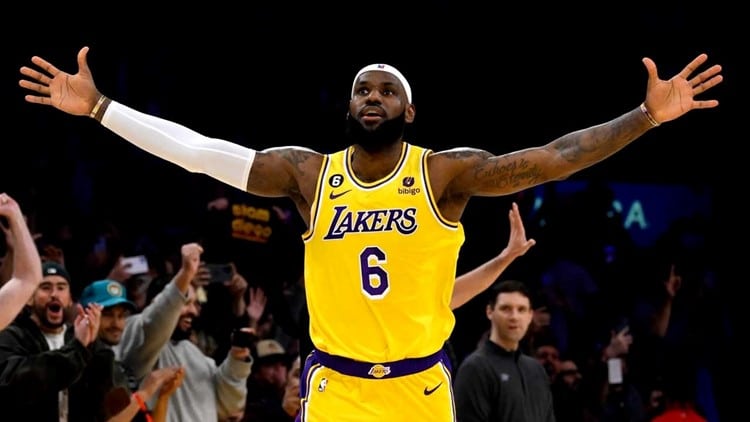 7th February will forever be an iconic date in NBA history. 39 years ago Kareem Abdul Jabbar overtook Wilt Chamberlain in what seemed an unbreakable record. Fast-forward to 2023 and the kid from Akron has done it. The King dropped 38 points against the Thunder to break the record and did it with a classic fadeaway jumper. "It hasn't quite sunk in yet," said LeBron while being interviewed last night.
LeBron is in the twilight of his career now and still, performing at an incredible level. The Lakers need to make sure he stays and ends his career in LA with another ring.
The King has no other record to chase and his entire focus is on championships. However, if the Lakers look like they are going in the wrong direction, he might explore some other franchises.
In case you missed it:
"I delete a lot of things on my IG," Kyrie Irving defends deleting apology to the Jewish Community for uploading a film with anti-Semitic tropes
"You talk so much! Just play basketball": Shannon Sharpe DISGUSTED by Ja Morant over aggressive Pacers incident
Do follow us on Google News | Facebook | Instagram | Twitter