No matter how good of a player he is, Kyrie Irving has always found himself rounded up in controversies. Last year, he shared a link to an anti-semitic book and movie which was highly offensive to the Jewish community.
The Nets responded to this situation by suspending him for eight games and urging him to post an apology on Instagram. However, Kyrie has recently ended up deleting the apology post.
Defending himself, Kyrie says, "I delete things all the time, and it's no disrespect to anyone within the community." He further justifies himself by adding, "Just living my life." This is not the first time Kyrie has sparked another controversy. The former Nets and Cavs player has had a history of contentions for his statements and actions in the past.
Related: "We had an opportunity, it didn't happen," Lebron James expresses disappointment on the Lakers missing out on Kyrie Irving.
Kyrie Irving sparks new controversy after deleting his apology to the Jewish community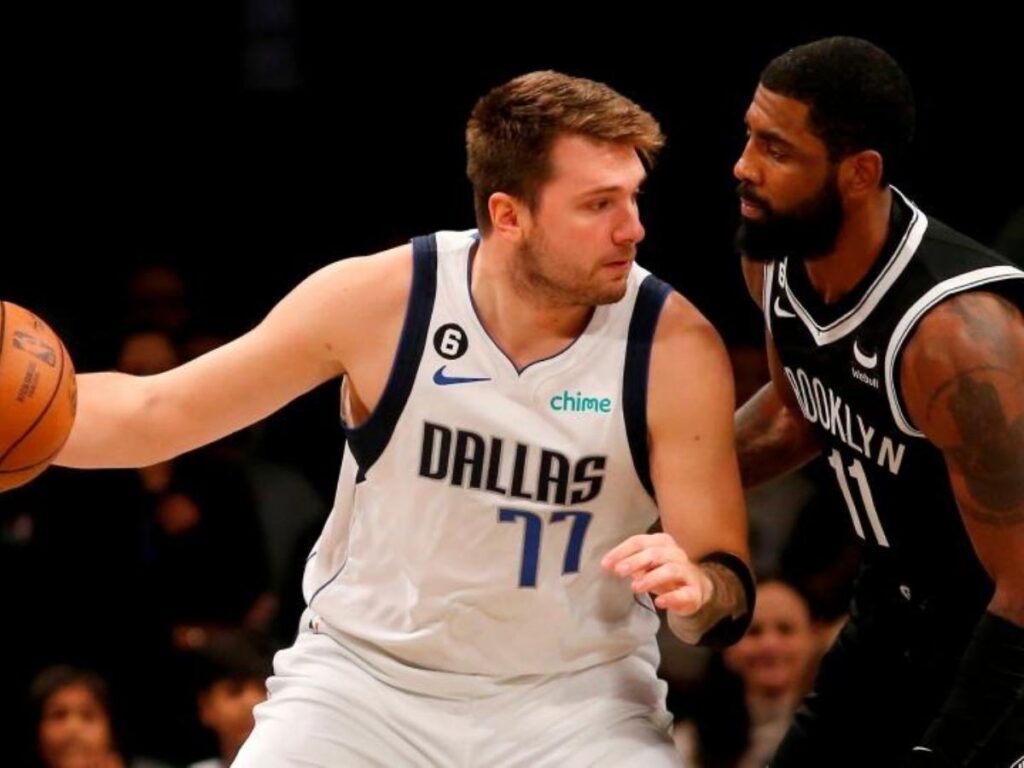 Kyrie Irving has often been roped up in controversies for his opinions and actions. From Flat Earth theories and anti-vax conspiracies to bogus theories related to President John F. Kennedy's assassination, Kyrie has a say about all these things.
What topped his list of controversies was when he shared a link to a seemingly anti-semitic book and movie with highly offensive content about the Jewish community. While Kyrie has never really been explicitly anti-semitic like other Black celebrities such as Kanye West, this act did earn him a suspension for five games from the Nets.
In a press conference following that incident, Kyrie said, "I didn't mean to cause any harm. I'm not the one that made the documentary." He adds, "I cannot be antisemitic if I know where I come from." The move also resulted in Nike suspending its partnership with Kyrie and canceling its next signature shoe with his likeness.
Kyrie recently completed a trade move to Dallas Mavericks after he requested to trade Brooklyn Nets. Since he arrived in Dallas, he has practiced with the Mavericks this Tuesday for the first time. This move was shocking for several NBA fans and a huge letdown for teams such as the Lakers for not being able to capitalize on this opportunity.
Lakers' LeBron James has not shied away from expressing his disappointment with the team for not being able to bring in Kyrie. In a cryptic tweet, King James writes, "Maybe It's Me", indicating a possibility that he could not influence the Lakers enough to grab an opportunity on Kyrie.
Nevertheless, the hype for Kyrie Irving starting with star NBA player Luka Doncic is very high among the fans. Although some people wished to see the LeBron-Kyrie linkup from their days back in the Cavs, the NBA is always filled with surprises and thrills, making the basketball games even more exciting and fun.
In case you missed it:
'LeBron should've asked the Lakers to trade him," Skip Bayless makes a bold statement on how Kyrie Irving's trade could have helped Lakers star
"You talk so much! Just play basketball": Shannon Sharpe DISGUSTED by Ja Morant over aggressive Pacers incident

Do follow us on Google News | Facebook | Instagram | Twitter