Jaylen Brown of the Boston Celtics became the first NBA player this year to sign a contract with controversial rapper Kanye West's (Ye) agency Donda Sports earlier this year and inked a marketing deal as well. Despite Ye's antisemitic comments, the Celtics guard had initially agreed to stay with the agency but decided to maintain distance from the rapper. And after recent developments, the star has decided to terminate his contract with the agency effective immediately.
Brown released an official statement via Twitter in the early hours of 26th October stating, "I have always and will always continue to stand strongly against any antisemitism, hate speech, misrepresentation and oppressive rhetoric of any kind. In light of that after sharing in conversations, I now recognize that there are times when my voice and my position can't coexist in spaces that don't correspond with my stance or my values and for that reason, I am terminating my association with Donda Sports."
West, who has officially changed his name to Ye, has made antisemitic statements in multiple interviews in recent weeks. He was supposed to participate in LeBron James' "The Shop" roundtable series, but the show has been canceled because Maverick Carter, James' business partner, claimed that the artist misused his platform to, "reiterate more hate speech and extremely dangerous stereotypes."
Also read: "He's not the same guy" Stephen Curry slapped with harsh Klay Thompson reality by Charles Barkley
Aaron Donald joins Jaylen Brown in breaking ties with Donda Sports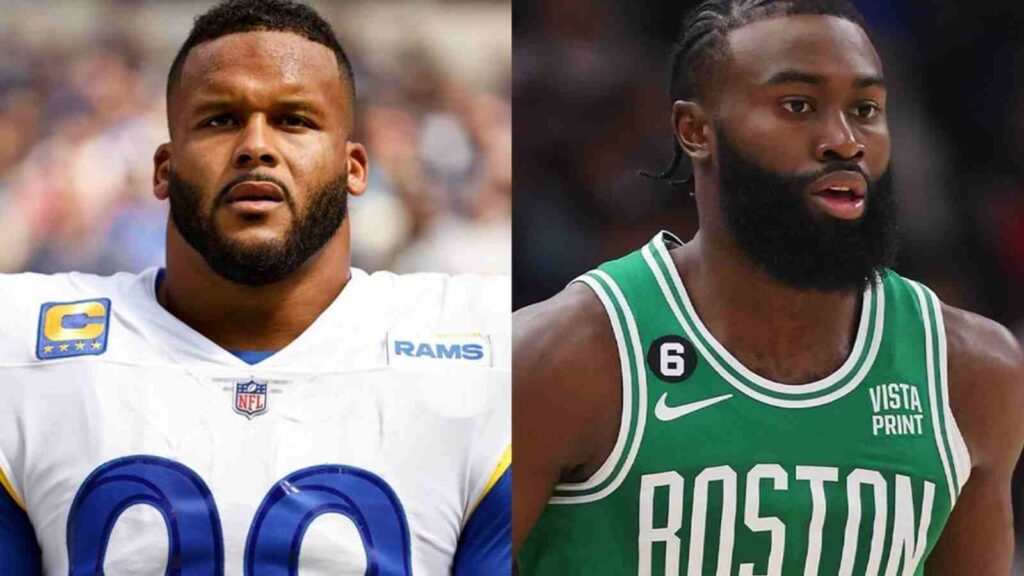 Los Angeles Rams defensive tackle Aaron Donald announced on Tuesday alongside Jaylen Brown that he would be terminating his contract with Donda Sports in the light of the recent antisemitic comments made by the famous rapper. The statements came only hours after Adidas ended its partnership with the rapper, now known as Ye.
Donald announced his family's departure from Donda Sports around the same time as Jaylen Brown stating Ye's words were the exact contrary to how they chose to live their lives. Further, Donald said that he and his wife felt a duty to communicate a message about the effects of hatred and how we as humans can do better and that they believed that their views, ideas, and actions should not be heard in an atmosphere where individuals of all backgrounds are mistreated or maligned because of their ethnicity or race.
Adidas confirmed earlier Tuesday that it will sever relations with Ye, who had formed a lucrative clothing and apparel business with the brand. Adidas stated in its statement that it will lose around $250 million in net profits this year as a result of ending its collaboration with Ye, but that doing so was important in light of his recent antisemitic remarks.
Also Read: "We wanna make sure he's continuously in a great space" Anthony Davis reassures that the Lakers intend on keeping Russell Westbrook this season
Also Read: "I didn't enjoy the way it was being pushed" Jonathan Isaac takes a brave stance on the FORCEFUL nature of the vaccination mandate
Do follow us on Google News | Facebook | Instagram | Twitter