Boston Celtics star Jayson Tatum drew his first career ejection on Monday night against the New York Knicks after airing his frustrations with the officiating. The young gun was dissatisfied with two incidents during the game which he thought should have been called as fouls.
In the first incident, Tatum was attempting to dunk when Josh Hart's hands were on his back. The second incident involved Julius Randle's arm making contact with him during a three-point attempt in the late game. The Celtics lost the game, and Tatum's poor shooting performance contributed to the defeat. He ended the game with a team-worst minus-18. Jaylen Brown's absence and the Celtics' struggles from beyond the arc added to the frustration of the team.
During the postgame press conference, the Celtics star was questioned about the officiating and his subsequent ejection from the game. Tatum revealed his message to the officials, which resulted in his ejection after being on the receiving end of many non-calls all night. 
"I just told them this is probably the best officiated game I've been a part of. I tried to give them a compliment; it didn't go over so well," said Tatum.
Related: WATCH: NBA star Jayson Tatum shares a post-victory hug with Eagles WR DeVonta Smith and gives him a special gift
Knicks' victory and playoff prospects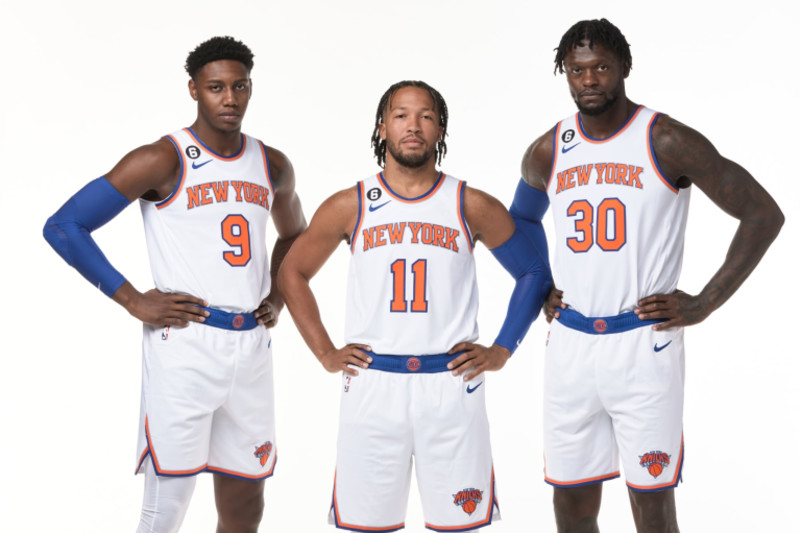 The New York Knicks outperformed the Boston Celtics on Monday night, highlighting their potential as a dark horse playoff contender in the Eastern Conference. The Knicks' victory over the Celtics was a significant step forward for a team that has long struggled to find consistency. Led by Randle's 20 points, the Knicks proved too much for the Celtics to handle, despite the absence of Brown.
With the win, the Knicks have now won four of their last five games and sit at eighth place in the Eastern Conference standings. While the Celtics remain a cut above the Knicks in the standings, Monday's game demonstrated that the New York squad should not be underestimated. With the playoffs just around the corner, the Knicks' recent success has sparked excitement among fans and analysts alike.
In conclusion, Monday night's game between the Knicks and Celtics was a reminder of the importance of strong officiating and highlighted the growing potential of the Knicks as a playoff contender. As the NBA season continues, it will be exciting to see how both teams fare in the competitive Eastern Conference.
In case you missed it:
LeBron James injury update: How long will the Lakers' star be out?
NBA Players with the most 60-point games