Giannis Antetokounmpo tasted his own recipe and he did not like it one bit, as he got dunked on by Al Horford in Game 4 of the Celtics vs Bucks series. The Boston Celtics rallied from an 11-point deficit in the second half, and pulled away in the final moments of the game for a 116-108 win over the Milwaukee Bucks in Game 4 of their Eastern Conference semifinals. The series evenly poised at 2-2 and will shift back to Boston for a crucial Game 5 on Wednesday night. 'Big Al' was wrecking havoc on court in Game 4 as he dropped a career playoff-high of 30 points, leading Boston Celtics to a deserved victory.
Giannis Antetokounmpo led the Bucks as he finished with 34 points, 18 rebounds and five assists. Brook Lopez chipped in with 17 points, while Jrue Holiday added 16. Horford played possible the game of his career as he finished with 30 points on 11 of 14 from the field, 8 rebounds and 3 assists to go with some sturdy defense. Jayson Tatum bounced back from a brutal Game 3 to put up 30 points and 13 rebounds while dishing out 5 assists.
Also Read : Who is Al Horford's Wife? Know all about Amelia Vega
"Giannis Antetokounmpo's staredown didn't sit well"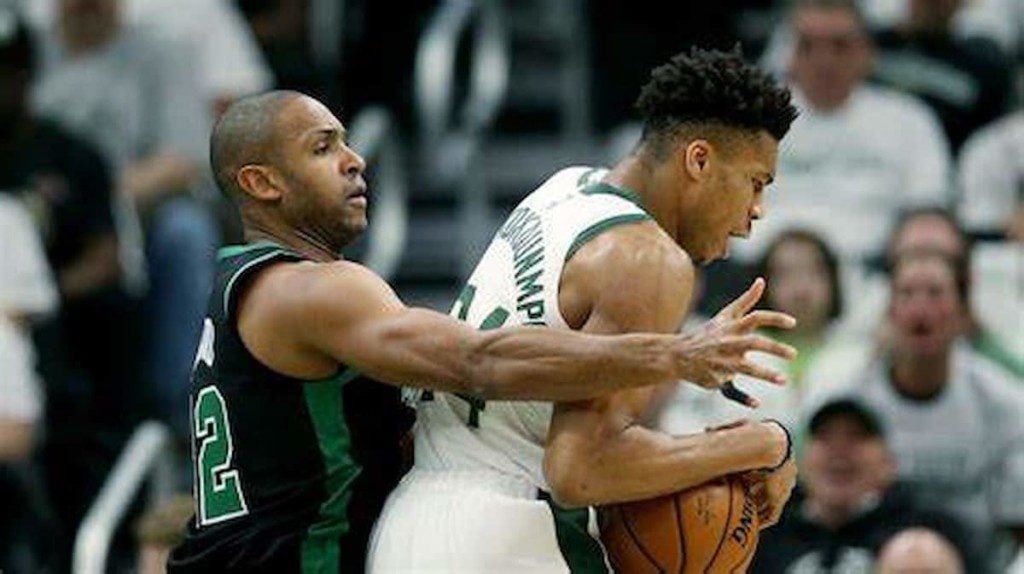 It all started when the 'Greek Freak' threw down a dunk and stared down Horford early in the third quarter. On the replay, you can see Horford nodding his head and mouthing, "OK." Turns out he was silently planning his revenge. Things got spicy again when Big Al slammed in a dunk over Giannis, tying Boston at 80- 80, in the 4th quarter. Antetokounmpo received a technical foul for the staredown, but worse punishment was on his way. Horford got payback against Giannis in the fourth quarter with an emphatic dunk of his own.
Giannis took a blow to the face after Horford's dunk, which the referees reviewed for a potential 'Flagrant' foul that might have occurred during the play. However, replays showed that Horford's foul took place when the ball wasn't in play, leading to the officials issuing a 'dead-ball' technical foul on the Celtics power forward. In His 15 year NBA career, seldom have we seen Horford pumped up like that !
"I don't really know what he said to me, But the way he was looking at me and the way he was going about it really didn't sit well with me. At that point something switched with me." Horford said. Former Boston Celtics center and ESPN Sports analyst, Kendrick Perkins condemned this call by the referees and took to Twitter to express his frustration.
Perkins threw a satire at Giannis Antetokounmpo's physical gameplay that has been questioned by many. He feels Giannis is not slapped with fouls the same way he slaps people on his slam dunks. As it turned out that moment fueled Big Al and the Celtics muscled their way back into the lead, dropping 43 points in the 4th quarter. Many thought Giannis and the Bucks were too hot to handle for the overrrated Celtics, well how they turn the tables. Boston will be rallying their players to take the lead of the series at home, but will Giannis bring on his Feak show and silence his haters ? Game 5 will be one to watch out for !
Also Read : "You better watch yourself out" Jaylen Brown wants to fight Giannis…
Also Read : Stephen A. Smith claims Giannis Antetokounmpo vs Al Horford incident in…