Charles Barkley seems to have upset Brooklyn Nets superstar Kevin Durant yet again. NBA Hall-of-Famer bluntly called the superstar "insecure" in one of his recent interviews and KD is not here to let that slide.
Kevin Durant and Charles Barkley do not have the best rapport. The two have often caught themselves in an exchange of barbs quite often over their personal opinions. Barkley, who firmly believes KD is one of the best players to grace the NBA court is also very insecure. In an interview with Bleacher Report hosted by Taylor Rooks, Barkley says, "I think he's insecure at times."
Durant, reacting to the clip of Barkley's criticism wrote, "This clown does not have g14 classification to speak on the god, we've never had a real human interaction…carry on haaaa." One of the biggest asterisks on KD's legacy as an NBA player according to Barkley is that he has not won a ring outside of his stint with the Golden State Warriors alongside Stephen Curry, Klay Thompson, and Draymond Green.
KD clowns Barkley for lying about their "meetings" in the past and claims the two have actually not had a legitimate "human interaction" before. Durant and Barkley have sat down for interviews and on the court for television but the Brooklyn Nets star believes that is not enough for Barkley to draw a conclusion about the player's character. Fans, however, have an interesting take on this spat between Barkley and KD.
This clown does not have g14 classification to speak on the god, we've never had a real human interaction…carry on haaaa https://t.co/wDPyHADBFf

— Kevin Durant (@KDTrey5) December 3, 2022
Read more: "Watch your mouth" NBA Fans lash into Charles Barkley for publicly bashing Kevin Durant as 'Abject Failure'
Fans react to Kevin Durant calling NBA legend Charles Barkley a "clown"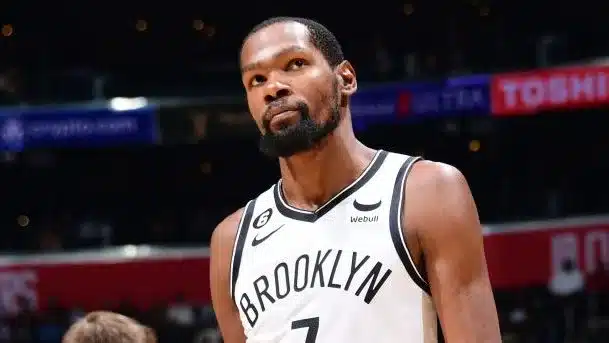 Charles Barkley in an interview said, "I think that he's a great player. I think he's actually a good dude and I think he's insecure at times. You know he gets mad when the old dudes like myself saying he got a win the championship away from the Golden State Warriors." Barkley believes KD does not have to waste time responding to his trolls all the time.
Durant responding to Barkley's criticism kind of proves the veteran's point, believe the fans. The fans react to KD's brutal comments toward the legend and point out the irony. Check out some of the reactions:
This
Tweet
Proves
What
He
Said

— Gee Scott Sr. (@GeeScottSr) December 3, 2022
ur literally proving his point with every tweet

— Kev (@2KEVlN) December 3, 2022
You answering to this is just fueling the point

— PhonyHawk (@JTA_XXII) December 3, 2022
By replying I think you just proving his point kd 🙏

— Steph_LFC (@lfc_curry) December 3, 2022
Also read: "Let's bring the championship to Brooklyn" Kevin Durant comes to terms with Nets to "run it back"
KD you're the best player in the world, ignore that fraud.

— 〽️e l o (@TrolledByMelo) December 3, 2022
U don't gotta be a clinical psychologist to tell that ur insecure my guy

— Dante (@DanteBiasotti) December 3, 2022
Bros insecure

— Kayvons Burner (@thibodeauxszn) December 3, 2022
Pretty hilarious that you're referring to yourself as "the god", given what Charles says here. You're just proving his point. Just let things go KD.

— Bryan Woodward (@bdubguero) December 3, 2022
No way you just referred to yourself as the "God". And Charles Barkley was on the damn Dream Team. Pump the brakes.

— Jordan 👑 (@916kappa_p) December 3, 2022
The online spats and banter do not seem to stop KD from balling out on the court, however. The Brooklyn Nets star has been shining this regular season scoring an average of 30 points a game. It would be interesting to see the future interactions between Charles Barkley and Kevin Durant following their recent spat.
Also read: "Bout to lose the only ring he got" – NBA Fans show no mercy trolling Chris Paul after Kanye West claims to have 'caught' point-guard having sexual relationship with $1.4 billion worth ex-wife