The National Basketball Association (NBA) in the 80s and 90s was known for its physicality, as players would often play with a more aggressive style, resulting in more physical contact and rough play. The rules of the game were different back then, with less protection for players, resulting in injuries being more common. Injuries to star players were especially prevalent during the playoffs, as the level of competition was higher, and players would go all out to win.
There have been a lot of debates among modern-day players as to whether the current era gets downplayed defensively. Former NBA champion and MVP Kevin Durant expressed his opinion regarding the same. The Suns forward stated, "Don't tell me the '90s were, like, the toughest era of all time and you could never go in the paint and we could hit you with a bat and there was no foul, but then also tell me that you're, like, terrifying," Durant said. "Mike is Mike. Don't get me wrong. He's f***g Michael Jordan."
The Phoenix Suns forward felt that the players back in the day got away with flagrant fouls and stated, "I go back and watch a lot of that those '90s film, that '90s film, '80s stuff, and they play physical, but I just think they got away with a lot of flagrant fouls. I think that's why they call their era more physical than ours because we play physical here, too."
Related: NBA fans ROAST Isiah Thomas for aggressive response to Charles Oakley's jibe
The Detroit Pistons were the most Physical team in the 80s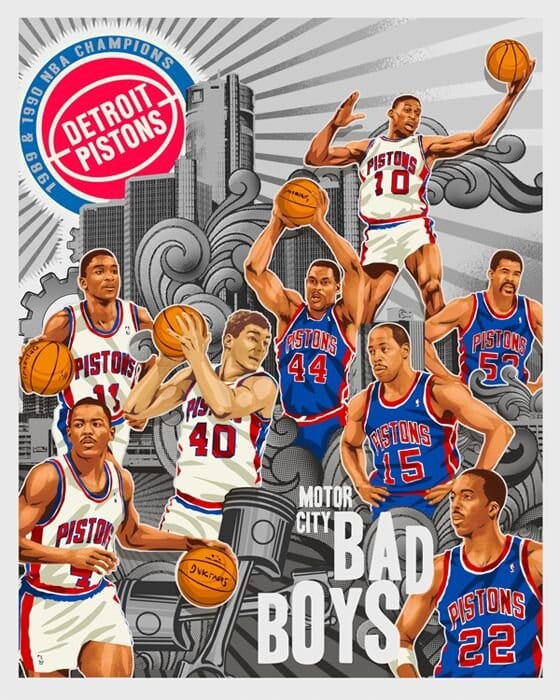 Another factor that contributed to the physicality of the NBA during the 80s and 90s was the style of play. The game was played at a slower pace, with more emphasis on post-play and mid-range shots. This resulted in players being more physical in the paint, with defenders using their bodies to prevent easy baskets. Teams made good use of this pace and employed defensive Walls to stop players.
One of the most physical teams during this era was the Detroit Pistons, who were known for their "Bad Boys" moniker. They played with an aggressive style of defense, often using tactics like "Jordan Rules" to neutralize star players like Michael Jordan.
The "Jordan Rules" involved trapping him with two defenders, making it difficult for him to score. The Pistons were also known for their physical play, with players like Bill Laimbeer and Rick Mahorn using their size and strength to intimidate opponents.
In case you missed it: