In his 5th game of this 2022-23 season, Myles Turner erupted against the New Orleans Pelicans and led them with 37 points and 12 rebounds. Turner and the Pacers defeated the Pelicans 122-129 in their first meeting of the season, registering their 5th win. But the game was a highlight for Myles Turner's heroics after being out with an ankle injury. Moreover, against the Pelicans, Myles Turner also registered his 1000th career block. 
In the post-game interview Pacers' reporter Jeremiah Johnson reminded Turner that on Monday he had also registered his 1000th block, Turner replied, "I think I'm the best shot-blocker in the world, and I'm going to stay with that confidence." Turner missed the first four starts of the season due to an ankle injury, but he has been averaging 13.8 points in his last five games. "My biggest thing is just trying to stay healthy and keep my rhythm going," Turner said. "It was a great individual performance, great team performance. All eyes forward."
Against the Pelicans, Tyrese Haliburton added 20 points, had 13 assists for the Pacers, and made six crucial 3-pointers. Buddy Hield had 20 points with five 3-pointers. Jalen Smith scored 15 points and collected 11 rebounds. Turner shot 4 of 7 from 3-point shot range and converted 11 of 18 field goals. Turner also had 3 blocks against the Pelicans. Turner is in the last year of his deal with the Indiana Pacers and becomes a free agent next July. But he is already out there and listed by many teams and the Lakers are a front-runner to acquire him. 
Also Read: "It's hartbreak season" Fans storm Twitter as Josh Hart drains INSANE game-winner to give Blazers a last second victory against Heat
Myles Turner and the Lakers trade rumors surrounding the Pacers' star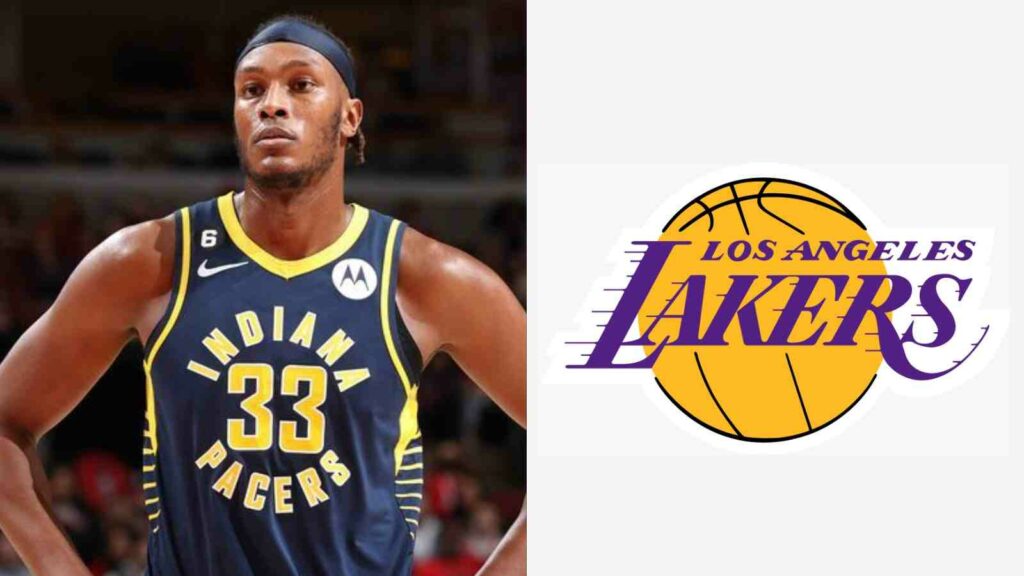 Myles Turner, a center/forward for the Indiana Pacers, joined Adrian Wojnarowski on The Woj Pod this past Sunday. When the NBA insider questioned whether the Lakers should trade their selections for him, Turner was very open in his opinion. With a talk with Wojnarowski, it was pretty clear that Turner wanted to become a Laker.
Talking about the trade with Wojnarowski regarding the Lakers, Turner said, "If I'm the Lakers, I take a very hard look at this with the position that you're in." Clearly, the Lakers are not in a good position right now and with the current roster construction, it is hard to think that they can go far in the season. After their consecutive losses to the Utah Jazz and Cleaveland Cavaliers, the Lakers are 2-8 in the season. When the NBA insider asked if the Lakers should let go of their picks for him, Turner was very honest in his opinion. "We all know picks are so valuable in this league," Turner said. "And someone like myself, I'm heading into the last year of my deal, and you wanna make sure you're getting a return for your assets."
Turner did not hold back and pointed out that he is not only a good shot blocker but also a good three-point shooter, can make good plays, and brings good leadership to the table. "I know what I can provide for a team. My leadership, my shot blocking, my three-point ability, and my ability to make plays out there on the floor. I'd take a very long look at it," said Turner. When asked if he was open for the trade, Turner said he was paid to shoot. "As far as pulling the trigger, I get paid to shoot, not to make these calls," Turner said. "I couldn't answer that." The Lakers could definitely use Turner as a shot blocker and as a shot maker. Darvin Ham could use Turner as the center to move Davis to the forward position.
Also Read: "That ref was scared to death!!!" Stephen Curry unleashes rare RAGE at referee over no-call during Warriors vs Kings matchup, fans react
Also Read: "He about to take 6 months off" Fans clown Ben Simmons after Luka Doncic nearly BURIES him with a vicious dribble move
Do follow us on Google News | Facebook | Instagram | Twitter