Tuesday night, as the Los Angeles Lakers defeated the New York Knicks by six points, LeBron James made history while playing against them while sporting a pair of special Liverpool Nike basketball shoes. James, who purchased a small stake in Liverpool in 2011, scored a 20-point triple-double to become the NBA's oldest player to accomplish the feat at age 38 while wearing the unique shoes.
When supporters noticed King sporting the new Liverpool addition sneakers, they immediately took social media by storm, one fan wrote, "Mid representing mid" and another one remarked, "And just like the Lakers, Liverpool just can't stop taking Ls."
James revealed a new version of his 20th signature shoe, the Nike LeBron 20, during the game. Fans now know that the "Liverpool F.C." colorway is real and coming after pictures appeared online a few weeks back. The NBA legend has already been spotted wearing apparel from Liverpool since he will soon be releasing a unique partnership shirt with the Reds.
Related: Patrick Beverley catches ref off-guard with a pro camera for not calling game-winning foul
LeBron James is 63 points away from Kareem Abdul-Jabbar's scoring record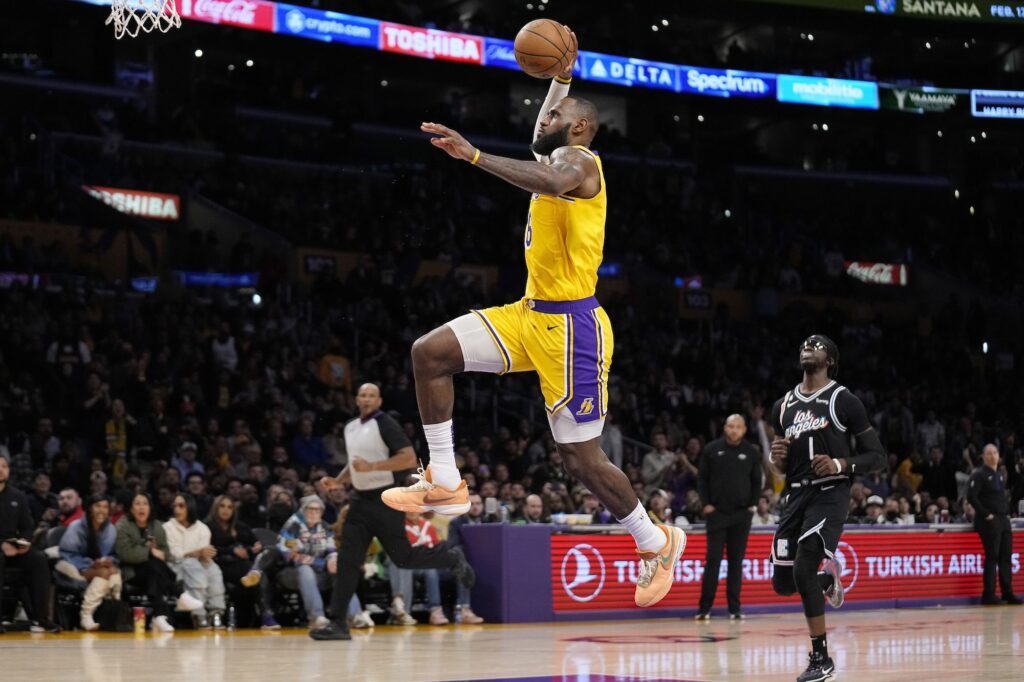 Just 89 points separated James from Kareem Abdul-Jabbar as the NBA's all-time leading scorer going into Thursday's game. With his 26 points, seven rebounds, and assists against the Indiana Pacers, he closed the gap on Kareem Abdul-Jabbar's to only 63 points.
If he doesn't miss any games, James is on schedule to surpass Abdul-Jabbar against the Milwaukee Bucks on Thursday. According to reports, Abdul-Jabbar will see James break his record at the Lakers' future home games.
James' scoring average hasn't dropped below 20.9 points per game since he was a rookie. He has played more than 100 games less than his fellow Lakers great Abdul-Jabbar. Despite that, he's on course to surpass his record. James played in his 1,408th game for the Lakers against the Pacers, while Abdul-Jabbar scored 38,387 points in 1,560 contests.
Tuesday night against the New York Knicks, James recorded his first triple-double of the season becoming the first player in NBA history to do so in his 20th season. He also moved up to fourth place on the list of assists in NBA history, passing both Mark Jackson and Steve Nash. Even though James is the only non-point guard to make it into the top 20, he is still more than 5,000 behind leader John Stockton.
In Case You Missed It:
DISAPPOINTED LeBron James furiously breaks down on his knees
Donovan Mitchell joins Giannis Antetokounmpo, LeBron James, Jayson Tatum, Kevin Durant, and others as All-Star Game Starters for 2023
Do follow us on Google News | Facebook | Instagram | Twitter