It is safe to say that the Dallas Mavericks have been the most disappointing team in the second half of the season. Coming off a Conference Finals exit in 2022, the team was expected to be at the forefront of the Western Conference this season but things have been quite the opposite. The Mavericks were placed 4th during the trade deadline when they acquired All Star guard Kyrie Irving from the Brooklyn Nets, but have stumbled down to the 11th seed with 2 games remaining.
Irving was quite literally considered to be the missing piece for a Mavericks' championship run but things haven't worked as per expectations. The Mavericks have been 8-13 since the team acquired Irving. However, the Mavericks have kept their play-in hopes alive with a 4-point victory over the Sacramento Kings. With 2 games remaining and a 38-42 record, the Mavericks host the Chicago Bulls tonight in what is an elimination game for the Mavericks. With their entire season on the line, the fans were expecting the Mavericks to go all out. Instead, they were Shocked to know that Kyrie Irving and quite a lot of their players WON'T be suiting up.
Doncic, on the other hand, is having a career year averaging 32.7 points, 8.7 rebounds and 8.1 assists per game in 65 appearances. He has put up record-breaking performance that includes a historic 60-point, 20-rebound triple-double against the New York Knicks.
Related: A $15 MILLION mansion that Michael Jordan is selling in Chicago was broken into by an 18-year old
Luka Doncic and Kyrie Irving are meant to be together according to Jason Kidd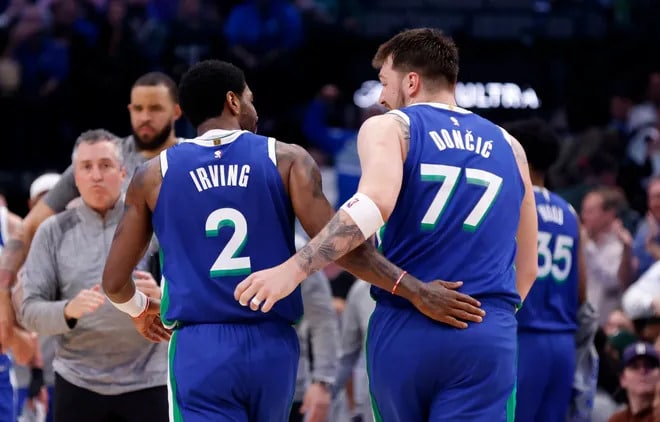 "I thought we were going to be up there. But we obviously aren't, so it's way different than I thought," said Luka Doncic after the Mavericks recently lost to the Miami Heat. This gave birth to lot of speculations among fans who naturally gave birth to rumors about the duo's future.
However, Mavericks Head Coach Jason Kidd has stated explicitly that "These two are meant to be together. It just takes time. As much as you guys wanna rush the process, it just takes time, that's just nature. These are not robots or AI, these are human beings," in the post game press conference after their 4 point victory against the Kings.
The Mavericks have arguably been one of the best teams offensively. Unfortunately, acquiring Irving cost them their best defensive player in Dorian Finney-Smith. "I don't think offense is the problem. I've always said this. It's our defensive end. I think anybody can score on us. Whoever it is, anybody can score on us," Doncic said after the team failed to make stops against tankers like the Charlotte Hornets. Doncic's heroics will be of utmost importance to the Mavericks to avoid elimination and potential embarrassment.
In Case you missed it:
Chael Sonnen's laughter erupts as burglar breaks into Michael Jordan's mansion