Shannon Sharpe gave his take on LeBron James and Anthony Davis' relationship after AD backed it up. "If people haven't tried to tear your relationship apart, you don't have a relationship," said Shannon Sharpe on Undisputed. Sharpe feels the root of all these narratives is that AD did not cheer when Lebron broke the scoring record in February.
Anthony Davis has cleared up the incident and stated that there is no jealousy. Shannon Sharpe is Los Angeles Lakers fan himself and goes to many games. "I've watched them Skip; I've been a lot of games over the last month and a half and to see the way they interact… I believe they have a great relationship", said Sharpe.
Anthony Davis and LeBron James are playing together after a while, as LeBron was injured the last month. The Los Angeles Lakers, unfortunately, suffered a loss to Patrick Beverly and the Chicago Bulls on Sunday night. AD and LeBron had mediocre performances, as neither scored over 20 points. Their relationship off the court might be good, but they need to ramp up wins on the court to stay in the play-ins.
Also Read: WATCH: "He ain't lying" – Pat Beverley HITS Shannon Sharpe with 'the Lakers stink' gesture after thrashing them at their home
LeBron James and Anthony Davis' on-court chemistry will be vital for the Lakers if they make the playoffs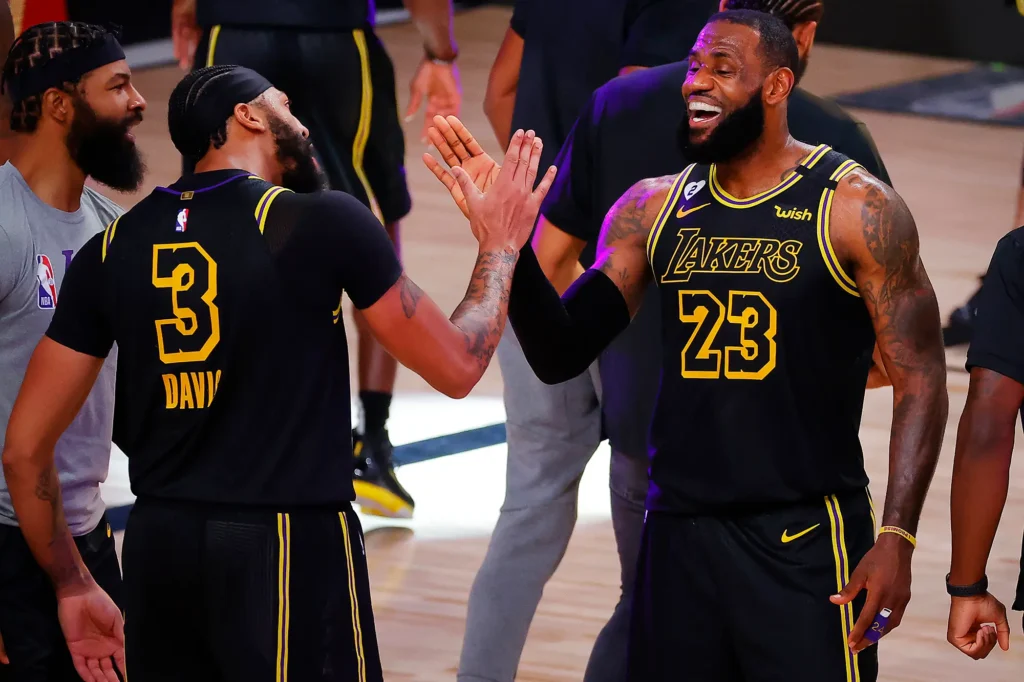 The Los Angeles Lakers are currently the 9th seed and one game away from being outside the play-ins. The Lakers have been the 7th seed but have lost crucial games and slipped up. LeBron returned in a loss but will hope to build momentum with AD in their next game as they travel to Chicago for revenge. Patrick Beverly seemed to like talking trash to LeBron James, and the King will look to respond in Chicago.
AD and LeBron had a great connection in 2020 when the Lakers did win the championship as LeBron lead the league in assists. However, that connection has reduced due to Anthony Davis being injured for extended periods. Russell Westbrook joining the team also affected the overall chemistry and the Lakers have a winning record since his departure to the Los Angeles Clippers.
The Lakers are 14-15 this season when LeBron and AD play together, which is their record now as they are 37-38. AD and Bron have an excellent record together for the Lakers at 89-48. The Lakers will need LeBron to challenge his inner playoff demon and AD to start dominating. If they miss back-to-back playoffs, Los Angeles and LeBron will take a hit to their legacy.
In case you missed it:
"I got ego too!" Charles Barkley REIGNITES age-old feud with Michael Jordan by calling him a 'jerk'
What is Michael Jordan's highest scoring game in the NBA?
Do follow us on Google News | Facebook | Instagram | Twitter