Los Angeles Lakers' celebrity fan and world-renowned rapper, Snoop Dogg, recently revealed his top 5 Lakers of all time on The Pivot Podcast, stirring up some controversy among fans and sports enthusiasts. While Snoop is widely respected for his deep-rooted love for the Lakers and his extensive knowledge of the team's history, his exclusion of LeBron James from the esteemed list has raised eyebrows.
Snoop Dogg, a well-known figure in the Lakers' fan club alongside icons like Jack Nicholson, Ice Cube, and Denzel Washington, has witnessed the franchise's victories and hardships over the years. He cheered on the team during its peak with Magic Johnson, Kareem Abdul-Jabbar, and James Worthy, and experienced the lows of the 90s before the arrival of Shaquille O'Neal and Kobe Bryant, who drove the Lakers back to the top.
With a fan status as high as Snoop's, his opinion on the top Lakers of all time holds weight. He proudly acknowledged Kareem Abdul-Jabbar, Magic Johnson, Kobe Bryant, and Shaquille O'Neal as his first four picks, emphasizing their contributions to multiple championship victories. However, when it came to the fifth spot, Snoop expressed his difficulty, stating that he wanted no "new guys" because "they ain't done enough" for the team.
While Snoop Dogg refrained from naming names, it was clear that LeBron James was the subject of his remarks. The 51-year-old rapper believes that James, despite his incredible talent and numerous accolades, has not done enough to secure a place in the top 5 Lakers list. Instead, Snoop opted for Wilt Chamberlain.
Related: Kyrie Irving's potential team-up with LeBron James at Lakers in jeopardy, as team eyes two other stars
Snoop Dogg's Frustration and the Impact of Lakers' Recent Performance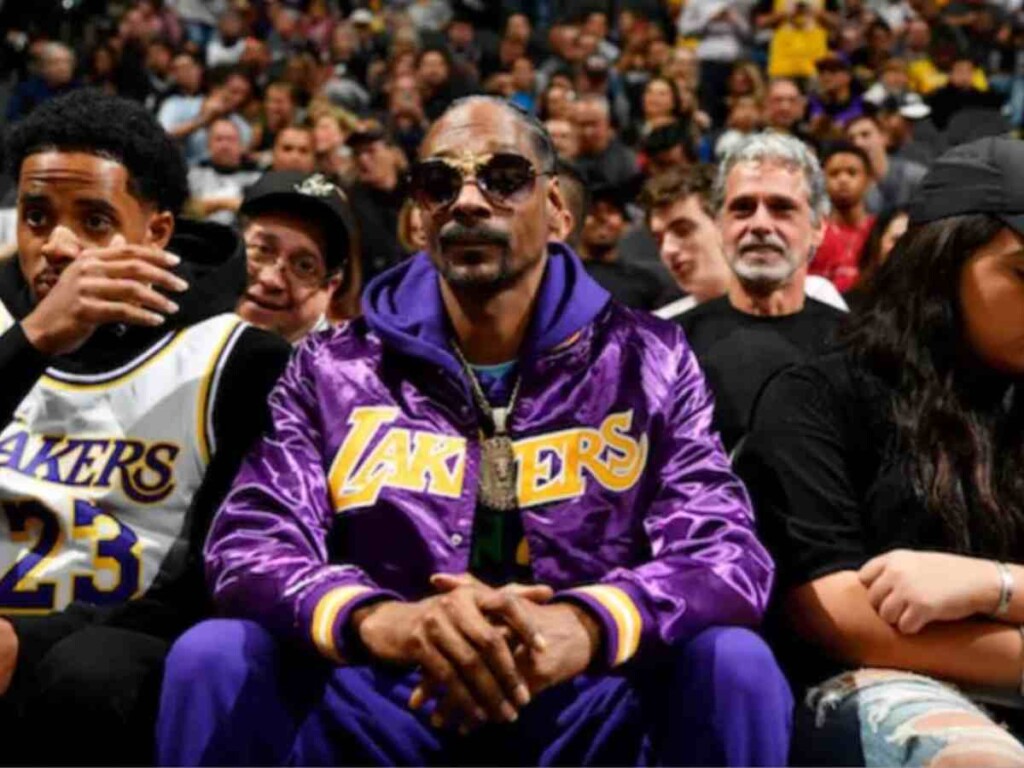 Snoop Dogg's decision to exclude LeBron James from his top 5 Lakers list may be because of his frustration with the team's recent performance. As a passionate fan, Snoop has undoubtedly been disappointed by the Lakers' struggles in the past decade, marked by a lack of championship success. While the Lakers won five championships with Magic Johnson, three with Shaquille O'Neal and Kobe Bryant, and two with Kobe and Pau Gasol, they have only managed to secure one championship with LeBron James.
The rapper's disappointment may have been magnified by the Lakers' early exit from the Western Conference Finals, where they were swept by the Denver Nuggets. Snoop Dogg, who had been passionately supporting for his team throughout the season, even took to Instagram to express his support, describing the Lakers as a diverse representation of the United States.
If the Lakers advanced further in the playoffs or even secured the championship, it is possible that Snoop Dogg's sentiments towards LeBron James would have been different. The rapper's loyalty to the Lakers is unwavering, and a successful season would likely have influenced his top 5 Lakers list.
While Snoop Dogg's exclusion of LeBron James from his top 5 Lakers list has sparked debates among fans, it shows the subjective nature of such rankings. Each fan brings their own criteria and personal biases when evaluating the greatest players in a team's history. Regardless of differing opinions, Snoop's love for the Lakers and his passion for the game remain undeniable, as he continues to support and celebrate his beloved Purple and Gold.
In case you missed it: