Memphis Grizzlies star JA Morant lit up the NBA world recently with his nasty dunk. Morant is someone who has many tricks in his bag, and his mid-air hand-switching dunk left everyone in the stadium awestruck. The point guard is always up for challenges and beats them at the rim.
The Grizzlies were against the New Orleans Pelicans at the Smoothie King center. The game was heading for a thriller as the Pelicans led by one basket. Ja Morant dribbled in to the paint as he was trying to score with one defender over him. Seeing the empty area on his right-hand side, he rushed in for a dunk, but Pelicans' CJ McCollum quickly got to him.
Morant saw him approaching and jumped, in a flash of a second, switched his hand mid-air to score an insane dunk. This basket made everyone stand on their feet and applaud his athleticism. As soon as the clip of this dunk went viral, fans eagerly gave out reactions which can be seen below:
Also read Larsa Pippen was seen hugging Michael Jordan's son on the beach as media confirms relationship rumors
Ja Morant returns as the Memphis Grizzlies bow down to the New Orleans Pelicans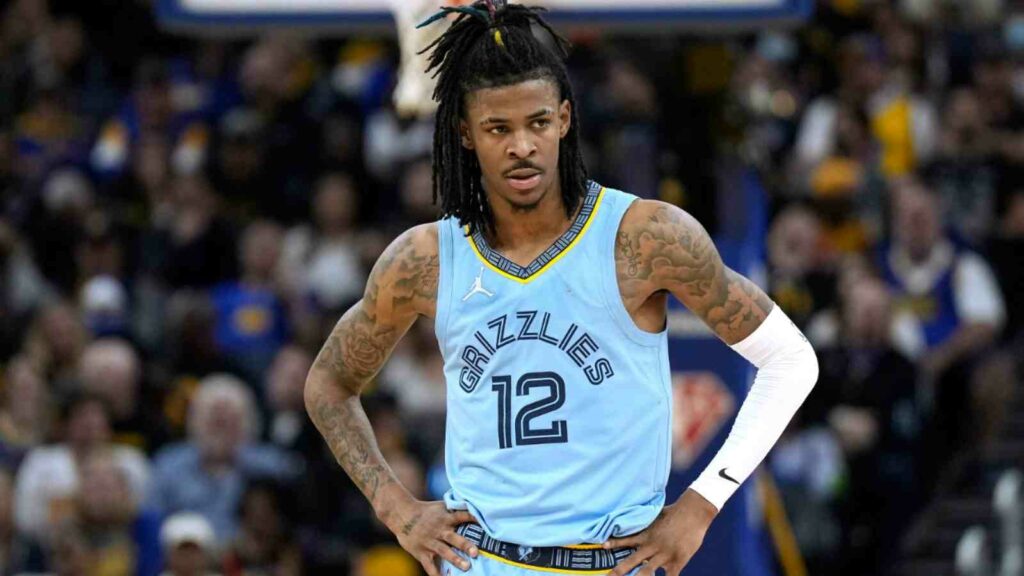 Memphis star Ja Morant returned to the ranks after missing out on a game due to ankle soreness but couldn't help the Grizzlies beat the Pelicans as they faced an unfortunate defeat at 113-102. The Pelicans played without their star player Zion Williamson as he was out due to a bruised foot, but CJ McCollum led the charge from the front as he scored 30 points, and Brandon Ingram and Larry Nance Jr. added 19 apiece.
Trey Murphy III scored 13 points, Jose Alvarado added 12, and Herbert Jones Jr. had ten, respectively, for the New Orleans. For the Grizzlies, Ja Morant nailed game-high 36 points. Dillon Brooks added 19, Brandon Clarke had 15 points and 13 rebounds, and Jaren Jackson Jr., making his season debut after being sidelined by a foot injury, had seven points (on 3 of 14 shooting, including 0 of 7 on 3-pointers) and six rebounds in the 25 minutes he played.
Morant scored one of his scrumptious dunks in this match but could not take his team over the line. Out of the fifteen games played this season, Memphis has won nine, losing the rest six. In contrast, the Pelicans have played fourteen, winning eight and losing six, respectively. The Pelicans will take on the Chicago Bulls in their next match while Memphis prepares for their battle against the Oklahoma City Thunder.
Also read "Legit question" Twitter reacts to JA Morant getting a tech for asking a ref 'if he was playing FanDuel?'
Also read "I have never been a part of such a game" Devin Booker sounds off on refs after insane free throw disparity against Heat
Do follow us on Google News | Facebook | Instagram | Twitter