Washington Wizards have been on a roller-coaster ride in the 2021-22 NBA Season. From being #1 seeded to falling off from the play-in tournament berths, the team from D.C. has experienced it all. To make matters worse, in their latest fixture against the top-seeded Miami Heat, Jimmy Butler decided to add more fun with an insane dunk. But sadly, for the Heat's leader, he went onto dunk on one of his own teammates, Max Strus.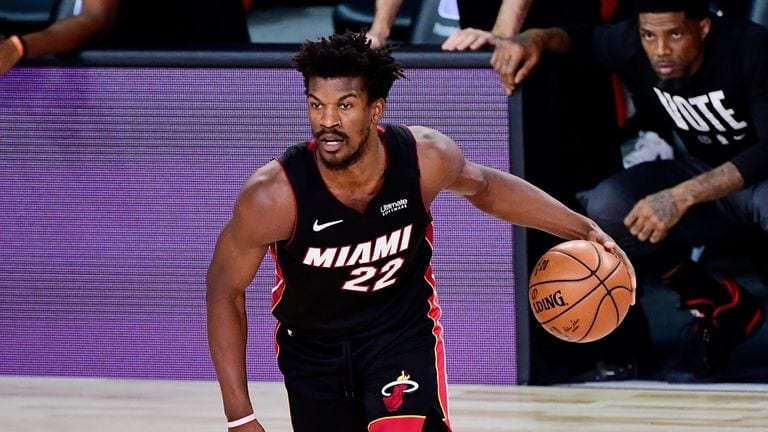 The Heat vs Wizards has been a walk-over contest, with just over 8 minutes remaining in the fourth quarter (as of writing), the away team has an insane 31-points lead. Being led by Bam Adebayo with just over 20 points, the Heat have witnessed 6 of their players in double digits. On the other hand, the Wizards have once again found themselves struggling to run the plays and find openings against tough defensive teams. 
Also Read: "Boogie nearly pulled out Bembry's arm" NBA Twitter reacts to DeMarcus…
Jimmy Butler comes up with a massive dunk against Wizards
Talking about the particular Jimmy butler moment, it was towards the end of the third quarter, when the away team led the charge when Max Strus got the steal and the stage was perfectly set was a highlight dunk. In-came Jimmy Butler and got on top of the rim to dunk but little did he know that his own teammate, Strus was clinging onto him. 
That being said, with the dunk going in, the Heat managed to extend their lead via 21-points. After which many believe that the home fans started making their way out of the court, as the Butler-Adebayo led Heat looks in no mood to let this one slip away. Which has been the case in the fourth quarter as well.
Take a look at how fans reacted upon the same-
Lastly, with the Miami Heat now extending their lead at the top of the Eastern Conference, will they be able to maintain their numero uno spot until the end of the regular season? Remains to be seen as the festivity of the 2021-22 season continues.
Also Read: Sixers pushing Ben Simmons to play if trade before deadline doesn't…