Joe Burrow and the Cincinnati Bengals are locked in on a battle for the Lamar Hunt Trophy with the AFC West division title winners, the Chiefs. The Bengals are playing with a deflated O-line against a tough defensive line and Burrow could use all the help he can get from his star wide receivers. And their WR2 Tee Higgins just gave his quarterback that kind of help with a ridiculous catch.
The Bengals, down by seven points, were facing a crucial 3rd and 6 from the Chiefs' 27-yard line. During this crucial third down, the Bengals' O-line managed to buy some time for their franchise quarterback Joe Burrow, who dropped a dime to his star WR Higgins, who managed to climb the ladder and grab the rock despite being double covered. He randy mossed two Chiefs defensive backs to tie cut their lead to one point pending an extra point attempt.
Kicker Evan McPherson nailed the extra point and tied the score by 13 a piece. Furthermore, the catch would've helped Joe Burrow's confidence, since he was struggling a bit to play his natural game since he was feeling the pressure right up in his face the entire game. The Chiefs' defenders managed to sack the star quarterback four times and their defensive leader DT Chris Jones managed to get the first postseason sack of his NFL career.
Related : WATCH: "F*cking broke b**ch," Chargers OLB Joey Bosa gets into a fierce NSFW altercation with a heckling Eagles fan
Social media reacts to the stunning Tee Higgins catch on Bengals QB Joe Burrow's dime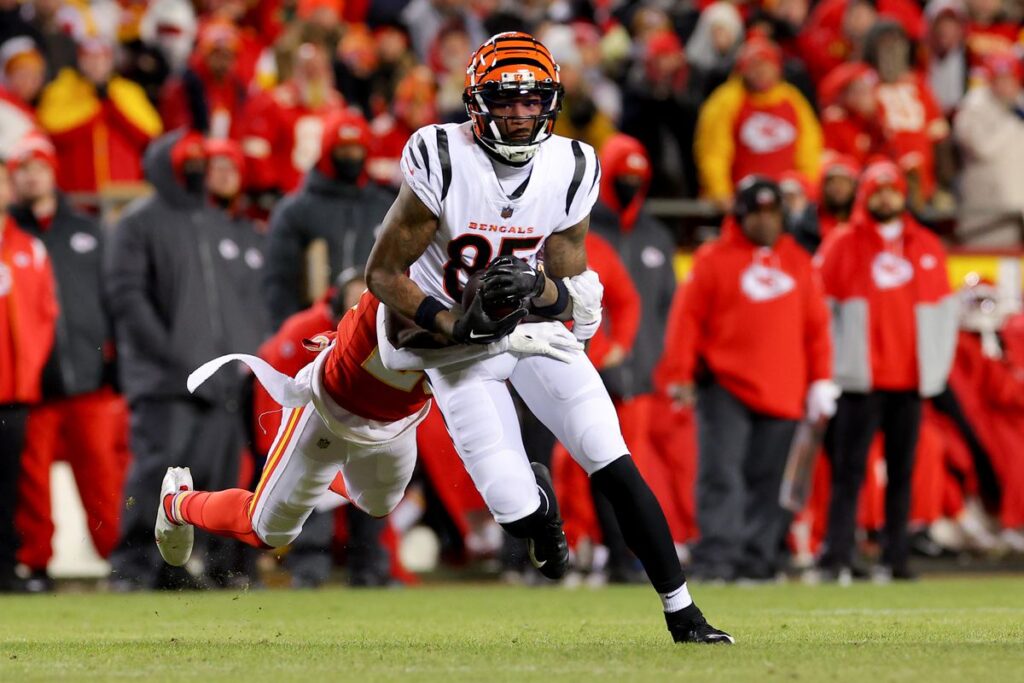 Fans on social media could not believe the jaw-dropping catch by the Bengals' third-year wide receiver Tee Higgins on a crucial third down which gave the Bengals their first touchdown in the AFC Championship game.
The former Clemson product has already made a big impact on the game catching five passes for 73 yards and one touchdown while averaging 14.6 yards per reception.
Furthermore, the Bengals' no.1 wide receiver Ja'Marr Chase has also played a big role so far as he has caught six passes for 75 yards while averaging 12.5 yards per attempt. However, their running game is almost non-existent due to their dismantled O-line, so they will heavily rely on their two first-round wideouts to have a big game.
Nevertheless, both these teams will fight with everything they have to secure a win and move on to the Super Bowl, where they will face the NFC Champions Philadelphia Eagles.
Do follow us on: Facebook | Instagram | Twitter
Related : Watch: "Sore loser" – Social media LAMBASTS 49ers OT Trent Williams for body-slamming an Eagles player during the one-sided beatdown
Related : Ian Rapoport predicts Jalen Hurts' future with the Eagles as contract extension looms after this season