It is no doubt that the NFL has had a bad record with respect to hiring people from the minority section, historically the league has faced many lawsuits but it somehow managed to stay afloat and save itself from them. As a matter of fact, in 2003, the NFL introduced the Rooney rule that came into place due to the lack of minority representation across the teams. The rule states that all the 32 football clubs must interview at least two women and/or other persons of color while seeking to fill prominent positions.
Despite the Rooney rule being in place for nearly two decades now, minority representation is well, still minor. The league has once again faced another lawsuit as the Rooney Rule is not as effective because just by interviewing two women or persons of color, they can show that they complied with the policy in place. This has led to multiple instances of teams just interviewing minorities for the sake of it while they have already selected another person for the position.
Also read: "Bout to show these n*ggas": When Josh Allen's racial & homophobic Tweets went viral on draft day
"It's to balance out the unfair advantage that has been baked into the system for decades": NFL source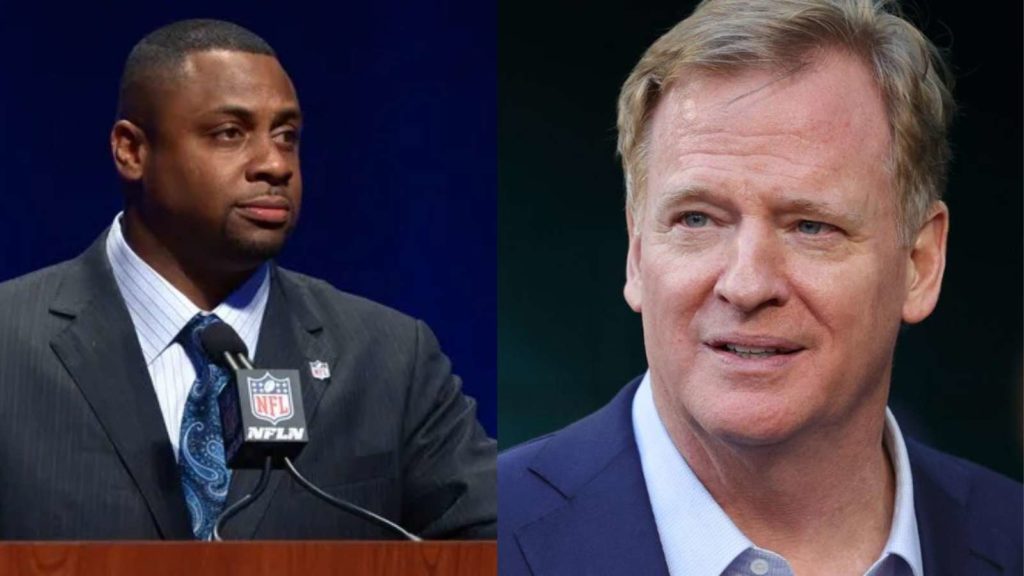 The NFL has been faced with a class-action lawsuit from three Black coaches who have accused multiple teams of racial bias in hiring practices, they just want a fair shot at the job just like everyone else. The league is attempting to create an impression that it is trying to solve the problem. This week, a new approach will take place at the May ownership meetings in Atlanta,
Peter King explains in his Football Morning in America column that nearly 60 minorities and female coaches and executives who are all employed by different NFL teams will take part in the "Coach and Front-Office Accelerator Program."
The meeting will happen on Monday, in order to see the manner in which the league handles its business. They will all congregate with the NFL's top-decision makers at an exclusive cocktail reception. On Tuesday, the candidates will all get an opportunity to meet with league owners in 10-15 minute slots.
"Is this the answer? No, Is it part of a solution? It may be. We need to get people who make the decisions on future head coaches to get to meet (Colts OC) Marcus Brady, (Browns DC) Joe Woods, (Detroit's DC) Aaron Glenn, and (Packers DC) Jerry Gray along with many others. This is a new day, it's not about forcing anyone to hire anyone. It's about exposing good coaches to those who make the calls," NFL executive VP of football operations Troy Vincent said.
It is a clever approach as it absolves the league from being liable and it will also not force any owner to do anything. Most owners will admit that historically the hiring practices explain the presence of a problem but defer to others when it comes to addressing it. At the end of the day, owners will hire who they want to hire.
The goal of this program is to give Black coaches an unfair advantage but it is to balance out the unfair advantage that has been integrated into the system for decades. Owners enter into selecting a coach with a 70-80 percent intention of hiring a particular person. The goal of this program is for owners to get comfortable with viable Black candidates before they start the process of figuring out their next HC.
The existence of white owners is also a reason why the current system is the way it is. While making such a critical hire, they tend to feel more comfortable with a white candidate over a black candidate. This isn't "replacement theory," a racist and anti-Semitic tool that has been used for instilling fear and distaste in the white community. This is about fairness and equity.
Meritorious candidates are overlooked and the league dismisses all meritorious litigation cases by calling them baseless. An ideal solution will be to short circuit the hiring process for predetermining coaching hires by adding viable minority candidates in front of owners before they begin to look for a new coach. The meetings in Atlanta will be an amazing opportunity for those assembled to get a step closer to getting what they truly deserve.
Also read: "He doesn't work with young receivers": When Colin Cowherd called Aaron Rodgers 'insecure' & a 'control freak'
Also read: "In NFL, nice guys finish SOL": Mike Florio believes Jimmy Garoppolo needs to get serious