Ottawa Senators captain Brady Tkachuk rode on emotion following his electrifying goals, leading the team to a 6-1 victory against Detroit Red Wings. He literally demolished the Wings ahead of the Stanley run, as the Sens poured goal after goal in an overwhelming victory.
Currently, NHL teams are in a tight position as the 2022-23 season is nearing its end signaling the start of the Stanley Cup Playoffs. All teams are fighting to secure a playoff position with Red Wings and Sens being no different. Both teams are vying for the final wild-card spot, with the Sens snatching 2 points ahead of their goal.
Following, the Senators' sweeping of the Red Wings, the young 23-year-old captain yelled at the Red Wings bench, "Who wants it? Who f***in wants it?" Though his provocation didn't encourage any foes to drop their gloves.
Related: Evander Kane and Brady Tkachuk go toe-to-toe in heated exchange in the Sharks vs Senators game
Brady Tkachuk boldly demolishes any hopes Red Wings had for a comeback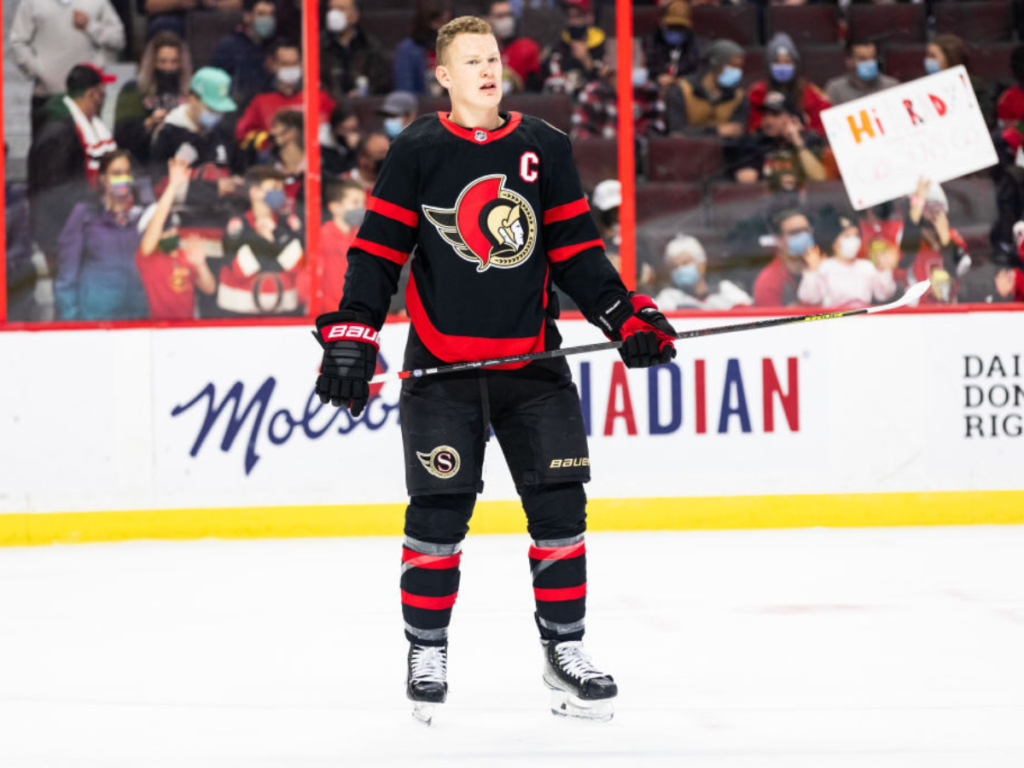 Whether Red Wings didn't drop their gloves because of the officials intervening or for their loss is up to the fan's guess. Many think Brady Tkachuk challenging for a fight on ice was already enough to discourage his opponents. Since Tkachuk stepped into NHL, he's been quite the player and is very well-known for his much-deserved reputation.
Within 40 minutes of the game, Brady Tkachuk's dynamic play on ice drilled holes into the Red Wings' net with eight powerful shots. Red Wings netminder Magnus Hellberg was left helpless against the shots from the Senators' captain. 
Senators' coach D.J. Smith praised Tkachuk greatly stating, "He came to play today". "He's played a lot of games, a lot of minutes against everyone's top defenders. There's been a couple games that he's really elevated his play and this is one of them. He was emotionally dialled right in, I would say."
In the current 2022-23 season, Tkachuk is carrying a record of 63 points in 60 games with 26 goals and 37 assists. In his NHL career, he has participated in 337 games recording 225 points in 116 goals and 139 assists.
According to The Athletic, Tkachuk commented following the game, "I needed to be at my best tonight. These are huge games for our team and I wanted to do whatever it takes to help the team win". "Whether that was my emotion or physicality or just making the right play at the right time — but everybody did that tonight." 
"It wasn't just me. Everybody put their heart on their sleeve and did it for the guy next to them." For his provoking actions against the Red Wings, the NHL issued him a 2-minute roughing minor. Although his bold actions left quite an impression on his team as they won the game and headed to the locker room.
In case you missed:
WATCH: Brady Tkachuk refuses fight against Arber Xhekaj pulling off ELECTRIFYING win over Canadiens
Who is Brady Tkachuk's girlfriend? Known all about Emma Farinacci