PGA Championship winner Brooks Koepka was at BB&T Center during Florida Panthers Game 3 against Carolina Hurricanes. The Panthers have been on a decisive role this playoff series as they consistently maintain their winning streak in the Eastern Conference zone.
The team once again took the lead over the Hurricanes in Game 3 with a 1-0 lead as Koepka enthusiastically cheered on his favorite P's. it's been only a day since the golfer competed for golf's one of the major tournaments, winning the Wanamaker Trophy.
Many deemed that the golfer must not have slept since the tournament and flew directly to Miami to attend the Panthers game. In Game 3, the P's captain Aleksander Barkov exited the game after getting smashed into the boards by Canes' Jack Drury. The team is optimistic about his return in Game 4, but the captain did not return to the bench in Game 3 after his fall in 1st period.
Related: "Embarrassing, tacky, and low brow," Brooks Koepka laughs as Seth Waugh refuses handshake after PGA Championship win, Golf Twitter reacts
Brooks Koepka helps Brady Tkachuk chug down beer from Wanamaker Trophy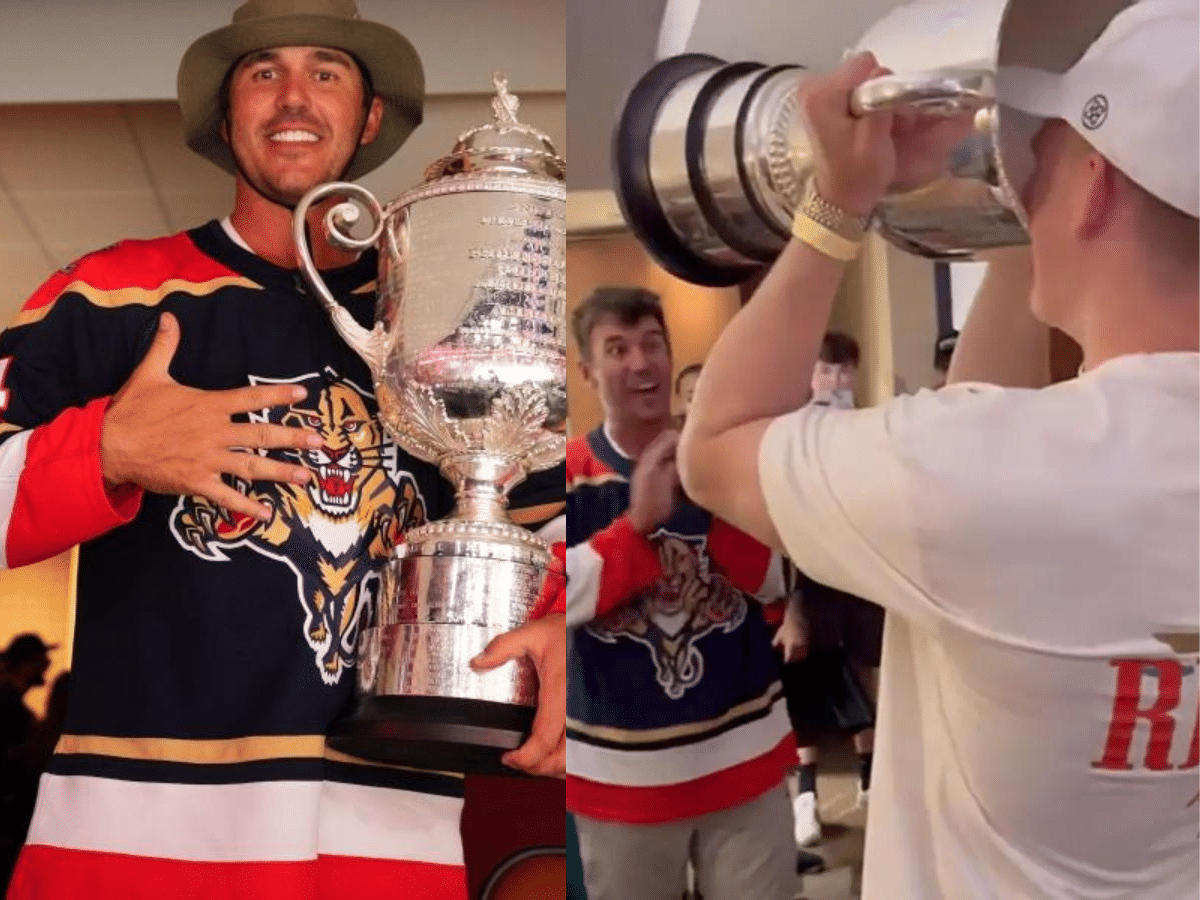 The situation was a bit tense as fans were worried about the on-ice condition and about Aleksander Barkov's absence on-ice. Fortunately, the team pulled against the Hurricanes' dispute in their ongoing situation and maybe Brooks Koepka is to thank for that.
The golfer was seen energetically cheering for the P's without blinking even once in the viral 23 seconds video. His wide-eyed expression gained popularity on social media and the video quickly circulated both among NHL and golf fans.
Koepka is a die-hard Panthers fan and has never been hesitant to admit otherwise. The 5-time Major title winner was honored by the fans at the arena as the Panthers gifted him a custom-made "Watching the P's" shirt. He's been gleeful the whole evening and it can't be hard to imagine his gleefulness not being a factor in the team's win.
Following the Panthers' 3-0 series lead, Koepka was seen joined by Ottawa Senators captain Brady Tkachuk. In the brief moment they spent time together, both has been seen laughing and chugging down a drink from the PGA Championship trophy, the Wanamaker.
Koepka cheered on Brady as he drank beer out of the trophy, ultimately placing the trophy on top of his head. Koepka's recent win marked a fresh start for the LIV golfer as he was riddled with injuries in the past season. He also became the 1st LIV player to win a Majors title, since his defection from PGA in 2022.
He beat pro golfers Viktor Hovland, and Scottie Scheffler to hold the trophy at Oak Hill, following his failure to secure one at The Masters. When asked about his plan before the next golf event, Koepka noted, "This is going to be a long week for me."
"P's game (Monday), Heat game Tuesday, Panthers game Wednesday, then gotta go up and play the LIV event this weekend. I don't know how well that LIV event is going to go, I'll be dead honest."
In case you missed:
Aleksander Barkov suffers lower-body injury after getting smashed onto boards by Jack Drury in Game 3 against Hurricanes
FBI floods airport after Radko Gudas receives bomb threat following Panthers 2-0 series lead over Hurricanes