Dallas Stars are even hungrier than before following their 4-2 Game 5 win. The Vegas Golden Knights blew an A+ chance to score against the Stars and end their run at T-Mobile Arena. The Stars forced Game 6 on Monday, pulling up from a 3-0 series deficit to a 3-2 lead. 
Even more surprising considering the team didn't have their captain Jamie Benn and forward Evgenii Dadonov. Benn was suspended from NHL for two games after his crosscheck on Knights captain Mark Stone, while Dadonov missed the game due to a lower-body injury.
The Stars seem to be inspired by bishop Desmond Tutu's quote and have been trying to beat their opponent with "a bite at a time". Knights coach Bruce Cassidy roasted his players following the ugly Game 5 loss. If the Stars manage to pull the run to Game 7, it'll no doubt put the Knights in danger of elimination.
Related: Charles Barkley hilariously mispronounces Panthers' goalie Sergei Bobrovsky's name in Stanley Cup Final promo
Stars bringing out "desperation" against Knights to win Game 6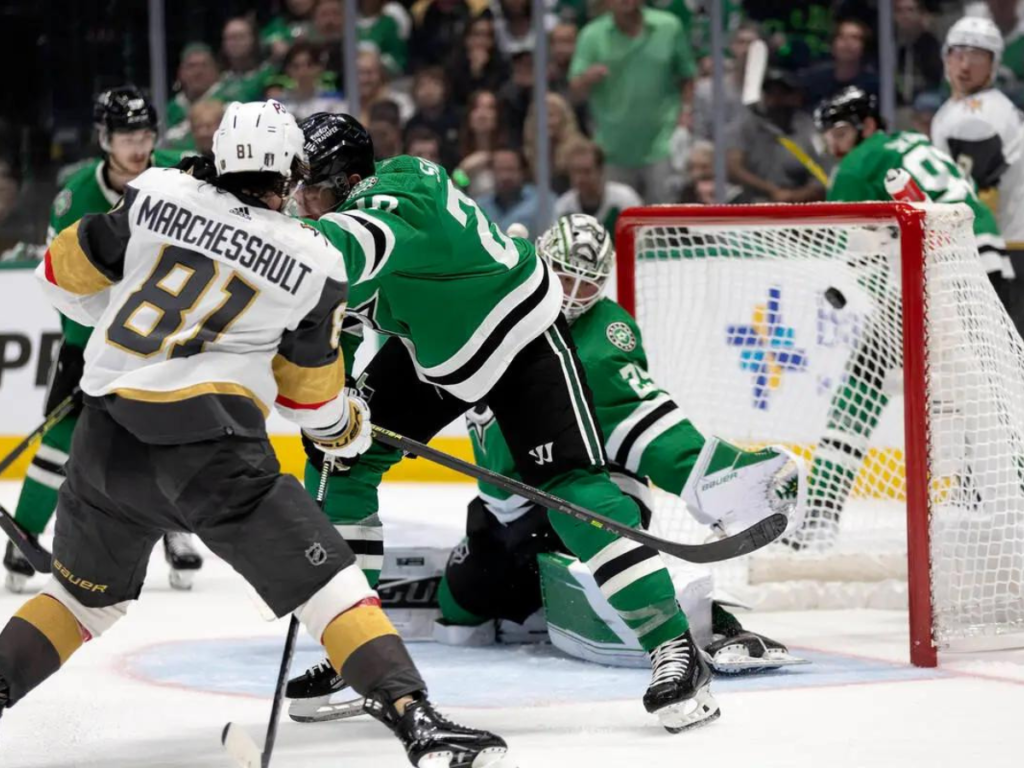 The Dallas Stars may emerge as the 5th NHL team to get past a 3-0 series deficit in a best-of-7 game. Coach Peter DeBoer stated that now that Jamie Benn will be back in the lineup, the team will need to put their efforts to "take care of business and give ourselves a chance to cross (finish line) it", as per NHL.com.
They'll need to pull out that desperation they showed in Game 4 and Game 5 win. The most dramatic of the Western Conference game was Game 3 between the Stars and Golden Knights. The game not only saw Benn crosschecking Mark Stone and getting penalized by NHL, but also the fans enraged behavior.
The Dallas Stars fans littered the ice with trash. They threw heavy objects, forcing the players to head into the locker room with 21.6 seconds remaining in the period. Furthermore, Stars forward Max Domi was given a 10-minute misconduct penalty. The organization later apologized to the Knights and the league for a few of their fans' behavior.
When the players once again took on the ice, a fan threw a bag of popcorn toward Knights goalie Adin Hill. Hill stated, "It was a little weird. I've never seen so much stuff on the ice, that's for sure," according to Fox News. Stars forward Jason Robertson has been phenomenal against the Knights so far.
He scored 5 goals against the Knights, as DeBoer stated, "He's a scorer and I think he's feeling it, and when goal-scorers feel it like that, they get on runs". The team is now focusing on winning Game 6 and pushing it to Game 7. As Fredrik Olofsson said, "It's still one at a time, that's been echoed throughout the room and that will stand".
In case you missed:
"The Cinderella story continues," Panthers sweep Hurricanes advancing to Stanley Cup Finals for 1st-time since 1996, NHL Twitter reacts
Was Brooks Koepka Panthers 'lucky star' as Cats' take 1-0 lead over Hurricanes in Game 3?