NHL agent Allan Walsh is known for his strong personality and how he doesn't hesitate to stand up for his clients. Calgary Flames forward Jonathan Huberdeau is one of his 29 NHL clients. On Thursday, the agent took to social media to address his displease with how the organization is treating Hurberdeau.
His tweet was interpreted to be directed toward coach Darryl Stutter and his hard way of training the players. Walsh was the one who helped Huberdeau land a massive 8-year $84 million contract extension with the Flames. Walsh's tweet was far from a subtle hit at the Flames organization. Fans made their guesses on who the agent was talking about.
Walsh tweeted tagging the Flames' official account, "The definition of insanity is doing the same thing over and over again expecting a different result". "Also, negativity sucks the joy right out of players." This isn't the first time the star agent has shouldered talking in for his clients.
Darryl Sutter boldly replied, "That's not really players is it". When asked if an agent's tweet is irrelevant, Sutter replied, "That would be that assumption…social media and what anybody says doesn't affect locker room ever."
Related: "Don't know what's going on" – Jonathan Huberdeau admits seeing "psychologist" would help him score in game
Jonathan Huberdeau says he's having fun with Calgary Flames despite Allan Walsh's accusations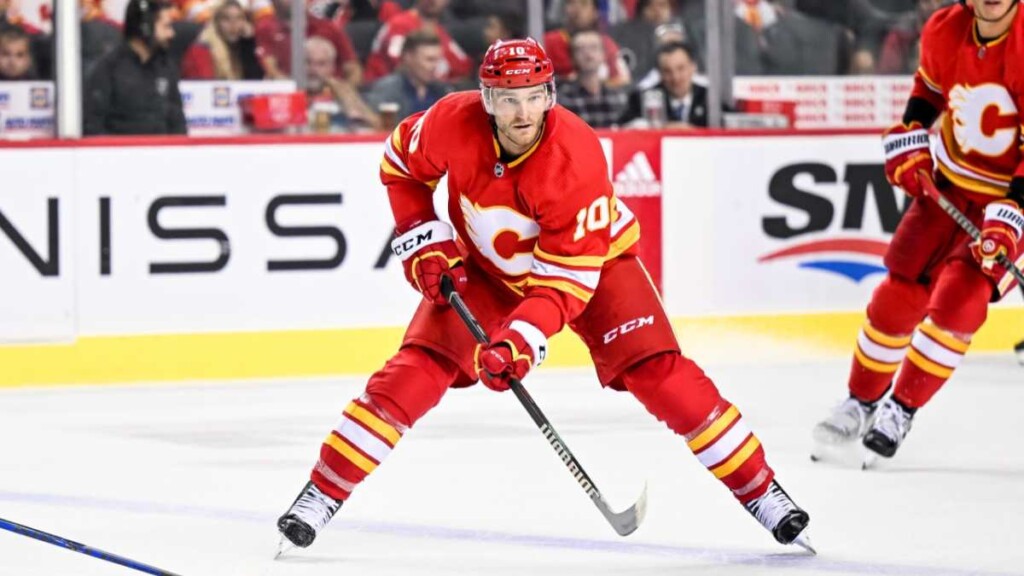 Back when Marc-Andre Fleury played with the Vegas Golden Knights, Allan Walsh took to Twitter to defend the goalie against a watercolor painting. The painting portrayed Fleury being stabbed in the back by a sword representing Dallas Stars head coach Peter DeBoer.
Following Walsh's late-night Thursday tweet, Flames forward Jonathan Huberdeau tweeted on social media, dismissing all his agent's allegations. He noted that he was having quite fun with the Flames and they are trying for a playoff spot even though they might not be in a very favorable position currently.
Huberdeau commented, "We're all frustrated". "We can play better, and that's about it. It doesn't come from me. Yeah, it's my agent but it's from him. It's his account. He made that tweet. That doesn't reflect on me or on the guys. We all love each other. We're a close team. We're going to grind this out and make the playoffs."
Huberdeau further talked about Walsh's tweet which was vastly interpreted towards coach Darryl Sutter's way of training. He said, "Darryl's Darryl". "Sometimes you won't like what the coach does, and some nights you do like it. You're never 100 percent happy with the coach, decisions, stuff like that."
"Darryl and I have a great connection, a great friendship. And he's good. He wants to win just like us." "That's not really the players, is it?" Currently running on the 4th scoreboard in his team, Huberdeau has made 36 points with 10 goals and 26 assists in 52 games this 2022-23 season.
He said that he didn't have an idea of what Walsh tweeted earlier that day. He only got to know about it as notifications poured in. Furthermore, he said he spoke with Walsh regarding his comment and stated he didn't want this to happen.
Fames' defenceman MacKenzie Weegar noted that Walsh's tweet doesn't change the environment in the locker room, "It's not coming from a player". "It's coming from an agent. There's lots of positivity in this room. We're going through ups and downs this whole season and it's easy to get frustrated and maybe down, but it's a tight group in here".
"We love coming to the rink every day, and we're going to grind through this and we're going to keep having fun while we're doing it." The Flames currently occupy the 5th position in the Pacific Division, trailing behind Seattle Kraken by 7 points for 3rd.
Huberdeau further asserted that they are tight as a group and wouldn't let things like these get into their minds, "As a group, we're mature". "We have a lot of veterans."
"We're having a lot of fun. But we want to win too. Right now we're not in a playoff spot, so I think we want to try more and forget about the social media stuff and do it at a team."
In case you missed:
WATCH: Bowen Byram gets SMASHED by Matthew Boldy as fans worry about 'Bo's health, NHL Twitter reacts
"Your dad is there. He's always there" – Alex Ovechkin mourns father's death as Capitals come together supporting "The Great Eight"