Just a few days back the Toronto Maple Leafs fans were celebrating their 1st-round series victory in 19 years, but it seems the joy may be short-lived. In Round 2, the Leafs started trailing behind Florida Panthers with a record of 2-3. Fans cannot yet relax in their seats as the team suffered a loss in their home game.
Just like the fan, Leaf goalie Ilya Samsonov is on edge as he fired back the 'F-bomb' toward Panthers netminder Sergei Bobrovsky. Following the Leafs' loss, the two goalies were compared with each other when Samsonov stated he doesn't "give a f**k" on who's on the other side on the ice.
He further added that it doesn't matter to him, as Samsonov is only "doing my work, he's doing his work". His fiery comments came soon after he was asked how he feels about matching Bobrovsky's play and the challenge the Leafs' goalie may face to do.
Related: "You didn't do sh**," Shane O'Brien pissed recalling Bo Horvat's jab at Vancouver fans after trade to Islanders
Ilya Samsonov gets compared to Sergei Bobrovsky after Round 2 conclusion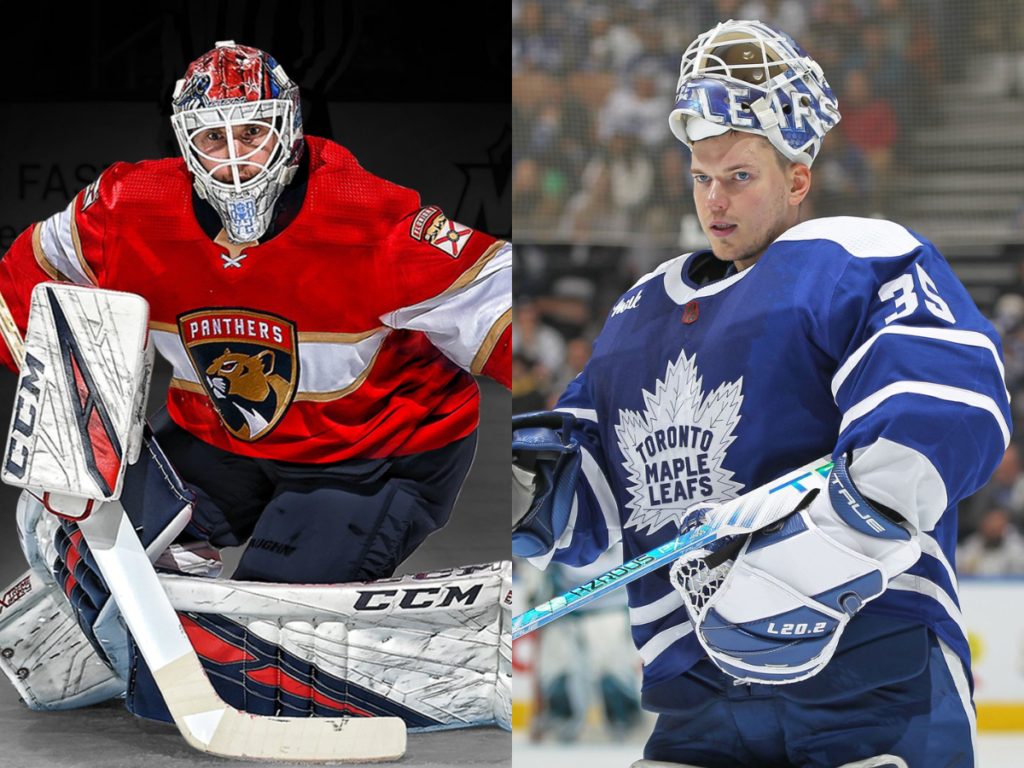 In Game 1, Ilya Samsonov made a record .857 save percentage in a 4-2 loss, and in Game 2, he made .897 with a 3-2 loss. His extraordinary play led the team to win against Tampa Bay Lightning in Game 6 of the 1st-round series in 19 years.
At that time, the netminder carried a record of 3.14 goals-against-average and a .900 save percentage. With the Leafs losing against Panthers in Round 2, both Samsonov and the team have to pull through to break their curse of advancing to the playoff finals in years.
Early in Game 2, Leafs forward Alexander Kerfoot and Ryan O'Reilly found the back of the net, forcing Panthers goalie Sergei Bobrovsky to give up 2 goals in 8 attempts. However, Leafs failed to keep the momentum alive as Samsonov wasn't able to keep up with Bobrovsky's goaltending play.
The Leafs' goalie surrendered back-to-back goals in 2nd period to Aleksander Barkov and Gustav Froling. Samsonov allowed 3 goals on 29 shots while the Panthers netminder stopped 34 goals in 36 shots. Game 3 is expected to take place on Sunday, and it's yet to see who'll be the goalie for Toronto – Ilya Samsonov or Joseph Woll.
Samsonov commented on Leaf's game, "Again, results is bad for us. I think we go back home and look at the mirror yeah and ask what I need to do more for on the ice for team. I think it's what we need to do, everybody."
"It's big opportunity for us. This time where we show people we really good team, how hard we work, how we come back 2-0, 3-0, it doesn't matter for us. We need to show this."
In case you missed:
"Ottawa legend," NHL favorite Mark Borowiecki hangs his skates after 12 glorious seasons, Twitter reacts
Brad Marchand RIPS Tyler Bertuzzi as 'Brat's monster trade rumor causes turmoil in NHL