Tampa Bay Lightning coach Jon Cooper stated that he and the team are preparing for a comeback in Game 5 of the Stanley Cup Final against the Colorado Avalanche on Friday. They have already 'moved on' from the Game 4 defeat to Nazem Kadri's OT win. Cooper stated that Lightning's 3-2 loss in Game 4 on Wednesday with Kadri's 12:02 in OT should not have been counted because Avalanche had too many men on the ice.
Cooper restated on Thursday that it was an "unfortunate non-call" and that he wanted to move past with it, as the Lightning trails 3-1 in the best-of-7 series where they need to win on Friday to keep alive their bid for their 3rd straight Stanley Cup title. Cooper noted, "What's great about today is that it's not yesterday and now we've got some excitement for Game 5 and that's where now my mind is turning on, how to win that". "Nothing we can do to turn back. They missed it. It's unfortunate, but it's water under the bridge. Let's go get ready for what should be an [heck] of a Game 5."
Also Read| "Assist on OT win" – Fans confused when Lightning score after Avalanche goalie Darcy Kuemper lost his mask
Lightning coach Jon Cooper said that he "moved on" from the Game 4 loss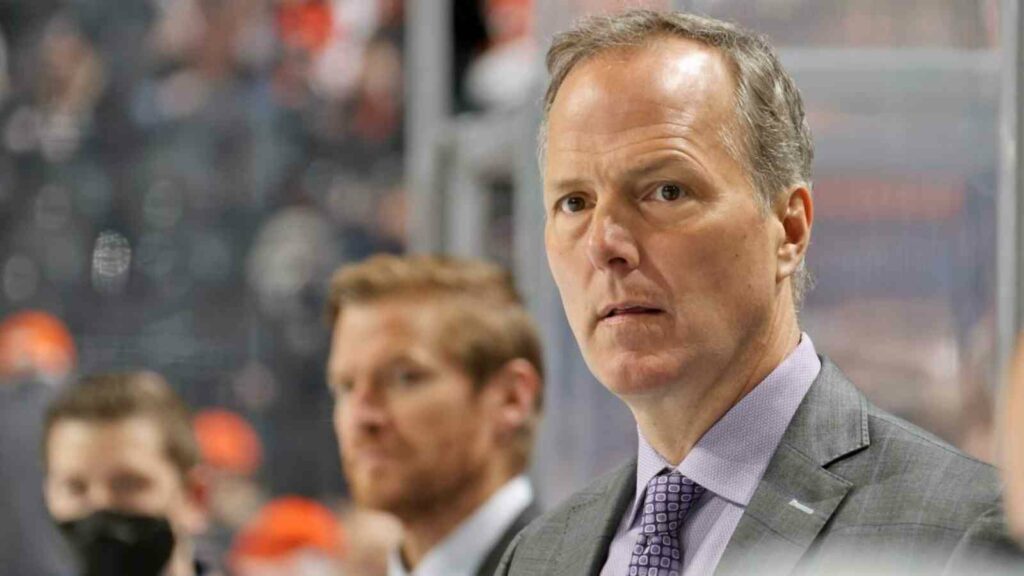 On Nazem Kadri's overtime goal, the NHL organization released a statement that "A too many men on the ice penalty is a judgment call that can be made by any of the four on-ice officials. Following the game, Hockey Operations met with the four officials as is their normal protocol. In discussing the winning goal, each of the four officials advised that they did not see too many men on the ice situation in the play. This call is not subject to video review either by Hockey Ops or the on-ice officials."
Later Tampa Bay Lightning coach Jon Cooper acknowledged that he didn't know what happened at the OT goal until he rewatched it after returning to Tampa Bay's locker. He contended that Kadri jumped on the ice and hit the puck before center Nathan MacKinnon, the player he replaced during a line change got off the ice.
Also Read| "Watch how he played" – Igor Shesterkin follows idol's footsteps as he wins Vezina Trophy as NHL's best goalie
As per nhl.com, Cooper noted, "I would say 99 percent of the time the guy going on the ice jumps on first". "That's why they have that little kind of safe zone because there are only two doors and guys hop over and so that happens all the time. The reason there's a rule is if you gain a significant advantage, and that's probably what happened there. But that happens, like, all the time in line changes. It's an inexact science. But the purpose of the rule is not to gain an advantage."
Whereas, Colorado Avalanche coach Jared Bednar said that the goal was "nothing unusual". He went on, "That's part of the game". "It's a fluid game. You're changing on the fly, everything happens. You look at that clip, you back that clip up — and I did multiple times already to see what exactly what they were talking about — and Tampa's got two guys jumping on with their 'D' coming off the ice from a zone away. I count 7-6 at one point. So that is what it is. That's the way the game is played.
"I don't see it as a break or a non-break. I actually see it as nothing."Lightning defenceman Ryan McDonagh who was on the ice during Kadri's goal agreed that what went on during that time between MacKinnon and Kadri was nothing unusual. An emotional Cooper later acknowledged that it was a "break" for Avalanche and he preferred not to dwell upon it. He said, "I've moved on". "I'd be really happy to talk about tomorrow night's game if anybody wants to talk about that."
Also Read| "Hard for me" – Lightning coach Jon Cooper questions Avalanche center Nazem Kadri's OT win in Stanley Cup Final