Lia Thomas has come in full support of the Biden administration, who plan on barring the legislation of the 20 American states that deny transgender athletes in sports. By amending Title IX, the proposed legislation will guarantee equal opportunities in sports for transgender persons.
Riley Gaines has been one of the most vocal figures, fighting for fairness and equal competition in women's sports. She is a vocal critic of transgender athletes, especially Lia Thomas, with whom she has competed in the NCAA Championships.
The former Kentucky swimmer fights to keep the integrity and competition of games which are compromised by the participation of trans women in female sports. Through her tweet, Gaines expresses a firey remark to Thomas' plea on amending Title IX.
Posting Thomas' video, Gaines writes, "Does it not break your heart to see women lose out on these opportunities? The Biden Admins proposed bill denies science, truth, and common sense."
Related: Riley Gaines accuses Megan Rapinoe of 'virtue signaling' over Women's Sports Act
Riley Gaines hits out on Lia Thomas' plea to amend Title IX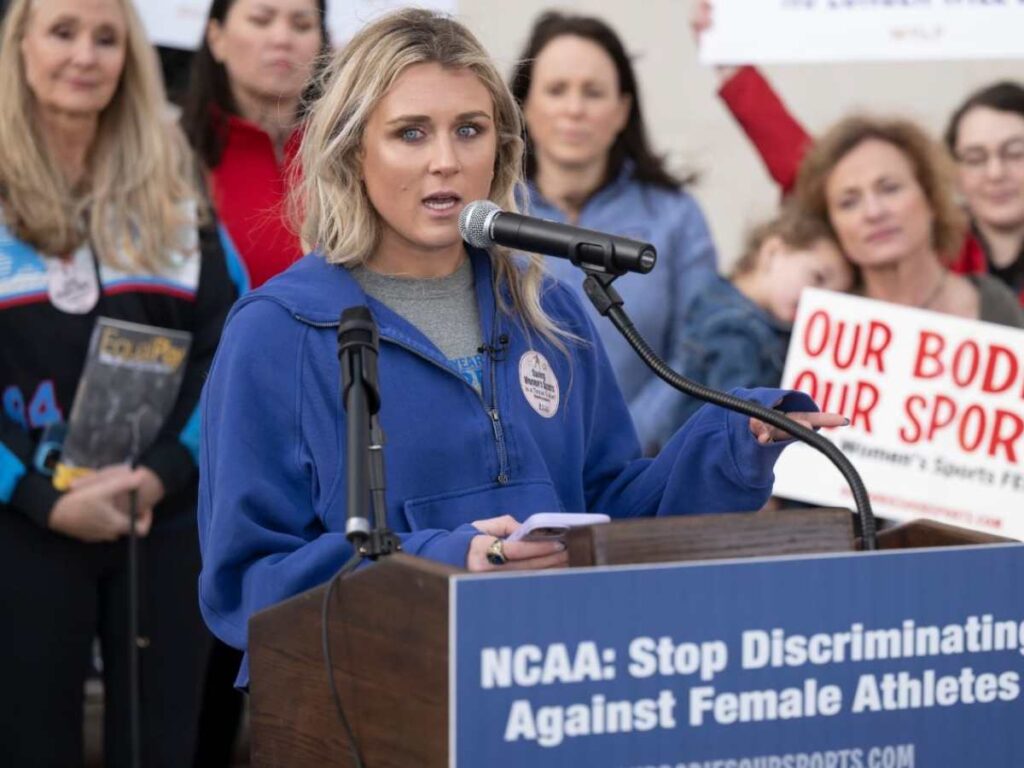 Riley Gaines' criticism of the Biden Administration came in after the White House decided to veto a bill that would deny biological males from participating in women's sports. Rep. Greg Steube introduced the Protection of Women and Girls in Sports Act, or H.R. 734, and is expected to be floored for voting this week.
The Bill must pass through both Houses of Congress to be considered legislation. The United States President, however, reserves the right to veto a bill passed by Congress, thus halting its legislation.

Expressing her frustration, Gaines further writes on Thomas' plea, "This take is selfish and shows an utter disregard for women. The Biden Administration is actively and aggressively working to pass laws that erase decent and fair treatment for women in sports."
Out of the 30 states who have proposed barring biological males from female sports, 20 states have passed the legislation, with North Dakota being the latest to join the list. Several political figures, including Florida Governor Ron DeSantis, stand against trans people in female sports.
The White House, however, has given its full support to transgender athletes at this crucial juncture. Per their latest statement, the Biden Administration recognizes the lack of opportunity such a bill would create if passed in legislation. It termed the bill "unnecessary" and "hurts families and students."
In a released statement, the White House said, "Discrimination has no place in our nation's schools or our playing fields. Instead of addressing the pressing issues that families and students face today — such as raising teacher pay, keeping guns out of schools, addressing the mental health crisis our youth face, and helping students learn and recover academically from unprecedented disruptions — Congressional Republicans have instead chosen to prioritize policies that discriminate against children."
In case you missed it: